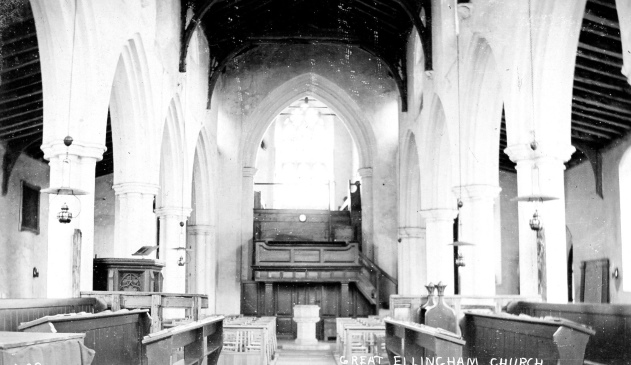 Inside the Church of St James Great Ellingham. Courtesy Christine Bell
There are two marble tablets in the floor of Great Ellingham Parish Church in memory of members of the Potts family who lived at Ellingham Hall over 350 years ago!
Roger Potts married heiress Mary Davy in Great Ellingham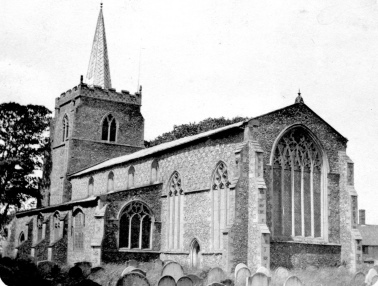 Church of St James, Great Ellingham
Rogers Potts married Mary Davy in the Parish Church of Great Ellingham in January/February 1665.
At this time, Charles II was on the throne and London would lose some 100,000 of its population to the Great Plague over the next two years. London would also be affected by Great Fire the following year in 1666.
Mary Davy was the only daughter and heiress of Henry Davy of Great Ellingham.
Great Ellingham Hall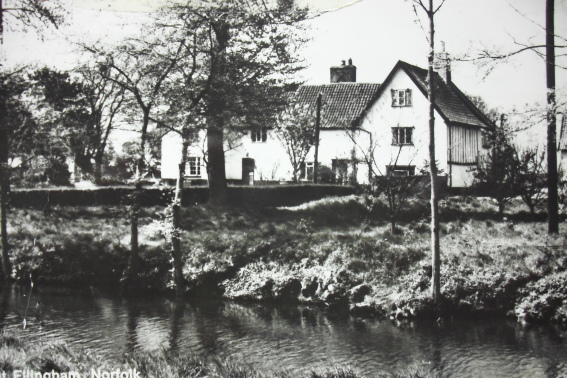 Great Ellingham Hall 1960s. Courtesy of Susan Fay
White's Directory of 1883, describes Great Ellingham Hall as "The Hall, an ancient moated farmhouse, formerly the seat of Sir Roger Potts, Kt."
Entries relating to the Potts family appear in the Parish Registers. I believe that Roger and Mary Potts lived at The Hall. Ellingham Hall had previously been in the Davy family via the Gurney family.
Children of Roger & Mary Potts
I have found reference to nine children of Roger (later Sir Roger) and Mary Potts in the Great Ellingham Parish Registers: Jacob baptised around 1666, Susan baptised October 1668, Ursula November 1670, Philip baptised March 20th 1671, Algernon 1672, John buried around 1674, Mary baptised September 1674 and buried June 1676, Charles baptised 1675 and Anne baptised February 1677.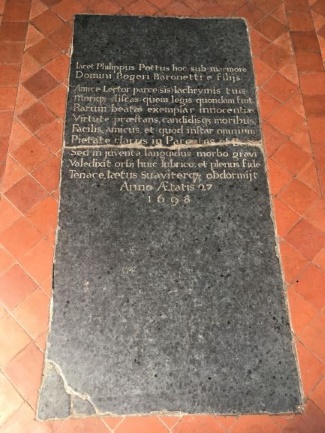 Marble tablet with an inscription (in latin) to the memory of Philip Potts the son of Sir Roger who died of a 'severe disease' 'in the year of his age 27' in 1698 which lies in the floor of Great Ellingham Parish Church
Memorial tablet for Elizabeth Potts the wife of Charles Potts, Citizen and Merchant Taylor of London. Elizabeth died at Kensington on 2nd September 1706 aged 21 years.
I believe the Charles Potts referred to is a son of Sir Roger Potts and his wife Mary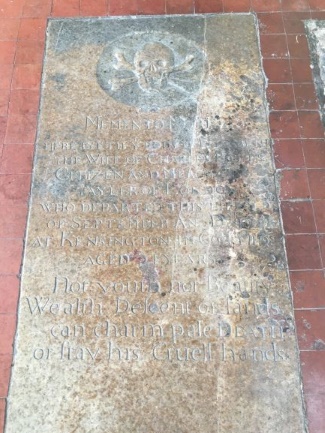 Ellingham Hall passes to the Colman Family
By 1737, the 'Manor of Ellingham Hall' (including Ellingham Hall itself) had passed to Francis Colman of Norwich.
Sources:
Great Ellingham Parish Registers. Norfolk Record Office PD/609. Also available at FamilySearch.org https://www.familysearch.org/search/image/index?owc=4J8C-CB7%3A29627201%3Fcc%3D1416598
Bryant's Norfolk Churches (1913) copy held at Attleborough Heritage Centre, Attleborough
White's Directory 1883
https://en.wikipedia.org/wiki/Great_Plague_of_London. Accessed 20 July 2019