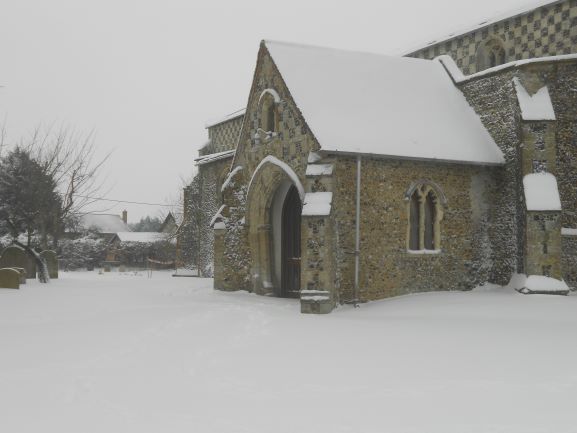 Porch at the Church of St James Great Ellingham
Isaac Eke Buried in 1784
In his will dated December 13th, 1779, yeoman Isaac Eke of Great Ellingham nominated the porch of the Parish Church of Great Ellingham as the place where his executors will hand over the legacies which Isaac sets out in his will.
Widower Isaac Eke was buried in the churchyard at Great Ellingham on February 14th, 1784. His wife Mary had been buried in the same churchyard on October 8th, 1779.
Probate and Content of Isaac Eke's Will
In the May of 1784, probate of the will was granted to Isaac's sons and executors, Joseph and William.
The occupation of a yeoman suggests that Isaac held and farmed land albeit a modest sized estate. The will refers to Isaac's property and lands in Great Ellingham (or elsewhere) which he bequeathed to his son Joseph Eke (subject to the legacies in the will). Joseph was likely Isaac's eldest son.
Isaac stipulated that all the legacies should be paid by Joseph "at such time or times and in such manner as I have ordered and directed". This included attending at the Parish Church Porch at the relevant time to pay over the legacies (or part payment of legacies) to the beneficiaries.
Within one week of Isaac's death, Joseph Eke was to "apply and expend" ten pounds in respect of Isaac's funeral charges.
Legacies to Children
Joseph was also directed to pay to his brother William the sum of eight pounds and eight shillings being the repayment of a debt owed to Wiliam by his father, Isaac. Joseph to make this payment within one month of Isaac's death.
William Eke also received a legacy of forty pounds "of good and lawful money of Great Britain" which was to be paid to him in two instalments: twenty pounds at twelve calendar months from Isaac's death, and the remaining twenty pounds the year after (i.e. two years after Isaac's death).
Another of Isaac's sons, John Eke, received a legacy of six pounds. Again, the sum was to be paid in instalments: two pounds every year until the whole six pounds was paid with the first payment to be made to John at the end of twelve calendar months after Isaac's death.
Isaac stipulated that should John die before receiving the whole or any part of the legacy, any amount not paid to John to be divided equally amongst his children. This suggests that John Eke was married and had children before the will was signed in 1779.
Isaac's married daughter Elizabeth (referred to in the will as "the wife of John Morris") received the sum of twenty pounds and, like her brother John, this sum would be paid by instalments of two pounds a year until the whole amount was paid, with the first payment a year after Isaac's death.
Again Isaac included a provision that in the event that Elizabeth predecease him (or died before receiving the full twenty pounds) then her children should equally benefit from the legacy.
Legacies to Grandchildren
Further legacies were given to Isaac's grandchildren Martha Lee, Mary Lee, Joseph Lee and George Eke.
I believe Martha, Mary and Joseph were the children of Isaac's daughter Elizabeth.
Joseph Lee & Elizabeth Eke
I found evidence of a marriage taking place at Hardingham on June 9th, 1767 between Joseph Lee and Elizabeth Eke. Both were stated to be single and of Hardingham. The couple married by licence – which may suggest that either Elizabeth was a minor or there was some haste to tie the knot. The marriage was witnessed by Anne Page and Clement Hembleton who, like Joseph and Elizabeth, signed the marriage register.
Martha, daughter of Joseph and Elizabeth Lee was baptised in the same church on October 18th, 1767 around four months after her parents' marriage.
It seems that Joseph Lee died and Elizabeth remarried.
Elizabeth Lee (née Eke) remarries
A marriage on June 1st, 1779, between widower John Morris and widow Elizabeth Lee appears in the parish registers for Carleton Forehoe (a village just under 4 miles from Hardingham). Clem (Clement) Hembleton was also a witness to this marriage.
Further Legacies to Grandchildren
Martha Lee received a legacy of five pounds and twelve shillings from her grandfather, Isaac Eke. The legacy to be paid to her at the end of one calendar month after Isaac's death. Isaac also directed that a further sum of ten pounds should be 'occasionally applied for and towards her maintenance and education' until she reaches the age of 21 with sums being applied at the discretion of Isaac's son William Eke. Martha would also receive any amount from the ten pounds which had not been paid to her, once she reached 21 years.
Martha's sister Mary Lee would receive five pounds on reaching the age of 21.
Martha's brother John Lee would also receive five pounds "towards binding him out apprentice at the age of 14 years". In the meantime, Isaac directed his executors to invest the money and apply the interest towards John's maintenance.
Isaac's Gifts of his Possessions
Isaac also bequeathed specific items:
His son, Joseph Eke, inherited his father's "Clock as it stands".
Isaac gave his "little bed in the parlour" to his granddaughter, the daughter of his son John Eke.
Martha Lee was given her grandfather's bed "as it stands" together with six sedge bottom chairs, a chest of drawers and a large brass kettle. These items were to be kept by Isaac's son William until Martha reached the age of 15, when William should deliver them to her.
Grandson Isaac Eke (one of the sons of Isaac's son Isaac) inherited his grandfathers "best saddle and bridle and my coffer".
Isaac's grandson George Eke (a son of Isaac's son Joseph), received his grandfather's silver watch and blue bed in the parlour chamber. Joseph was directed to keep the watch and bed and pass these items to his son George once he attained the age of 15.
Residue
The residue of Isaac Eke's estate would pass equally between his children: Joseph Eke, John Eke, William Eke and Elizabeth Morris.
Further Reading
You may also be interested to read my blog Joseph and Mary Eke occupying a Cottage along Hingham Road
Sources:
Norfolk Record Office. NCC will register Whitesides 246. Eke, Isaac, yeoman, of Great Ellingham.
Hardingham Parish Regisers. Norfolk Record Office PD/323. Also available at FamilySearch.org https://www.familysearch.org/ark:/61903/3:1:S3HY-6SK9-YHT?owc=4J8C-Z4T%3A29664301%3Fcc%3D1416598&wc=4JDN-Z96%3A29664301%2C29373001%2C29358702&cc=1416598
Carleton Forehoe Parish Registers. Norfolk Record Office. PD/327. Also available at https://www.familysearch.org/ark:/61903/3:1:S3HY-6SK9-YHT?owc=4JZS-H7M%3A29420601%2C29373001%3Fcc%3D1416598&wc=4JDN-Z96%3A29664301%2C29373001%2C29358702&cc=1416598
Great Ellingham Parish Registers. Norfolk Record Office PD/609. Also available at https://www.familysearch.org/search/image/index?owc=4J8C-CB7%3A29627201%3Fcc%3D1416598