1790-1909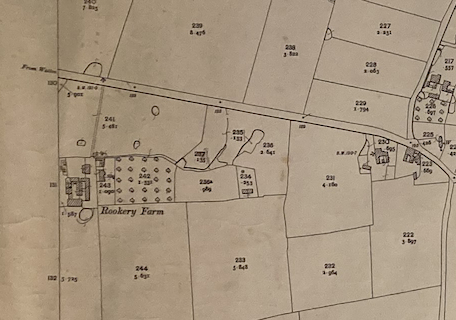 Extract from 1906 Ordnance Survey Map. Second Edition. Surveyed in 1881. Revised 1904
From 1790 until 1909 Rookery Farm on the Watton Road to Rocklands, was owned by the Norton family. At the turn of the 18th century, the farm comprised two farms – one of some 50 acres and the other 114 acres.
It was probably in the 1830s that the two farms became one.
From the 1830s until 1909, the farm was occupied by the Norton family's tenant farmer, William Colman of Rocklands. On his death in 1851, his son, Thomas H Colman, took over the lease. However, the Colmans (who had other farms) did not actually live at Rookery Farm. They employed a bailiff to live in and run the farm.
1909-1924
From 1909 to 1924, Rookery Farm had two owners. As far as I know, these owners lived at the farm.
In 1909, Clement Barker purchased the farm from the Norton family. However, Barker's tenure was short-lived as, due to his ill-health, the farm was sold at auction the following year.
It was William Arthur Bush who successfully bid for the farm at an auction in 1910. However, the transaction did not complete until April, 1911.
Bush and his family occupied the farm until his death in 1919. However, members of his family continued to live there until they were forced to sell the farm.
The day after William Bush completed his purchase in 1911, he mortgaged Rookery Farm to Robert Herne Bond. It transpires that this mortgage debt had not been repaid at the time of Bush's death. However, Robert Bond did not 'call in' the debt. It may be that the Bush family made some of the interest payments to Bond.
As it happens, Bond died in the July of 1924. Consequently, his executors 'called in the debt' and, in exercise of their statutory powers, subsequently sold the property. In the event, the sale price covered the outstanding mortgage debt and interest, save for £50.
New Owner Alfred William Lincoln
Alfred William Lincoln became the new owner of Rookery Farm on the 22nd November, 1924.
The deed conveying the property to Alfred Lincoln states that at the time of his purchase, Alfred Lincoln lived in Snetterton.
However, the censuses of 1911 and 1921 lists Alfred Lincoln in Besthorpe.
Born & Bred in Great Ellingham
Alfred Lincoln was Great Ellingham born and bred. Born in 1870, Alfred was a son of Alfred and Deborah Lincoln. He spent his early years with his parents and siblings in Bow Street.
1891
The 1891 census finds 20 year old Alfred W Lincoln lodging with the family of Sussex born Issac Colman in Charles Street, Stone, Kent. Alfred is working as a platelayer's labourer.
Marriage
In 1898 he was back in Norfolk when he married Little Ellingham born Alice Maria Skitmore.
1901 Bow Street
The 1901 census finds 30 year old Alfred Lincoln with his 24 year old wife Alice with two children – one year old Walter and eleven-month old Alfred, living in Bow Street, Great Ellingham. Alfred is a self-employed farmer.
1911-1921 Besthorpe
By 1911, Alfred and Alice Lincoln were in Besthorpe. The census captures the family living in an eight-roomed property. Now aged 40, the census describes Alfred as a farmer and an employer. Unfortunately the census does not state exactly where the Lincoln family is living.
However the census does confirm that the couple had completed 12 years of marriage and, during that time, Alice had given birth to 8 children. Sadly, two of the children had died.
Six of the Lincoln children are living with their parents – Walter Charles aged 11 and Alfred William 10 who were both born in Little Ellingham, Ella Mabel 9, George Valentine 7 and Ernest Edward born 5 born in Great Ellingham, and Deopham born Florence Maud 2.
At the time of the national headcount undertaken in 1921, Alfred and Alice were still living in Besthorpe.
However before 1924, Alfred and his wife moved to Snetterton and then to Great Ellingham, when Alfred purchased Rookery Farm.
1924-1937 Rookery Farm
Kelly's Directories of 1929 and 1937 confirm that Alfred William Lincoln was at Rookery Farm.
Looking for snippets about the Lincoln family in newspapers (but my search has been limited to an online search with The British Newspaper Archive), I found a few articles.
Inconsiderate Driving outside Rookery Farm
In October, 1934, Alice Lincoln appeared before the Magistrates at East Harling charged with driving a motor car without reasonable consideration.
The court appearance followed an incident involving Alice and the driver of a lorry along the road to Watton, just outside Rookery Farm. Alice Lincoln was found guilty and fined £2 10s with costs of £1 15s 8d. An account of the court case was published in the Diss Express on Friday 2nd November 1934.
Fete at Rookery Farm
The Diss Express of Friday 2nd August, 1935, reported on a recent fete at 'The Rookery', Great Ellingham. Held to raise funds to cover the cost of making cricket pitches and providing 'requisites for the Recreation Ground', the fete was opened by the Rev G R Raikes. A former international footballer and cricketer, Raikes had played cricket for Great Ellingham when he lived in the village some 30 years earlier.
Marriage of Youngest Daughter
The Yarmouth Independent of Saturday 6th February, 1937, reported on the marriage of Alfred and Alice's youngest daughter Florence Maud Lincoln.
Florence Lincoln married James Wells Ransome, the son of James Ransome of Wymondham, at the Church of St James, Great Ellingham on the 30th January. Florence was given away by her uncle, Mr W Bullock. Her bridesmaids were her cousin Hilda Lister, Lorna Johnson, Freda Rivett and Lily Lebbell. The reception was held in the village hall.
By the summer of 1937, Alfred Lincoln had decided to retire.
1937 Auction of Rookery Farm
The Particulars & Conditions for the Auction held at The Royal Hotel Norwich on the 10th July, 1937, provides a good description of Rookery Farm as it is in 1937:
RESIDENCE
Ground Floor – Entrance Hall with Porch, Dining Room with Tiled Fireplace, Drawing Room with Bay, Fireplace with Tiled Sides and Hearth, Marble Mantel, Sitting Room, Storeroom and Pantry, Kitchen with Range, Dairy, Scullery with Pump over Sink, Copper and Iron Oven
First Floor – Landing and Six Good Bedrooms
Outside – Coal House, Outhouses and E.C.
Water Supply – A good supply of Water is obtained from a Well by a Pump
The Residence is also said to have a Tennis Lawn, Flower and Kitchen Gardens
as well as a Large Orchard
In addition, the farm buildings (mainly of brick, timber and tiled) are listed as Garage, 4-bay Cart Shed with Loft over, Horse Stable for 6 with Chaff and Harness House adjoining, Covered Horse Yard, 2 Cow houses with Concrete Floors for 8, Riding Stable for 3, Open Yard, 3 Wood and Corrugated Loose Boxes, Covered Bullock Yard, Barn with Concrete Floor, Root and Hay Barn, 2-bay Wood and Corrugated Implement Shed and Elevator House, Range of Piggeries and 6 Loose Boxes
Sale to Joseph Ewin
On the 11th October, 1937, Alfred William Lincoln sold Rookery Farm to Joseph Edward Ewin of Newton by Castle Acre.
However, it seems that Alfred and Alice remained living at Rookery Farm until Alfred died.
Indeed, Alfred Lincoln retained an interest in Rookery Farm as a lender. The majority of the purchase price paid by Joseph Ewin was secured on Rookery Farm by way of a mortgage in favour of Alfred Lincoln.
This mortgage was repaid in 1939 (after the death of Alfred Lincoln) when Joseph Ewin entered into a mortgage with Midland Bank. However, Joseph Ewin also completed a fresh mortgage with Alfred Lincoln's executors to secure a much smaller sum.
Death of Alfred Lincoln
Alfred William Lincoln of The Rookery, Great Ellingham formerly of Besthorpe died on the 17th March, 1938.
Probate of Alfred's last will and testament made on the 16th October, 1919, was granted to Alice Maria Lincoln of The Rookery, Great Ellingham, (his widow), Christmas Charles Lincoln of Bush Green Farm, Great Ellingham, farmer (brother) and Alfred William Lincoln of Sotherton Hall, Wangford, Suffolk, farmer (son).
Following Alfred's death, his widow Alice Maria Lincoln, moved to Attleborough.
Sources:
1802 Russell James Colman Plans. Great Ellingham. Norfolk Record Office. Catalogue Ref. C/Ca 1/84.
1799-1842 F W Horner, Records of the Surveyors to Commissioners for Inclosure in Parishes in Norfolk and Suffolk. Great Ellingham (Act 1799). Norfolk Record Office. Catalogue Ref: NRO, BR 90/2
1800 Inclosure Commissioner's Particulars and Valuation, Great Ellingham. Norfolk Record Office. Catalogue Ref: NRO, MC 2213/119
1799 Statement of Claims. Great Ellingham Inclosure. Norfolk Record Office. Catalogue Ref: MC 2213/118
1911 census RG14/11472/91
1921 census – limited to online search only via FindMyPast website
Great Ellingham Parish Registers. Norfolk Record Office PD 609. Also available from www.ancestry.co.uk and www.familysearch.org
1871 census RG10/1841/80
1881 census RG11/1974/84
1891 census RG12/641/115
1901 census RG13/1867/71
Private Collection Deeds – Rookery Farm. Many thanks to David Ewin
1898 Marriages June Qtr. Wayland. Lincoln, Alfred. Skitmore, Alice. FreeBMD website
Kelly's Directories 1929 & 1937
Diss Express 2nd November, 1934, Diss Express 2nd August, 1935, Yarmouth Independent 6th February, 1937 – all viewed via The British Newspaper Archive
Probate 10 May 1938. Alfred William Lincoln. Death Date 17th March 1938. Norwich. England & Wales, National Probate Calendar (Index of Wills and Administrations), 1858-1995. Principal Probate Registry. Calendar of the Grants of Probate and Letters of Administration made in the Probate Registries of the High Court of Justice in England. London, England. Ancestry.com. England & Wales, National Probate Calendar (Index of Wills and Administrations), 1858-1995 [database on-line]. Provo, UT, USA: Ancestry.com Operations, Inc., 2010.