The Norwich Mercury of 27th May 1871 reported on a recent case heard before the East Harling Magistrates. The defendant was named as Alfred Lincoln alias Chapman. However, I believe the name 'Chapman' is erroneous and it should be Chaplin.
Alfred Lincoln was charged and found guilty of being drunk and riotous at Great Ellingham on the 18th May for which he was fined (with costs) 18 shillings.
Who was Alfred Lincoln and why was he also known as Alfred Chaplin?
The 1871 census taken just a few months before Alfred's court appearance, finds 25 year old Deopham born Alfred Lincoln with his wife Deborah (aged 19) and six month old son Alfred William living in Great Ellingham – most likely in Bow Street.
24 year old labourer Alfred Lincoln married 18 year old servant Deborah Clarke in the Church of St James, Great Ellingham on November 6th, 1869. The Church Register gives Deborah's father as shoemaker Jacob Clarke and Alfred's father as labourer, Christmas Chaplin.
Earlier in the year, on 7th February, 1869, and at the age of 24, Alfred Lincoln had been baptised in the same church. The baptism entry confirms that his parents were Christmas Chaplin and Elizabeth Lincoln.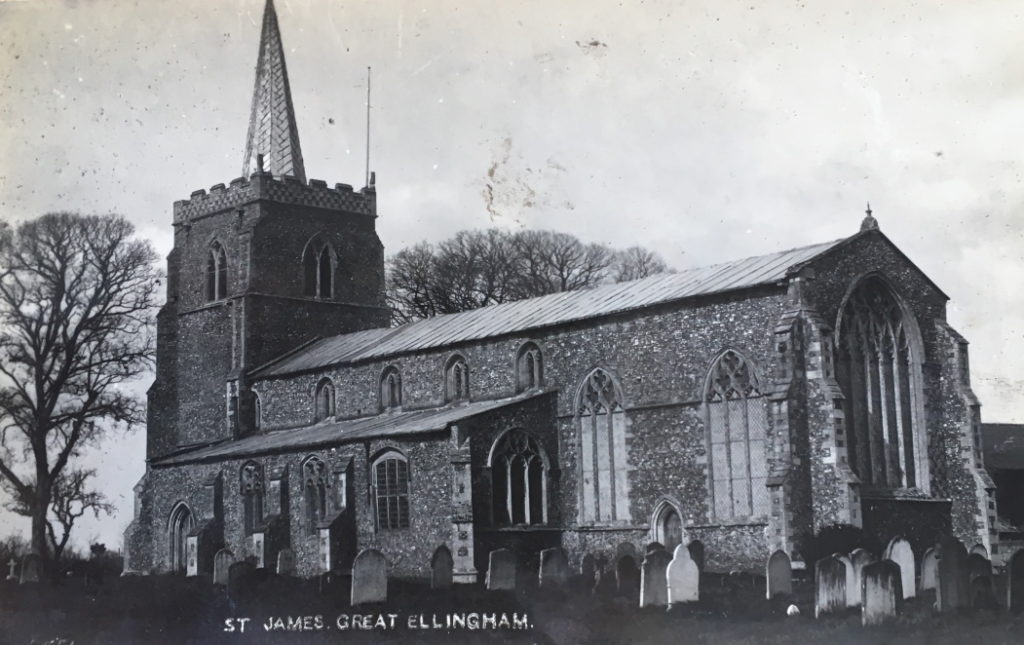 Church of St James Great Ellingham. Postcard Attleborough Heritage Group
Alfred was born in 1845, some 12 years before his parents married. 41 year old Christmas Chaplin married 39 year old Elizabeth Lincoln in the Parish Church at Great Ellingham on 17th October, 1857. They were both single.
Looking at the various census returns, it seems unlikely that Alfred ever lived with both his parents.
Alfred's Parents: Christmas Chaplin & Elizabeth Lincoln
1841 census
The 1841 census captures Alfred's father, 20 year old Christmas Chaplin with his parents, Robert and Sophia Chaplin living in Bow Street, Great Ellingham. Not far away and living at 'Stalland', Deopham is 24 year old Elizabeth Lincoln with her widowed father, 45 year old George Lincoln, and her siblings Jonathan 14, Sarah 9, George 7, Harriott 5 and Martha 4. Elizabeth's mother, Sarah, had died two years previously. 41 year old Sarah Lincoln was buried in Deopham churchyard on the 21st July, 1839.
1851 census
Alfred was born to Elizabeth Lincoln in 1845. The 1851 census finds six year old Alfred at the home of his maternal grandfather, 58 year old labourer George Lincoln. Along with George is his 22 year old son John (also a labouer), 20 year old daughter Sarah (keeping house) and grandchildren William Lincoln aged 9, two year old Martha Ann Lincoln and, of course, 6 year old Alfred.
Now aged 33, Alfred's mother Elizabeth Lincoln, is a house servant for farmer Henry Hammond and his family in Hingham. 31 year old Christmas Chaplin is a farm servant for farmer, Mary Mann, at 'Stolling Common' in Great Ellingham.
1861 census
By 1861, Alfred's parents had married. The census reveals Christmas and Elizabeth Chaplin living in Hingham Road, Great Ellingham along with Christmas's widowed mother, 72 year old Sophia Chaplin, and Christmas's niece 10 year old Alice E Lincoln.
Nearby is 16 year old Alfred Lincoln, described as a team man, captured in the household of farmer, Mary Mann – the same Mary Mann for whom Alfred's father Christmas Chaplin had been working some 10 years earlier and who likely still employed him!
1871 census to 1911
Having married in 1869, the 1871 census finds Alfred with his wife and six month old son living in Bow Street. I believe Alfred's parents, Christmas and Elizabeth, were also living in Bow Street.
Certainly for the next forty years, Alfred and Deborah Lincoln continued to live in Bow Street. The 1891 census confirms that they then lived at the Stone House in Bow Street. Alfred's parents, Christmas and Elizabeth Chaplin also remained living in Bow Street until they died. Elizabeth was buried in 1893 and Christmas around 9 years later in 1902.
1911 census
The 1911 census shows 66 year old farm labourer Alfred Lincoln with his wife Deborah, now aged 59, living in a three-roomed dwelling in Bow Street. Their son, 22 year old Christmas Lincoln (presumably named of his paternal grandfather) is also living with the couple. The census also confirms that Alfred and Deborah had been married for 41 years and that they had had seven children, five of whom were still living.
Children of Alfred & Deborah Lincoln
Alfred and Deborah's children were Alfred William born 1870, George Luther 1873, Alice Elizabeth 1877, Harriet Faith 1879, Jacob James born 1883, Cassy Mary born 1886 and Christmas Charles in 1888. The death of one year old Cassy Mary Lincoln was registered in 1886 and a death for a 8 year old Jacob Lincoln was registered in 1891.
Alfred's Father's Court Appearance
Four years after Alfred Lincoln's appearance before the Magistrates on the charge of being drunk and riotous, his father Christmas Chaplin was brought before the Magistrates on a charge of being drunk at the Queen's Head Public House in Great Ellingham. However, both Christmas Chaplin and his son, Alfred Lincoln, had appeared before the Magistrates on previous occasions for similar offences!
Sources:
Norwich Mercury 27th May 1871
Great Ellingham Parish Registers. Norfolk Record Office PD/609. Also available at Norfolk Baptism Project 1813 to 1880. http://tinstaafl.co.uk/nbp/Church_Pages/ellingham_gt.htm#1860 accessed 10.01.2020
Rockland St Peter Parish Registers. Norfolk Record Office. PD/336. Transcript of Rockland St Peter Baptisms. Norfolk Family History Society. https://www.norfolkonlinerecordsearch.co.uk/search/Lincoln—-parish–rockland-st-peter/1426-rockland-st-peter-baptisms/ Accessed 10.01.2020
Deopham Parish Registers. Norfolk Record Office PD/485. Transcript of Deopham Burials 1813 to 1904. Norfolk Family History Society. https://www.norfolkonlinerecordsearch.co.uk/search/Lincoln—-parish–deopham–only–burials/3082-deopham-burials/ Accessed 10.01.2020
General Record Office. Index. https://www.gro.gov.uk/gro/content/certificates/indexes_search.asp Accessed 10.01.2020
Free BMD website.
https://www.freebmd.org.uk/cgi/information.pl?cite=JhrP475om%2B8hpSEWIQwszQ&scan=1 Accessed 10.01.2020
https://www.freebmd.org.uk/cgi/information.pl?cite=SujfP%2BTgcRq%2FgNCMitL7aQ&scan=1 Accessed 10.01.2020
1841 census HO107/781/8
1851 census HO107/268/13, HO107/1823/117, HO107/1817/251
1861 census RG9/1237/83
1871 census RG10/1841/81, RG10/1841/80
1881 census RG11/1974/84
1891 census RG12/1549/72
1901 census RG13/1867/72
1911 census RG14/11473/32