William Arthur Bush may well have been in residence at Rookery Farm when he bid for the farm at auction.
Auction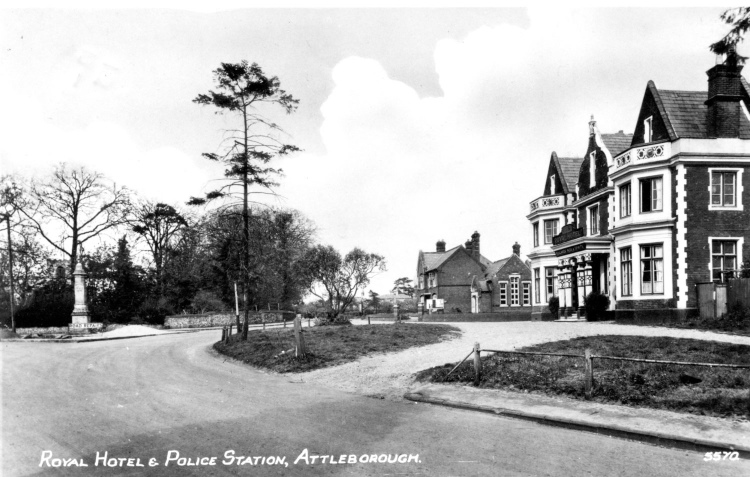 At the auction on the 9th September, 1910, held at the Royal Hotel, Attleborough, Rookery Farm was sold in four lots.
William Bush successfully bid for Lots 1 and 4, which included the majority of the farm. At this time the farm comprised the farmhouse, premises, two cottages and seventeen enclosures of land which, altogether, contained 193 acres 1 rood 31 perches.
Lot 3 comprised a parcel of arable land of 6 acres 3 roods and 7 perches known as 'Town Piece'. This land adjoined the main road through the village to Rocklands and the Great Ellingham Schools. The newspaper reported that Samuel Lewis purchased this land for £175.
Some 20 years later, the village's recreation ground was created on this land.
Seller's ill-health
The auctioneers were instructed by Mrs Fanny Barker on behalf of her husband, Clement William Barker. It was barely a year since Clement Barker purchased the farm. Unfortunately, his health had deteriorated so much that, at the time of the auction, he was a patient at 'Heigham Hall for Lunatics' Norwich – as it was then called.
Conditional
Because of Clement Barker's poor mental health, Bush's purchase was conditional upon Fanny Barker obtaining the approval of the 'Masters in Lunacy' to the sales. 'Masters in Lunacy' was a similar body to today's Court of Protection.
I am confident that by the time the auction was held, Fanny Barker had relocated to Wymondham with her two stepsons. I have no doubt that William Bush rented or leased the farm from Fanny Barker.
1911 census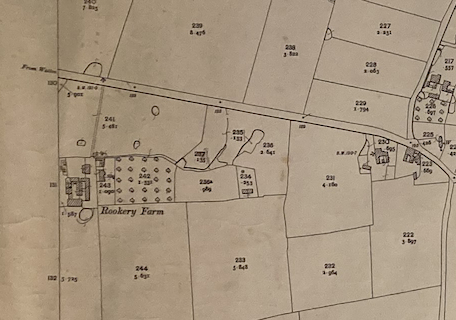 Extract from 1906 Ordnance Survey Map. Second Edition. Surveyed in 1881. Revised 1904.
Rookery Farm
The 1911 census undertaken on the night of Sunday 2nd April, 1911, captures 53 year old Bawdeswell born William Arthur Bush at Rookery Farm.
With William is his 56 year old wife Harriett (sometimes referred to as Hannah) and some of their seven surviving children: 28 year old Edith, Alfred Ernest aged 26, May 22, Hubert John aged 20 and 18 year old Alec Gordon.
Ten years earlier, the Bush family were in Whitwell, a village just outside Reepham, where Harriett Bush was born.
All the children are working for their father. Edith and May are carrying out dairy work and their brothers are working on the farm.
Rookery Farm Cottages
The census also tells us that William Bush was an employer. Indeed I believe some of his employees lived 'next door' at Rookery Farm Cottages.
33 year old Walter Albert Warren and his wife and children are in one of the cottages, and 49 year old Charles Kerrison and his wife Louisa in the other.
Purchase completes on 10th April, 1911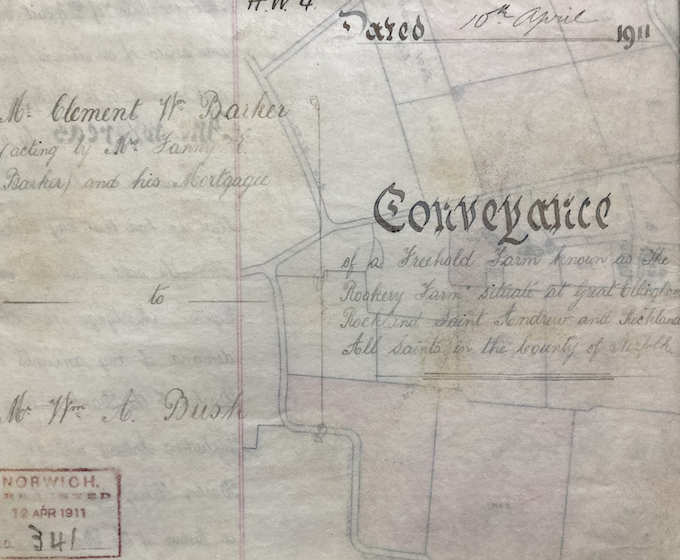 Extract from the Conveyance 10th April 1911 between C W Barker, his Mortgagee & W A Bush. Courtesy David Ewin
Just a week after the 1911 census, the seller, Fanny Barker, received the necessary approval from the Masters in Lunacy. Consequently, on the 10th April, 1911, William Arthur Bush became the legal owner of Rookery Farm.
Bush paid a total sum of £4,650 for the farm together with an additional 21 acres or so of land.
Bearing in mind that the seller, Clement Barker had, just after his purchase, deposited his deeds with Barclays as security for a significant loan, it is no surprise that the principal loan with interest (amounting to £4,016 6s 3d) was outstanding. Nonetheless, Barker's outstanding loan was repaid on full on the completion of the sale.
Mortgage to Robert Bond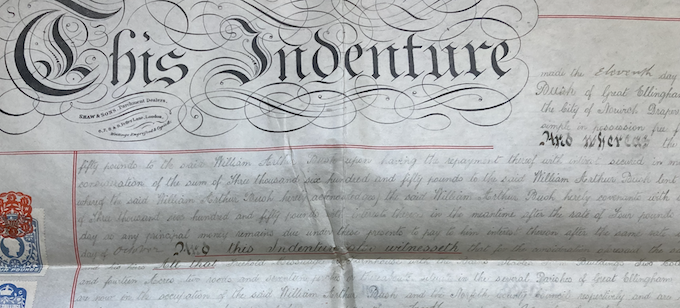 Extract from Indenture of Mortgage dated 11 April 1911 between W A Bush & R H Bond. Courtesy David Ewin
However, the following day, on the 11th April, 1911, William Arthur Bush entered into an Indenture of Mortgage with Robert Herne Bond, a 67 year old linen draper, of Christchurch Road, Norwich. Bush used Rookery Farm as security for a loan from Bond of £3,650 plus interest.
Farmer and Cattle Dealer
Kelly's Directory of 1912 lists William Arthur Bush at Rookery Farm. He is described as a Farmer and Cattle Dealer.
Butter Makers
It seems that William Bush and his daughters were well-known experts in butter making.
County's Royal Show
In an account of the County's Royal Show, the Downham Market Gazette of Saturday 1st July, 1911, reported that in the Class of 'Slightly Salted Butter', 2nd Prize was awarded to Mr W A Bush of Great Ellingham.
Norwich Fat Cattle Show
A report of the Norwich Fat Cattle Show with exhibitions held at the Agricultural Hall in Norwich, published in the Norfolk News of 18th November, 1911, also provides information concerning the Bush family's butter making expertise.
In the Class: 'Butter, Cheese, Eggs, Bread', Edith Bush of The Rookery, Great Ellingham gained: 2nd Prize for her one pound of fresh butter entirely the produce of Channel Island cows, absolutely free from salt; 1st Prize for butter ornamentally prepared for the table; 3rd Prize for her pot of not less than 5lbs of preserved butter and 3rd Prize for 'Best Stilton Cheese'.
Her father, William Arthur Bush, took the 3rd Prize for 'Twelve Preserved Eggs'.
Parish Councillor
William Bush was also a parish councillor.
The Downham Market Gazette of 22nd March, 1913, reported on the elections for the Parish Council in Great Ellingham.
As it happens, there was no contest.
At a Parish Council meeting chaired by George Barlow, the following persons were elected – William Arthur Bush, Alfred William Clarke, William Downes, William Robert Kybird, Herbert Barnard Lebbell and Albert Spurgeon.
Death of William Arthur Bush
William Arthur Bush died on the 1st February, 1919.
However, it appears that the family were in no hurry to settle William's affairs. It was over a year after William's death that probate was granted to his widow, Hannah Elizabeth Bush and his sons, William Arthur Bush and Alfred Ernest Bush.
During that time, I have no doubt that the Bush family continued to occupy Rookery Farm and did so until 1924.
1921 census
Rookery Farm
Even so, at the time of the national head count undertaken on 19th June, 1921, the only member of the Bush family actually at Rookery Farm is 37 year old unmarried Edith Bush.
Elementary school teacher 23 year old Cora Harriett Sybil Wyner(?) is lodging at Rookery Farm. Cora is teaching at the school in Rockland St Peter.
Rookery Farm Cottages
Nevertheless, living next to Edith in one of the Rookery Farm Cottages is her brother, 28 year old Alec Gordon Bush.
Alec has a 29 year old wife Mabel Martha and three young children – 4 year old Alec James Bush, 3 year old Pansy Mabel Bush and 1 year old Hazel Kathleen Leeder Bush. Mabel's mother, 56 year old widow, Alice Matilda Leeder, is a visitor at the household on census night.
The other of Rookery Farm Cottages is occupied by 24 year old Charles Partridge and his wife 27 year old Kate Alice. Charles Partridge is employed as a leather currier working for leather merchant, Robert Allen, in Rocklands.
Edith Bush
There is no doubt that Edith Bush continued with her butter making at Rookery Farm.
The result of a competition run by the Dairy Supply Co. Ltd., of Museum Street, London WC1, was published in the Bucks Herald on Saturday 26th April, 1924.
'"Clock" Cream Separator. The Third FREE Separator offered for the best sample of butter for the month of March has been awarded to Miss E Bush, The Rookery, Great Ellingham, Attleborough, Norfolk, who is also a winner of many first prizes and championships at Dairy Shows'
A similar entry in the Bucks Herald of Saturday 3rd May 1924, expands on the above –
'Miss Bush is a well-known expert in butter-making not only in the Eastern Counties, but throughout the country, having secured many awards at the various shows, including the London Dairy Shows'
Death of Robert H Bond
On the 19th July, 1924 (and five years after the death of William Arthur Bush) his lender, Robert Herne Bond died.
Bond's executors 'called-in' the mortgage debt which was still outstanding and due to Robert Bond by the late William Arthur Bush. Consequently, the executors of the late Robert Herne Bond (as mortgagees) sold 'Rookery Farm' to recover the debt.
Auction of Rookery Farm
The following notice appeared in the Diss Express on Friday 26th September 1924:
WITH IMMEDIATE VACANT POSSESSION
GREAT ELLINGHAM, NORFOLK
3 miles from Attleborough Station, L and NER
Cambridge Main Line
THOS. WM. GAZE AND SON, have received instructions to Sell by Auction
AT THE ROYAL HOTEL, NORWICH
On Saturday, October 18th, 1924,
At 2.30 in the Afternoon,
the well-situate FREEHOLD OCCUPATION, known as
"THE ROOKERY FARM"
With good Residence, Farm Premises, well-built Brick and Tiled Double Cottage and
214A 3R 17P
of Mixed Soil Arable and Pasture Land, as now in the occupation of the Exors. Of the late Mr W A Bush
POSSESSION ON COMPLETION OF PURCHASE
Particulars and Conditions of Sale may be obtained of the Auctioneers, Crown Street, Diss, or of the vendors' Solicitors, Messrs Goodchild and Son, Castle Meadow, Norwich
Auction of Live & Dead Farming Stock
A few weeks later, a further notice concerning Rookery Farm was published in the Diss Express on the 17th October, 1924:

On Tuesday Next
ROOKERY FARM
GREAT ELLINGHAM
3 miles from Attleborough
THOS. WM. GAZE AND SON, have received
instructions to Sell by Auction
On Tuesday, October 21st, 1924,
The Live and Dead FARMING STOCK of the Exors. of the late Mr W.A. Bush comprising:
6 CART HORSES
28 Head of NEAT STOCK, including DAIRY OF 9 CHOICE COWS, Red Shorthorn Bulls, 18 months old, and 18 Weanling Steers and Heifers
26 Head of SWINE, 40 FOWLS
The AGRICULTURAL CARRIAGES, IMPLEMENTS,
and MACHINES, including 2 Light-running Journey Wagons on Springs, Light-running Spring Van, Cattle Float on 2 wheels, 2 Scotch Carts, Pony Tumbril, Luggage Cart, Iron Tank Water Cart, Fowl House on Wheels, Double and Single Ploughs, Heavy and Light Harrows, Horseshoes, Woods and Co.'s Cambridge Roll, 2 Three-Cylinder Light Iron Rolls, Blackstone's Lever Horse Drag Rake, "Superior" corn Drill, Murton and Turner's 4-Coulter Turnip Drill, Jack's Manure Distributor, Massy and Harris Self-Binding Corn Reaper, Harrison McGregor's 5-Sail Self Delivery Corn Reaper, Oil Cake Breakers, Turnip Cutters, CORN ELEVATOR by Watson and Haig,
BARN MACHINERY, including Crossley 7 h.p. Oil Engine, Bamford's No.3 Grist Mill, Two-Knife Chaff-Cutter, and Iron-Frame Saw Bench with Shafting, Pulleys and Driving Belts, Bins, Troughs, 20 Iron Wheel Hurdles, Plough and Team Harness, and Miscellaneous Effects.
Sale to commence at 11 o'clock punctually
Catalogue may be obtained of the Auctioneers, Crown Street, Diss
Sale of Rookery Farm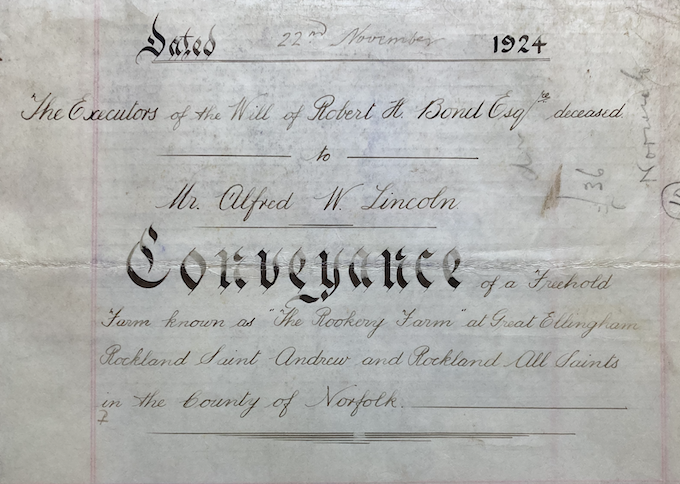 Extract from the Conveyance dated 22nd November 1924 made between the Executors of the Will of Robert H Bond Esq. deceased and Mr Alfred W Lincoln. Courtesy David Ewin
On the 22nd November, 1924, the executors of the late Robert Herne Bond sold Rookery Farm to Alfred W Lincoln.
Notwithstanding that there was a small shortfall between the sale price of £3,600 and the outstanding mortgage debt of £3,650 plus interest, the sellers released Rookery Farm from the mortgage and the sale completed.
Rookery Farm would be in the ownership of Alfred Lincoln for the next 13 years.
Sources:
Private Collection Deeds – Rookery Farm. Many thanks to David Ewin
1921 census RG15. Registration District 231. Great Ellingham Schedules 11-13. Viewed via www.findmypast.co.uk
1911 census RG14/11473/53-55
1901 census RG13/1829/5
Kelly's Directory 1912
Eastern Daily Press 9th September 1910, Downham Market Gazette 1st July, 1911, Norfolk News 18th November, 1911, Downham Market Gazette 22nd March, 1913, Bucks Herald 26th April, 1924, Bucks Herald 3rd May 1924, Diss Express 26th September 1924, Diss Express 17th October, 1924 – all viewed via The British Newspaper Archive
William Arthur Bush. Probate 22 March 1920. Norwich. Death date 1 February 1919. England & Wales, National Probate Calendar (Index of Wills and Administrations), 1858-1995. Principal Probate Registry. Calendar of the Grants of Probate and Letters of Administration made in the Probate Registries of the High Court of Justice in England. London, England. Ancestry.com. England & Wales, National Probate Calendar (Index of Wills and Administrations), 1858-1995 [database on-line]. Provo, UT, USA: Ancestry.com Operations, Inc., 2010