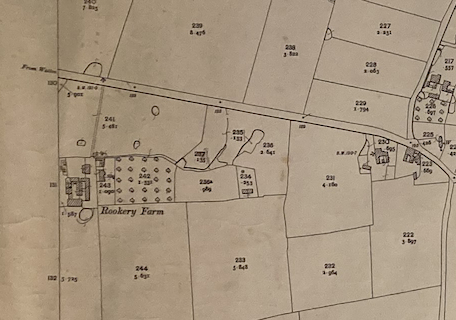 Extract from 1906 Ordnance Survey Map. Second Edition. Surveyed in 1881. Revised 1904.
Rookery Farm is a substantial farm approached by a short drive from the Watton Road, near to the border with Rocklands. Indeed a very small portion of the land belonging to the farm once crossed the parish boundary into Rocklands. Perhaps this is still the case today.
Origins
The origins of the farm may well go back several centuries. However without sight of evidence to support this, I cannot be certain when the present farmhouse was built.
Nevertheless, the house will have undergone many changes over the years. Indeed, Auction Particulars of 1910 mention that Rookery Farmhouse had been extended 'during the last five years'.
This is one of a series of blogs looking at the history of Rookery Farm taking it from the end of the 18th century through to the 20th century.
Norton Family
From 1790 until 1909, the farm (which once comprised of two farms), was continuously owned by the Norton family. However, it was never occupied by any member of the Norton family.
We pick up the story of the farm when William Joseph Norton (then living in Teignmouth, Devon), sold the farm in 1909.
New Owner Clement W Barker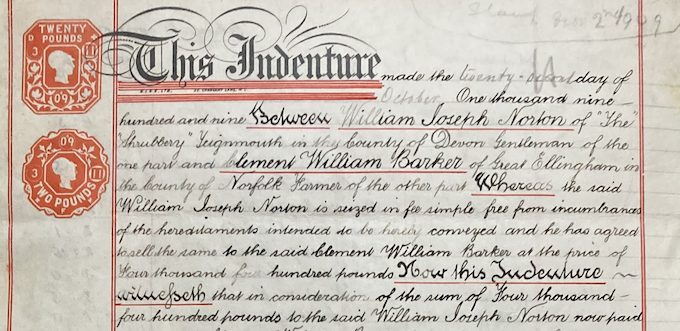 Extract from an Indenture dated 22nd October, 1909 made between William Joseph Norton & Clement William Barker
Courtesy David Ewin
On the 22nd October, 1909, Clement William Barker purchased Rookery Farm from William Joseph Norton for £4,400. Barker was already in occupation of the farm.
The relating Indenture describes the farm as:
ALL THAT Messuage or Farmhouse with the Barns, Stables, Farm buildings, cottages, yards, gardens, orchard and land thereto belonging containing altogether two hundred and twenty nine acres and eight perches (more or less) situate in Great Ellingham, Rockland Saint Andrew and Rockland All Saints in the said county of Norfolk as the same hereditaments are now in the occupation of the said Clement William Barker or his under tenants …
Auction Particulars prepared for the auction of Rookery Farm the following year (1910), provide a good description of the farm as well as the farmhouse.
The farmhouse is of brick and clay and has a tiled roof. There is a hall, dining room, drawing room, office, kitchen (with a water pump), scullery, dairy, a front and back staircase and six bedrooms. There are also various store rooms.
Outside there is a kitchen garden and a large orchard. There is a large wagon house as well as cart sheds, loose boxes, stable, corn barn and piggeries. 
Deposit of Deeds with Barclays
Within a week of completing his purchase, on the 30th October, 1909, Clement Barker formally 'deposited' his deeds to Rookery Farm with Barclays & Co. Ltd., as security. It appears that Barker borrowed the majority of the money from the bank to fund the purchase.
Who was Clement Barker?
1901 census
The national headcount taken in 1901, captures 48 year old widower Clement Barker with his two sons, 21 year old Raymond and 15 year old Clement living in Wymondham. Born in Wramplingham, Clement Barker is described as a farmer and road material contractor. Clement employs 64 year old widow Louisa Burrell to keep house for him and his sons.
Remarriage
In 1906, Clement marries Fanny Emma Youngman. The marriage was registered between July and September in the Edmonton District.
Newly Married
I do not know whether Clement and his new wife, Fanny, began their married life in Great Ellingham. Certainly at the time that Clement Barker purchased Rookery Farm, the couple were already living at the farm.
I suspect that on purchasing Rookery Farm, Clement retained Wood Farm in Downham, Wymondham. He may well have left his sons to run Wood Farm.
Nevertheless, within a year – if not months, of Clement Barker completing his purchase, he suffered a severe deterioration in his health. Consequently, Rookery Farm would, once again, be sold.
Auction
The outcome of the auction of Rookery Farm, Great Ellingham (in four lots) was published in the Eastern Daily Press of the 9th September, 1910.
Lot 1 – the freehold farm with house and premises and two cottages together with 17 enclosures totalling 193 acres 1 rood and 31 perches. This was purchased by Mr Bush for £4,200.
Lot 2 – freehold arable land of 7 acres 2 roods and 24 perches adjoining the main road and the Prince of Wales Public House. This lot was sold to Mr West of Ellingham for £180
Lot 3 – 'accommodation' freehold arable land known as the 'Town Piece' containing 6 acres 3 roods and 7 perches adjoining the main road and Ellingham schools. Sold to Mr Lewis for £170
Lot 4 – enclosure of freehold arable land containing 21 acres and 26 perches on the south side of Mill Lane. This was sold to Mr Bush (also the purchaser of Lot 1) for £450
Application to the Masters in Lunacy
I think it likely that when Rookery Farm was auctioned in the autumn of 1910, Clement William Barker was already a patient at 'Heigham Hall for Lunatics', a private asylum, at Old Palace Road, Norwich.
Accordingly, it seems that Clement Barker lacked the mental capacity in which to deal with his affairs.
After the auction, Clement's wife Fanny applied to the Masters in Lunacy (via her solicitors), for their approval of the auction sales. 'Masters in Lunacy' would be a very similar body to what today is the Court of Protection.
The approval was granted and, accordingly, the sale of Rookery Farm to William Arthur Bush completed on the 10th April, 1911.
It is no surprise to find that just a week before the completion of the sale, the 1911 census (undertaken on the night of the 2nd April), finds 53 year old Fanny Emma Barker with her step-sons Raymond Barker 31 and Clement Barker 25 at Wood Farm, Downham.
59 year old Clement William Barker is still a patient at the private asylum in Old Palace Road, Norwich.
Sadly, Clement Barker died on the 13th June, 1911.
Sources:
Private Deeds Collection – Rookery Farm. Many thanks to David Ewin
1910. Auction Particulars September 8th, 1910. The Rookery Farm, Great Ellingham. 'The Attleborough & District Historian' Issue No.31. January/February 2017. Editor David True. Copy courtesy David Ewin
1901 census RG13/1851/24
1911 census RG14. Reg District 226. Piece 11342. Sch. 211, RG14. Reg District 225. Piece 11328
Eastern Daily Press 9th September 1910. Accessed via The British Newspaper Archive
GRO Index. https://www.gro.gov.uk/gro/content/ also available via FreeBMD website