At the turn of the 19th century, Henry Norton was one of three significant landowners in Great Ellingham. Like the other notable proprietors, Norton did not live in the village.
Henry Norton completes his Purchase from Turner
On the 6th November, 1790, Henry Norton completed his purchase of two farms with a considerable amount of land from James Turner. In fact, the deal 'was agreed' before this date, but James Turner died before the Indenture of Bargain & Sale was drawn up.
Accordingly, the property and land was formally conveyed to Norton by James Turner's eldest son and heir, yeoman James Turner, together with the executors of his late father's will, namely Thomas Bond and Capel Bringloe.
Also party to the deed (along with the buyer, Henry Norton) was Joseph Dover, a gentleman, of Dickleburgh and William Cockell, the Elder, of Attleburgh (Attleborough).
Repayment of Mortgage Debt
I have not seen a copy of the 1790 Bargain & Sale. However, given the number of parties to the deed, I suspect that before he died, James Turner borrowed money from Joseph Dover against the property.
Therefore, Dover would have been required to sign the Indenture to release his interest in the property -and presumably to acknowledge the repayment of the mortgage debt.
Historically, it is not uncommon for a mortgage term to be 500 or even 1000 years. However, when the mortgage is repaid, the residue of the mortgage term has to be dealt with i.e. usually assigned to a trustee for the present owner of the property.
Accordingly, when the executors of James Turner deceased repaid the mortgage debt, the residue of the term of the mortgage was simultaneously conveyed to William Cockell, as trustee for the purchaser, Henry Norton. However, in effect this is merely a formality. Cockell had no interest in the property itself.
Having said that, this is purely an assumption as to what took place.
Norton's Property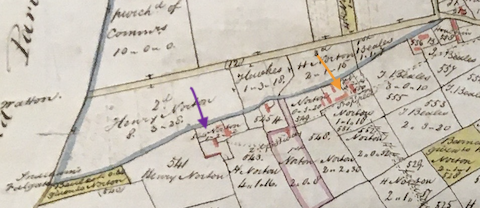 Extract from 1802 Map of Great Ellingham. Russell James Colman Plans. Norfolk Record Office Cat. Ref. C/Ca 1/84. All rights reserved Norfolk Record Office. With kind permission of NRO
The arrows on the above extract from the Great Ellingham Inclosure Map of 1802, points to the two farms which I believe Henry Norton purchased from James Turner in 1790.
In 1800, the farm nearest to the boundary with Rockland (as indicated by the purple arrow), was occupied by Jeremiah Woodcock. This farm became what is today, Rookery Farm.
The farm indicated by the orange arrow, was occupied by Robert Day. I believe this is now the site of Rookery Farm Cottages.
As I mention, Henry Norton never lived in either of the properties. Indeed, the Norton family retained ownership of the two farms until 1909.
During the Norton family's tenure, the farms were leased and, in some cases, sub-let. I have looked at the various occupiers of the farms in a separate blog.
Henry Norton Entails his Estate
Historically, the act of putting property into a trust in a will (entail) was most appealing to some of the powerful and wealthy men. By doing so, they could ensure that their property passed solely to their descendants (usually male) and intact. Further, illegitimate children were excluded.
This is exactly what Henry Norton, a gentleman, of Old Buckenham set out in his last will and testament dated the 29th June, 1827.
Amongst other provisions concerning other land and property, gifts, etc., Norton gave all his messuages, lands, tenements and hereditaments in Great Ellingham and Rocklands (excluding the property which he bequeathed to his grandson, Ellis Palmer), to the use of his son William Norton. However, this 'use' was limited to William's lifetime.
On William's death, the property would pass to his son, Henry Norton, but again this was limited to his lifetime.
On his death, the property would pass to Henry's brother William – again limited to his lifetime.
Thereafter, the use of the property would pass to the first born 'lawfully begotten' son of William Norton (the grandson of Henry Norton Snr) and then to the first son and subsequent male heirs (again 'lawfully begotten) – and, again, limited to lifetime.
In this way, Henry Norton Senior ensured the chain of succession along the male line. The trust also prevented a sale of the property, or indeed any other form of transfer of ownership. For example, by inheritance or by borrowing against the property.
The Norton Dynasty
Henry Norton of Old Buckenham died on the 3rd January, 1831.
Just six years later, his son William Norton died on the 11th February, 1837.
Brothers Henry and William Norton, grandsons of Henry Norton
The ownership of the Great Ellingham farms (later one farm 'Rookery Farm') passed to Henry Norton, the eldest son of William Norton and the grandson of Henry Norton (c.1747-1831). In accordance with the trust set out in their grandfather's will, Henry's brother William would succeed his brother as the owner of Rookery Farm.
Born in Old Buckenham
Henry Norton was born on the 4th September, 1811 in Old Buckenham, and his brother William on the 24th December 1812, also in Old Buckenham.
Their parents, William and Mary Norton, had two further known sons – John Culley born on the 28th June, 1814 and Richard born on the 28th January, 1816.
Baptisms
William and Mary Norton were Baptists.
Registrations for the baptisms of William and Mary Norton's four sons appear in the records for St Margaret's Baptist Chapel in Norwich.
Tenants of Rookery Farm
Henry Norton was 25 when his father died in 1837, and he subsequently inherited the use of Rookery Farm. Just like his father and grandfather before him, he did not live at Rookery Farm.
Throughout most (if not all) of Henry Norton's tenure, Rookery Farm was leased to William Colman, a significant farmer of Rocklands. William Colman died in 1851. However his son, Thomas Hovell Colman, took over the lease from the Norton family.
Neither William Colman nor his son Thomas H Colman ever lived at Rookery Farm. They employed a bailiff to run the farm. Thomas Colman continued to lease Rookery Farm until his death in 1893.
1851 census
At the time of the 1851 census, 39 year old Henry Norton is some 220 miles away from Great Ellingham in Clifton, Bristol.
At the same time, his 38 year old brother William is with his wife Mary Ann and their 9 year old son, William Joseph, at Chestnut Cottage, Egham, Surrey. William Norton employs a servant, 19 year old Maria Penn.
1871 census
Twenty years later, 59 year old unmarried Henry Norton is living in 'Unthank's Road', Norwich.
The 1871 census describes Henry as a landowner. He is also stated to receive income from land, houses, stocks etc. Henry employs two servants – 63 year old widow Jane Taylor is his cook and 33 year old Mary Ann Taylor (presumably Jane's daughter) is Henry's housemaid.
At this time, Henry's brother William is in Dawlish Street, East Teignmouth, Devon. Now aged 58, William is described as a landowner and a Theological Master.
William's wife Mary Ann is now aged 49 and the couple's only son, William Joseph, is aged 29. William is 'receiving income from dividends and interest of money'.
It is William Joseph Norton who later inherits Rookery Farm and brings his great grandfather's trust to an end.
1881 census
In 1881, Henry Norton is still living in Unthank's Road. At 69, the census describes him as a retired solicitor. Widow Jane Taylor (now 74) is still working for Henry, but now as his housekeeper, with Mary Ann Taylor his cook. They are joined by 18 year old Anna Taylor who is the housemaid.
William and Mary Ann Norton are at Cutland Farm House, Chulmleigh, Devon. 68 year old William Norton is said to have 'Lands, Houses & Dividends'. His 39 year old unmarried son, Willliam Joseph, is described as a farmer of 120 acres employing three labourers and one lad. 16 year old Bessie Annie Wright is working for William and Mary Ann as a 'domestic servant of all work'!
Death of William Norton
Old Buckenham born William Norton died on the 12th August, 1890 in Chulmleigh, Devon. His last will and testament was proved by his only son, William Joseph Norton, a yeoman, of Cutland Farm.
1891 census
79 year old Henry Norton is still living on his own means in Unthank's Road, Norwich in 1891. His faithful servants, 53 year old Mary A Taylor and 84 year old Jane Taylor are still with Henry. They are supported by domestic servant 17 year old Sarah Baker.
I have not been able to find Henry's late brother William's son, William Joseph Norton, on the 1891 census. Nevertheless, a document of 1892 shows William Joseph Norton to be living at St Clair, Teignmouth.
Henry Norton still owned Rookery Farm, albeit that the ownership was limited to his lifetime. Rookery Farm is still occupied by Norton's tenant and his under-tenant.
Death of Henry Norton
The following year, Henry Norton died on the 20th February, 1892.
An obituary appeared in the Norfolk Chronicle of Saturday 27th February, 1892:
Mr Henry Norton, a gentleman of somewhat eccentric habits, but a scholar and scientist, died at his residence, 44 Unthank's-road, on Saturday last. 

He was the eldest son of Mr. William Norton, Old Buckenham, in this county, and, in his early days, was articled to a well-known firm of solicitors at Wymondham, Messrs. Mitchell and Clarke. For a short time he practised as a solicitor in Surrey-street. 

Much of his time was subsequently spent roaming over the greater part of Europe. Some 30 years ago he settled down in Norwich, in the house where he continued to reside till his death. 

As a scholar and a man of science, he was possessed of a mine of information such as few have acquired, Sanskrit and geology being his favourite studies. He was an omnivorous reader and a lover of books, though he never published anything, and the very valuable library and MSS which he collected have been bequeathed, it is understood, to the City Library. 

The deceased gentleman was in his 81st year. He had two brothers; one was Dr. Norton who death occurred last year in Devonshire, and the other Mr J.C. Norton, who for many years was also a resident on Unthank's-road. The funeral took place at the Rosary Cemetery on Thursday.
The announcement of the death of of Henry Norton's faithful housekeeper, Jane Taylor, appeared in the Eastern Daily Press on the 16th July, 1896:
TAYLOR - July 15, at 48, Langley Street, North Height, Jane, relict of Francis Taylor of Norwich, and for more than thirty years housekeeper to the late Mr. Henry Norton of Unthank's Road Norwich, aged 90.
William Joseph Norton
On Henry Norton's death in 1892, and in accordance with Henry's grandfather's will made some 65 years earlier, the ownership of Rookery Farm passes to his nephew, William Joseph Norton. Again in accordance with the trust, William Joseph Norton's use of Rookery Farm is limited to his lifetime.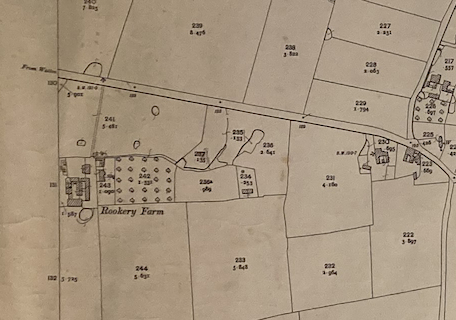 Extract from 1906 Ordnance Survey Map. Second Edition. Surveyed in 1881. Revised 1904.
However, at this time, William Joseph was aged 52, unmarried and living in Teignmouth, Devon. He had no children and, in particular, no successive male heir to inherit the Great Ellingham property, Rookery Farm.
It may be for this reason that William Joseph Norton decided to 'free' Rookery Farm from the fee tail (or entail) in his great grandfather Henry Norton's will.
Disentailing Deed

Extract from Disentailing Deed dated 9th September 1892 made between William Joseph Norton & Sydney Cozens-Hardy.
Courtesy David Ewin
The trust was extinguished by a Disentailing Deed dated the 9th September, 1892. It was also a legal requirement to enrol the document in Chancery.

Extract from Disentailing Deed dated 9th September 1892 made between William Joseph Norton & Sydney Cozens-Hardy. Courtesy David Ewin
With the disentailing procedures completed, the 'fee tail' title to Rookery Farm was converted to 'fee simple'. William Joseph Norton was free to dispose of the property as he wishes.
William J Norton continued to lease Rookery Farm.
Additional Land
On the 11th October, 1892, William Norton completed his purchase of two parcels of land in Great Ellingham at an auction held at the Royal Hotel, Attleborough on the 11th August. These pieces of land were formerly part of the farm which later became known as Chestnut Grove Farm at Town Green.
Marriage
In 1898 and aged 58, William Joseph Norton married Rose Rossiter – a woman some 36 years his junior.
Boundary Dispute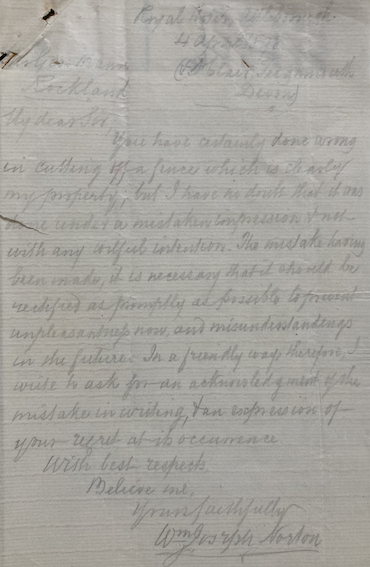 1898 Correspondence between William Joseph Norton, the owner of Rookery Farm
and George J Mann of Pound Farm, Rockland St Andrew
Courtesy David Ewin
It was also in 1898 that William Norton encountered a boundary dispute at Rookery Farm with a neighbouring farmer, George J Mann at Pond Farm, Rockland St Andrew. Surviving copies of correspondence show that the disagreement was resolved in a most polite and friendly way.
Norton's tenant at the farm was George Jude.
1901
The 1901 census captures 57 year old farmer George Jude is at Rookery Farm. His son, Charles Jude, is occupying one of Rookery Farm Cottages with Alfred Dexter in the other.
59 year old retired farmer, William Joseph Norton, is with his 23 year old wife Rose at The Shrubbery, Dawlish Road, Teignmouth, Devon. The couple have an eight-month old daughter Evelyn. 23 year old Matilda Avery is the family's general servant.
End of an Era
On the 22nd October, 1909, William Joseph Norton sold Rookery Farm to Clement William Barker.
The Norton family's ownership spanning more than a century, came to an end.
Sources:
1802 Russell James Colman Plans. Great Ellingham. Norfolk Record Office. Catalogue Ref. C/Ca 1/84.
1799-1842 F W Horner, Records of the Surveyors to Commissioners for Inclosure in Parishes in Norfolk and Suffolk. Great Ellingham (Act 1799). Norfolk Record Office. Catalogue Ref: NRO, BR 90/2
1800 Inclosure Commissioner's Particulars and Valuation, Great Ellingham. Norfolk Record Office. Catalogue Ref: NRO, MC 2213/119
1799 Statement of Claims. Great Ellingham Inclosure. Norfolk Record Office. Catalogue Ref: MC 2213/118
18th Century Map. Town Green, Hyrne and Broad Commons in Great Ellingham held at Norfolk Record Office. Cat. Ref. MC2213/113, 941X7
Great Ellingham Parish Registers & Archdeacon's & Bishop's Transcripts. Norfolk Record Office PD 609. Also available via www.familysearch.org & www.ancestry.co.uk
1753-1847 Manor of Buckenham Castle, Lathes, Close and Priory. Court Book. Norfolk Record Office. Catalogue Ref: MC 1833/8 -MC 1833/16. 1595-1847 also available at https://www.familysearch.org
Private Collection Deeds – Rookery Farm. Thanks to David Ewin
England & Wales, Non-Conformist & Non-Parochial Registers, 1567-1936. The National Archives (United Kingdom); Kew, Surrey, England; General Register Office: Registers of Births, Marriages and Deaths surrendered to the Non-parochial Registers Commissions of 1837 and 1857; Class Number: RG 4;; Class Number: Rg 4; Piece Number: 361. Ancestry.com. England & Wales, Non-Conformist and Non-Parochial Registers, 1567-1936 [database on-line]. Lehi, UT, USA: Ancestry.com Operations, Inc., 2013.
Old Buckenham Parish Registers & Archdeacon's & Bishop's Transcripts. Norfolk Record Office PD 107. Viewed via www.ancestry.co.uk
Henry Norton. Probate of Will 14 October 1831. England & Wales, Prerogative Court of Canterbury Wills, 1384-1858. The National Archives; Kew, Surrey, England; Records of the Prerogative Court of Canterbury, Series PROB 11; Class: PROB 11; Piece: 1791a. Ancestry.com. England & Wales, Prerogative Court of Canterbury Wills, 1384-1858 [database on-line]. Provo, UT, USA: Ancestry.com Operations, Inc., 2013.
1851 census HO107/1952/215, HO107/1695/139
1861 census RG9/418/150
1871 census RG10/1820/54, RG10/2072/6
1881 census RG11/2240/55, RG11/1950/31
1891 census RG12/1529/53
1901 census RG13/1867/73, RG13/2049/19
England & Wales, National Probate Calendar (Index of Wills & Administrations), 1858 to 1995. William Norton. Death Date 12 Aug 1890. Devon. Probate Date 1 Sep 1890. Exeter. Principal Probate Registry. Calendar of the Grants of Probate and Letters of Administration made in the Probate Registries of the High Court of Justice in England. London, England. Ancestry.com. England & Wales, National Probate Calendar (Index of Wills and Administrations), 1858-1995 [database on-line]. Provo, UT, USA: Ancestry.com Operations, Inc., 2010.
Norfolk Chronicle 27th February 1892 viewed via The British Newspaper Archive
Eastern Daily Press 16th July 1896 viewed via The British Newspaper Archive
GRO Index. https://www.gro.gov.uk/gro/content/ also available via FreeBMD website