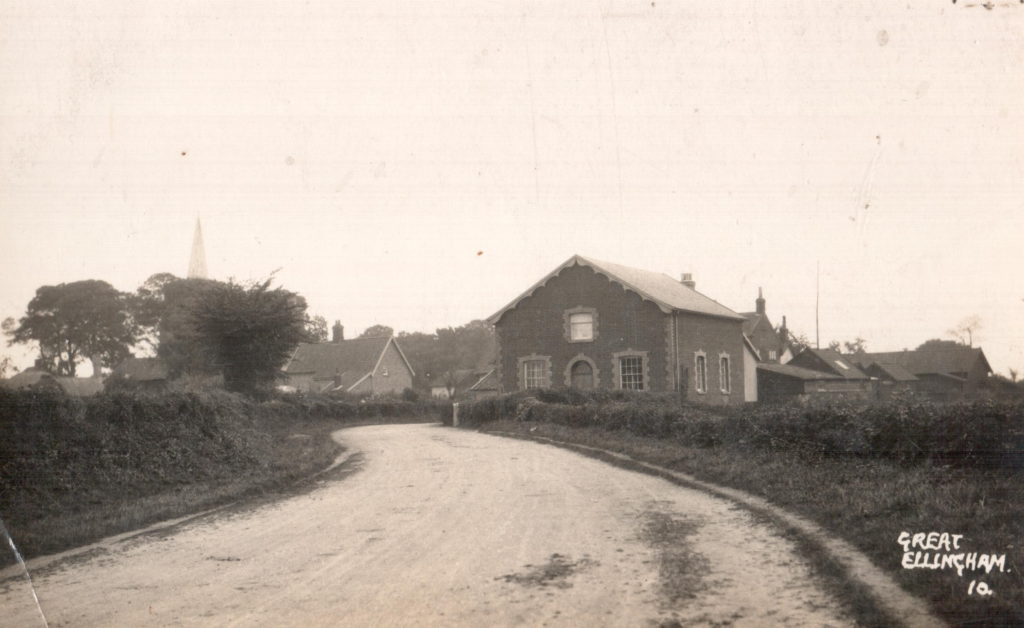 Methodist Church in Church Street. Postcard Carol Ewin
Charles H Jude, the eldest son of local farmer George Jude of Rookery Farm, Great Ellingham, married Elizabeth Brant at the Primitive Methodist Chapel in Great Ellingham on October 24th, 1900.
Reported in the Norfolk News
Details of the wedding appeared in the Norfolk News just over a week later. It was reported that there was great excitement with a large company gathered together as this was the first marriage at the Chapel.
There were four bridesmaids: Miss A Lister, Miss A Brown, Miss Rosa Chapman and Miss Florence Chapman. Charles's brother, George, was best man.
The Reverend S Willetts officiated and the bride was given away by her uncle, Mr A Spurgeon. At the end of the ceremony, Charles and his wife Elizabeth were presented with a copy of the Bible and Primitive Methodist Hymnal by the Reverend Willetts who, on behalf of the trustees (of the Chapel), expressed the best wishes for their future happiness.
The wedding breakfast was held at Rookery Farm. Music was provided by the Great Ellingham Temperance Band which was led by Mr G Saunders. The couple received numerous gifts.
The following day, and in honour of his son's marriage, George Jude provided supper to all the men working on his farm.
The Jude Family
1881
George and Mary Jude with their sons Charles and George came to live in Great Ellingham from Garvestone between 1871 and 1881.
The census of 1881 finds 37 year old George Jude, a farmer of around 44 acres, with his wife Mary (aged 34) and sons Charles 13 and George 11 living in Hingham Road. Unfortunately, the census does not specifically state whereabouts they lived in Hingham Road. George and his sons were born in Garvestone. His wife was born in Southburgh.
1891
Ten years later, the 1891 census captures the family at Brick Kiln Farm. It is possible that the family were at Brick Kiln Farm in 1881. George and Mary's third son, Basil, was born in Great Ellingham in 1882. By October, 1900, the Jude family had moved to Rookery Farm.
1901
The 1901 census captures George and Mary Jude with sons George (31) and 18 year old Basil at Rookery Farm. Newlyweds Charles and Elizabeth Jude are living nearby at Rookery Farm Cottages. The census confirms that Elizabeth Jude was born in Hoxton, London.
1911
George and Mary Jude moved out of Rookery Farm by 1911. The census of that year finds George Jude now aged 68 with his 65 year old wife Mary and 41 year old son George living in the Street, Great Ellingham.
Now married for 10 years, 44 year old farmer Charles and 40 year old Elizabeth are living with their four year old daughter Doris in a six-roomed property in Bow Street.
Sources:
Norfolk News 3rd November 1900
1881 census RG11/1974/85
1891 census RG12/1549/73
1901 census RG13/1867/12
1911 census RG14/11373/134, RG14/11473/41