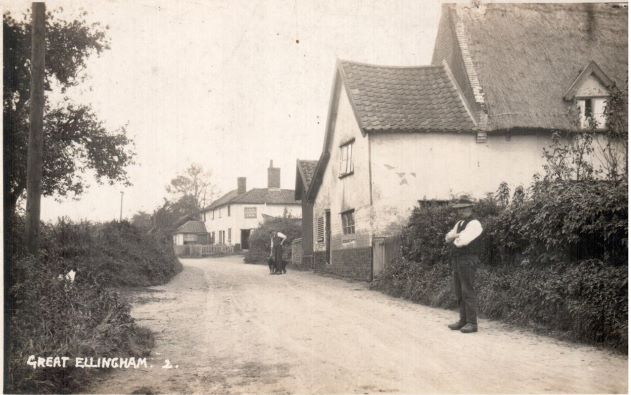 Chequers Lane, Great Ellingham. Robert Beales and his family lived in one of the houses shown in the postcard. Courtesy of Carol Ewin
Shoemaker Robert Beales & his Family in Chequers Lane
Just over three years before the start of the Great War in 1914, shoemaker Robert Beales, his wife Ellen and seven of their children were living in Chequers Lane, Great Ellingham. The scene captured in the above postcard would have been very familiar to the family. In fact, their home may be in the picture!
The 1911 census shows the Beales family of Robert and Ellen with their children Robert 25, Luther 18, Ernest 16, Herbert 14, Ethel 10, Ellen 7 and two year old Lily in their five-roomed home in Chequers Lane. Robert aged 49 and Ellen 48 had completed 28 years of marriage. Ellen had given birth to 12 children, three of whom had sadly died.
Robert junior worked with his father in the shoemaking business. The work was carried out at their home. Luther worked as a farm labourer, Ernest as a carpenter and Herbert as a factory lad. Ethel and young Ellen were attending school.
With all the eligible family members working, the Beales family may well have enjoyed a reasonable standard of living. However, whilst Robert and his sons were in work, we cannot be certain that the household's income was sufficient to cover their day to day costs.
Emigration of 16 year old Herbert Edward Beales
Within a few years of the 1911 census, and like so many other families, this family would be impacted by the outbreak of war in 1914. However, we can only wonder how the Beales family felt when some six months before the start of the war, sixteen year old Herbert Edward Beales left Great Ellingham bound for Australia.
What prompted (or persuaded) Herbert Beales to leave his family and emigrate to Victoria, Australia. It seems such a huge step to take at just sixteen years of age.
At 14, Herbert was working in a factory. Perhaps he worked at Gaymer's Cyder Factory in Attleborough, which had been in Station Road since 1896. In those days, a journey of three miles to work (and three miles back) would not have been considered a particularly long distance to travel. Indeed, many labourers walked several miles to work and back every day.
Perhaps Herbert did not see his future as working in a factory. In any event, he may have not been working in the factory in 1913 when he decided to leave the village. It is possible that he was out of work.
However, I think there is every chance that Herbert decided to 'take his chance' and emigrate after hearing that local butcher and cycle dealer, Bertie Wilkins, had decided to sell up and take his family to Australia.
Passenger on the 'Wilcannia'
The passenger list for the 'Wilcannia' leaving the Port of London for Victoria, Australia on the 3rd December, 1913, shows 16 year old Herbert Beales as 3rd class passenger number 715. Was the cost of Herbert's passage (or part of the cost) covered by one of the government-run schemes or, perhaps, paid by a sponsor?
The names of the passengers on the list preceding Herbert were Bertie Wilkins at passenger number 712, Bertie's wife Florence and children Harold, Evelyn and Madeleine at 713. Bertie's mother in law, Harriet Stubbings, is at 714. Accordingly, I think it is more than likely that Herbert travelled with the Wilkins family.
Additional Travelling Companion?
I also wonder whether someone else intended to accompany Herbert and the Wilkins family on the voyage. Herbert Beales appears as passenger number 715. '716' is not listed. The next passenger on the list after Herbert is 717 John Vickerman and his wife and children.
I wondered whether passenger number 716 had, at the last minute, changed his or her mind.
However, given that Harriet Stubbings' husband Charles Stubbings died just months before the emigration (and whilst Bertie Wilkins was in the process of selling his house and business), it follows that Charles Stubbings also intended to emigrate. Accordingly, it is reasonable to assume that the unused ticket had been purchased for Charles Stubbings.
Farmers?
What is also interesting is the occupations for both 27 year old Bertie Wilkins and 16 year old Herbert Beales. They are both listed as farmers, which contradicts their occupations on the 1911 census.
I wonder whether working in agriculture was a requisite of the emigration – especially if both Bertie and Herbert were part of a government-run emigration scheme. The male passengers listed on the same page as Bertie and Herbert all appear to have a trade or skill i.e. shoemaker, plasterer, miner, twine dresser and farmer.
Nevertheless, Herbert (as well as Bertie Wilkins and his family) arrived safely in Victoria, Australia. I do not know whether Herbert kept in contact with Bertie Wilkins after they settled in Australia.
Herbert enlists in the Australian Imperial Force
However within a few months of Herbert arriving in Australia, war broke out in Europe in the summer of 1914. The following year, on the 19th July, 1915, Herbert Edward Beales aged 18 years and four months enlisted with the Australian Imperial Force.
Description
His service record describes Herbert as 5 feet 4½ inches tall, with brown eyes, dark brown hair and a medium fresh complexion. He was also a Methodist.
Enlistment Age
Herbert was in contact with his family in Great Ellingham although, of course, communication was not as fast as it is today. Nonetheless, Herbert's parents, Robert and Ellen Beales, were aware that their youngest son had enlisted. However, they were clearly unhappy about this. Not least, that three of their older sons, Luther, Birt (Charles Birt) and John (Ernest John) had enlisted.
Ellen Beales may well have tried to persuade her youngest son not to enlist. After all, in Australia the enlistment age was 21 years. However, an 18 year old could enlist with the permission of a parent or guardian. Here in the UK, the conscription age was between 18 and 41 years.
Herbert was 18 and in Australia. Accordingly, he needed his parents' permission to sign up.
Ellen Beales' Letter to Military Headquarters
On the 28th October, 1915, Ellen Beales of Great Ellingham wrote the following letter to the Military Headquarters Camp No.81 Company, Seymour, Victoria, Australia:
Dear Sir I am writing to you concerning my son Herbert Edward Beales. As he is under age i have made up my mind to stop him if posable going to the Front as i have 3 sons in this war now Besides him and my only Brother as i think if i sacrifice them it Will Be sufficient for a por mother to Bear so will you kindly see to it and try and stop him from going would kindly oblige 

Yours sincerely
Mrs R Beales 
[Transcript of letter contained in the Service Record of No.228/2 Herbert Edward Beales. Australian Imperial Force.]
At this time, Herbert was attached to the 4th Depot Batallion "Z" company (Bugle Band) at Seymour. In a memo of the 8th December, 1915, the Major in command wrote that Herbert was presently a bugler at the Light Horse Range, Seymour. He reported that Herbert Beales claims that "as he left his home in England (with the consent of his parents) to come to Australia, he is now his own master, and being over 18 years of age, he still wishes to be a soldier."
Nevertheless, in concluding the memo the Major suggested that Beales's mother be written to "stating that he is doing duty here as a bugler, and that it is not intended to send him on Active Service at present and he could be retained for Home Service."
37th Depot Battalion
In October, 1916, Private Herbert Edward Beales is a member of the 37th Depot Battalion and he came to the attention of the Lieutenant Colonel. In a memo written by the Lieutenant-Colonel, we learn that the 37th Depot Battalion was to embark on the 20th October.
Nonetheless Herbert missed embarkation "being out of his unit lines when the 4/37th marched out". However, it is clear that Herbert still wanted to embark despite his mother wishing to keep him from the front. The Lieutenant-Colonel referred to the earlier facts (i.e. the letter the Battalion had received from Ellen Beales) referring also to the fact that Herbert is still only 19 years and 7 months old.
Herbert is Discharged from Service
In the event, on the 1st Novevmber, 1916, Private Herbert Edward Beales of the 37th Depot Battalion was discharged owing to him being under age.
His parents back in Great Ellingham must have been very relieved to hear this.
Life in Australia
I know very little about Herbert's life in Australia. Did he ever come back and visit his parents and family in Great Ellingham?
The Australian Electoral Rolls of 1924, reveal Herbert Edward Beales and his wife, Mary Laura, living at 116 Corio Street, Shepparton, Victoria. Herbert is working as a labourer.
In 1949, Herbert and Mary Beales are at 471 Wyndham Street, Shepparton. Herbert is working in sales with Mary carrying out 'home duties'.
By 1963, Herbert is living at 159 Welsford Street, Shepparton.
Herbert died on the 4th January, 1964 in Shepparton aged 66.
Sources:
1911 census RG14/11473/118
The National Archives; Kew, Surrey, England; BT27 Board of Trade: Commercial and Statistical Department and Successors: Outwards Passenger Lists; Reference Number: Series BT27-110154. Ancestry.com. UK and Ireland, Outward Passenger Lists, 1890-1960 [database on-line]. Lehi, UT, USA: Ancestry.com Operations, Inc., 2012. Accessed via Ancestry.co.uk
National Archives of Australia; Canberra, Australian Capital Territory, Australia; B2455, First Australian Imperial Force Personnel Dossiers, 1914-1920. Ancestry.com. Australia, World War I Service Records, 1914-1920 [database on-line]. Lehi, UT, USA: Ancestry.com Operations, Inc., 2015.
Original data: National Archives of Australia: B2455, First Australian Imperial Force Personnel Dossiers, 1914-1920. Canberra, Australian Capital Territory, Australia. Accessed via Ancestry.co.uk
Public Record Office Victoria; North Melbourne, Victoria; Victorian Wills, Probate and Administration Records 1841-1925; Series: VPRS 7591. Ancestry.com. Victoria, Australia, Wills and Probate Records, 1841-2009 [database on-line]. Lehi, UT, USA: Ancestry.com Operations Inc., 2016. Accessed via Ancestry.co.uk
1924 Shepparton, Echuca, Victoria, Australia.
1949 Shepparton, Murray, Victoria, Australia.
1963 Shepparton, Murray, Victoria, Australia.
Australia, Electoral Rolls, 1903-1980. Australian Electoral Commission; Canberra, Australia; Electoral Rolls. Ancestry.com. Australia, Electoral Rolls, 1903-1980 [database on-line]. Lehi, UT, USA: Ancestry.com Operations, Inc., 2010. Accessed via ancestry.co.uk
1963 Shepparton, Murray, Victoria, Australia.