Auction
In 1913, Bertie Wilkins offered his butchers shop, cycle shop and dwelling-house for sale at auction. He had plans to emigrate to Australia.
Did Bertie successfully sell his premises and emigrate?
Emigration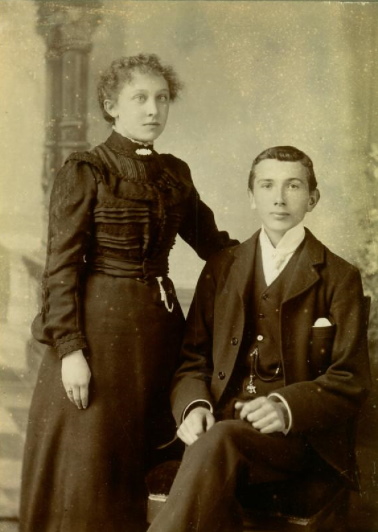 Florence (née Stubbings) and Bertie Wilkins. Courtesy of James Margetts
What prompted Bertie and Florence to emigrate? Did they respond to an advertisement in one of the local papers, offering farm work and good wages, with sponsored passages to Australia?
Whatever the reason, the Wilkins family, comprising Bertie, his wife Florence, young daughters Eveline (Evelyn) and Madeline, Florence's mother, Harriet Stubbings, and nephew, Harold John Wilkins, left London on the 3rd December, 1913.
On board the passenger ship 'Wilcannia', the family arrived in Melbourne, Australia on the 27th January, 1914.
Initially the extended Wilkins household moved to the town of Casterton in Victoria. However, by 1921, they settled in Portland, Victoria.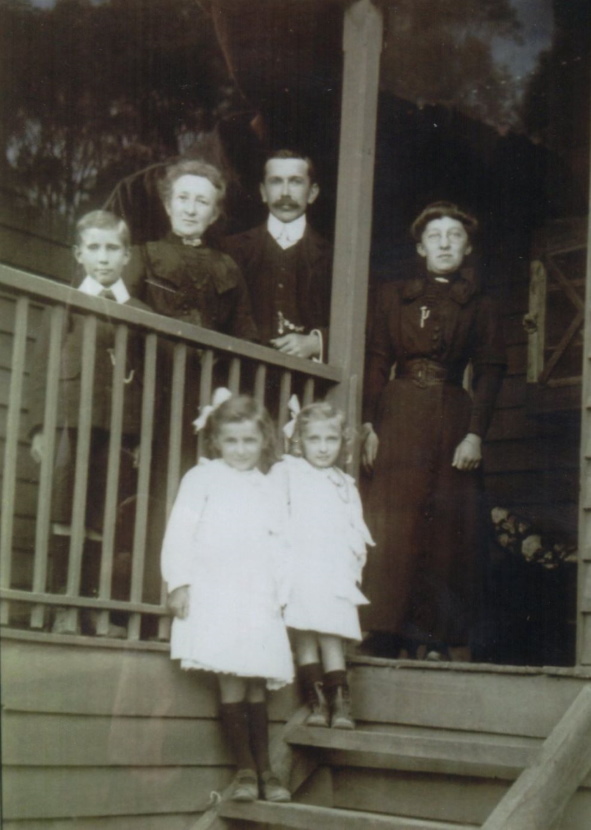 The extended family of Bertie Wilkins. Photograph taken just after their emigration to Australia. Back row (from left) Harold John Wilkins, Harriet Stubbings, Bertie Lewis Wilkins, Florence Wilkins née Stubbings. Front row: (from left) Eveline Wilkins and Madeline Wilkins. Courtesy of James Margetts, a descendant of Bertie Wilkins
Harold Wilkins
Harold Wilkins was nine years old when, in 1913, he left Great Ellingham with his Uncle and Aunt for a new life in Australia. He left behind his 12 year old sister, Ellen Amelia.
At this time, Ellen may well have been living with her grandparents, William and Anna Amelia Wilkins, at the Post Office, Great Ellingham, with whom she was living in 1911.
Death of Mother
Harold was coming up to three years old and his sister nearly 6, when their mother died at the end of August, 1907.
30-year-old Ellen Wilkins died in the workhouse at Rockland All Saints. She was buried in the churchyard of St James in Great Ellingham on the 1st September.
Leaving Great Ellingham
We can only wonder how Harold felt about leaving Great Ellingham with his Uncle Bertie's family. Was he excited at the prospect of a new adventure? Was he sad to be leaving behind his sister, Ellen Amelia? Did they keep in touch? Did they ever have an opportunity to meet again?
As infants, did the siblings live with their mother? Harold may well have been fostered by Bertie and Florence Wilkins soon after his mother's death. Ellen too may have lived with her grandparents, William and Anna Amelia Wilkins, from an early age.
Marriage & Children
It is likely that Harold remained with his foster (or adoptive) parents, Bertie and Florence Wilkins in Casterton, and then in Portland, until his marriage.
Nineteen-year-old Harold married housemaid Lucy Grace Davis on the 10th March, 1924, at the Portland Church of England. The certificate of marriage gives Lucy's age as 20, when, in fact, she was 22.
Just over two years later, Lucy gave birth to a son on the 24th July, 1926. He was given the name Bertie Harold.
Sadly, Harold and Lucy's second son, Stanley James, died at the age of four weeks on the 30th August, 1928.
Two years later, Reggie Edward was born on the 11th April, 1930, followed swiftly by Grace Florence at the very end of July/beginning of August, 1931. Tragically, Grace died on the 6th August at just six days old.
Bertie Wilkins
Not long after arriving in the town of Casterton, Bertie farmed a market garden. However, by 1921, the family had moved to Portland.
From at least 1925, Bertie then worked as a funeral director. Indeed, Bertie acted as the undertaker when Harold and Lucy's infant children, Stanley and Grace, were buried in 1928 and 1931. The funerals must have been particularly difficult for Bertie.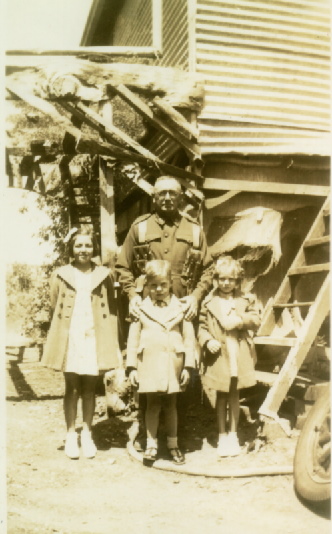 Bertie Wilkins with two grandchildren and a friend. Photograph taken in Australia. Courtesy of James Margetts
Bertie and Florence Wilkins together with Florence's mother Harriet Stubbings, continued to live in Portland for the remainder of their lives.
Bertie Wilkins, his wife Florence and his mother in law, Harriet Stubbings, are all buried in the Portland South Cemetery, Portland, Glenelg Shire, Victoria, Australia, a distance of some 10,000 miles from their country of origin.
Sources:
Find A Grave website. https://www.findagrave.com/ Accessed 8th June 2021
Great Ellingham Parish Registers. Norfolk Record Office. PD/609
1911 census RG14/11473/130, RG14/11473/114
My thanks to James Margetts, a descendant of Bertie Wilkins. jamargetts@yahoo.com