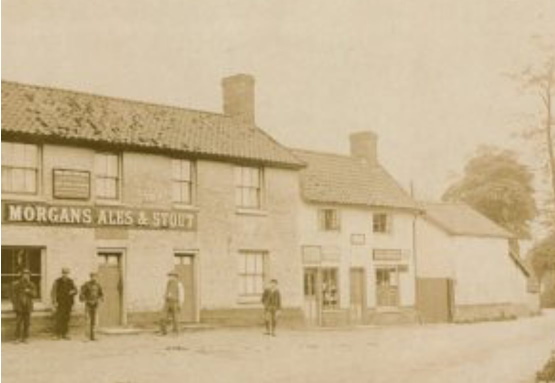 Crown Inn with adjoining shops. Postcard Carol Ewin
The Eastern Daily Press of the 8th August, 1913, reported that at an Auction held at the Royal Hotel in Attleborough the previous day, a lot comprising the freehold business premises in Great Ellingham, was withdrawn at £130. Perhaps there was insufficient bidding at the auction.
What Premises were being Sold
Bertie Lewis Wilkins may have been trying to sell his premises in Great Ellingham for some time. The edition of the Eastern Daily Press (EDP) of 7th June, 1913, included notice of the auction of Bertie Wilkins' premises (in one lot) at the George Hotel, in Watton on the 18th June. Given that the same premises were being auctioned in the following August, we can only assume that the property was either withdrawn, or failed to reach any reserve price in the June.
27 year old Bertie Wilkins, a butcher, cycle dealer, farmer and postman, was selling up as he was leaving Great Ellingham for Australia.
The details of the auction which appeared in the EDP of the 7th June, 1913, provides us with a good description of Bertie Wilkins' premises.
"A well-situated Butcher's Shop, Cycle Shop and Dwelling-house (a large portion of which is new) containing 2 good Living-rooms, Scullery, Pantry and 4 Bedrooms." In addition, and to the rear, "a Slaughter House, Pound and a Carpenter's Shop, 2 Sheds and Large Yard."
Bertie Wilkins
The 1911 census undertaken just two years earlier, captures 25 year old Bertie Lewis Wilkins with his 23 year old wife Florence Selina, and their one year old daughter Evelyn Florence, at The Butchery, the Street, Great Ellingham.
Also with the Wilkins household is Bertie's six year old nephew, Harold John Wilkins, and Florence's parents, Charles and Harriett Stubbings.
The census tells us that the Wilkins household was occupying a dwelling-house with six rooms. This number did not include any scullery, bathroom or office/shop. Although the census does not specifically say, I believe Bertie Wilkins' premises were adjacent to the Crown Public House.
Born in Great Ellingham on the 20th February, 1886, Bertie Lewis Wilkins, a son of William and Ann Amelia (Amelia Ann) Wilkins, was baptised as 'Lewis Bertie Wilkins' in the Church of St James on May 30th, 1886. His birth was also registered as 'Lewis Bertie Wilkins'.
At some point between the census of 1901 and his marriage in 1906, Lewis Bertie Wilkins adopted the use of the first name 'Bertie'.
Emigration to Australia
Presumably Bertie Wilkins did manage to sell his premises and take his wife and two young daughters (Madeline was born to the couple in 1912), to Australia as the couple are buried there.
Find A Grave website reveals burials in Portland South Cemetery, Portland, Glenelg Shire, Victoria, Australia for Florence Selina Wilkins on 8th July, 1963, and for Bertie Lewis Wilkins on 2nd July, 1968.
You can read more about the Wilkins family in Australia here
Sources:
Find A Grave website. https://www.findagrave.com/ Accessed 13th August, 2020.
GRO Index. https://www.gro.gov.uk/
GRO Index. FreeBMD website. https://www.freebmd.org.uk/cgi/information.pl?cite=DMnpFOpAHhIAeSKzKOet0Q&scan=1 Accessed 13th August 2020
Great Ellingham Parish Registers. Norfolk Record Office. PD/609.
1891 census RG12/1549/79A
1901 census RG13/1867/80
1911 census RG14/11473/130
Eastern Daily Press 8th August, 1913 and 7th June, 1913. Accessed via localrecall.co.uk 10th August 2020