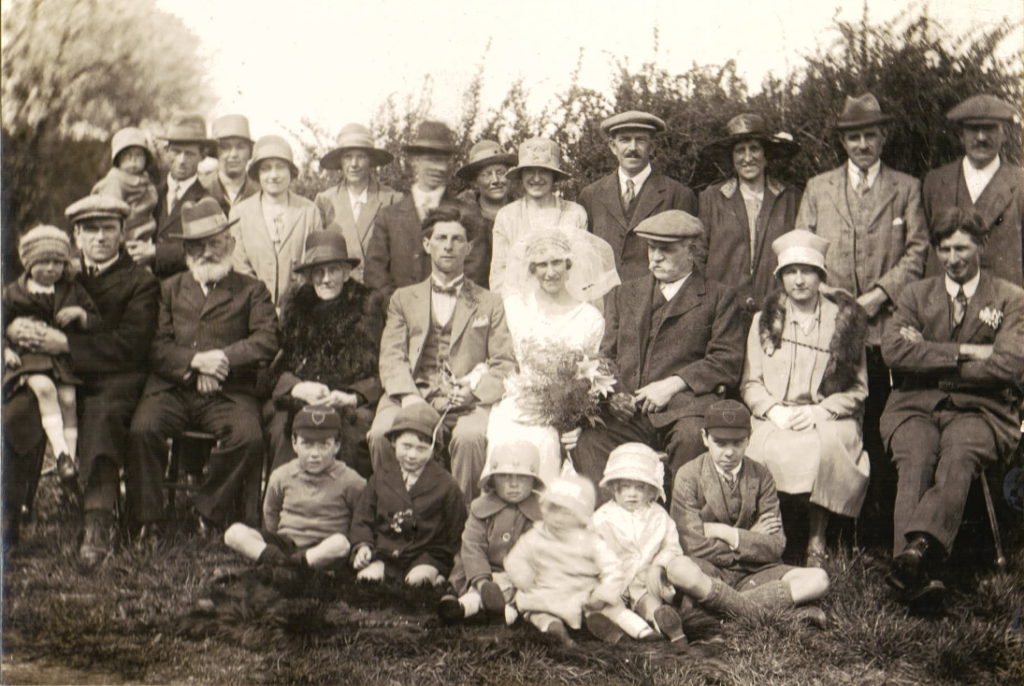 Overton and Beales Families. Marriage of Ernest H B Overton and Ethel M Beales 1927. Facing photograph back row from right to left fourth is Ethel's brother Luther and next to him third from right is his wife Dorothy. Photograph courtesy of Joan Barnard
Marriage
The marriage between Ernest H B Overton and Ethel M Beales was registered in the period between April and June 1927. The couple were married at the Methodist Church in Great Ellingham.
Schoolmistress
Ethel left her post as a schoolmistress at Great Ellingham School on 25th April 1927. It is likely that her marriage to Ernest took place within a week or so of leaving the school.
Ethel taught at both Great Ellingham and Rocklands School. Jean Watt's informative book celebrating the centenary of Great Ellingham Primary School, records that "E. Beales" was a pupil teacher at the school between 1906 and 1916. Ethel was then a teacher at the school until she left to marry in 1927.
The same book mentions that Ethel is listed under "Temporary Supply" at Great Ellingham School for periods between 1936 to 1946, and then between 1946 and 1956.
Ethel, daughter of shoemaker Robert Beales
Ethel was born in Great Ellingham in 1900. Given that the 1901 census captures seven month old Ethel with her parents and siblings in Chequers Lane, I think it most likely that Ethel was born in one of the clay and tiled cottages in Chequers Lane next to the Chequers Inn.
Details of a proposed auction of three clay and tiled cottages, and a clay and tiled shed used as a bootmaker's shop, situate in Chequers Lane appeared in the Eastern Daily Press on 28th May 1907 . The properties were said to be occupied by R Beales, Mrs Wright and Merton. Ethel's father, Robert, used the clay and tiled shed as his bootmaker's shop.
Ethel was one of twelve children of Great Ellingham born Robert Beales and his wife Ellen (née Wick). Ellen was born in nearby Attleborough. Robert and Ellen married in St George in the East District (London) during the latter part of 1882. Their first two children, sons Henry Walter and Robert William, were born in the District of Bethnal Green in 1884 and 1885 respectively.
The 1911 census finds the Beales family (including 10 year old Ethel) living in a 5 roomed dwelling in Chequers Lane. The census also tells us that Robert and Ellen had been married for 28 years and that three of their children had died. 49 year old Robert Beales and his son Robert (25) are both described as shoemakers. Robert junior is working for his father.
Ernest, son of Farm Labourer William Overton
Ernest Hughbourne (Hugh Bourne) Overton was born in Rocklands in 1894. His parents William Overton and Eliza née Fox were married in the Wayland District towards the end of 1885.
Born in Wretham, the 1901 census finds 36 year old William Overton with his wife Eliza and five sons (including 6 year old Ernest) in Fen Road, Rockland All Saints. William is described as a shepherd. Eliza Overton was some 11 years older than her husband and was born in Gressenhall. The Overton family were still in Rockland All Saints in 1911.
Sources:
1901 Census RG13/1867/109, RG13/1867/71
1911 Census RG14/11473/118, RG14/11483/40
Eastern Daily Press 28th May 1907
Great Ellingham County Primary School Centenary 1896 to 1996 Compiled by J E Watts
GRO Wesbite https://www.gro.gov.uk
Free BMD website
https://www.freebmd.org.uk/cgi/information.pl?cite=AQ2nJeKPx8uZ7WLbufLmaw&scan=1 Accessed 04.10.2019
https://www.freebmd.org.uk/cgi/information.pl?cite=dt%2BxEZD%2BGdWK%2FmjXkVZ%2FHw&scan=1 Accessed 04.10.2019
https://www.freebmd.org.uk/cgi/information.pl?cite=nQpw6P3PwlXbo3L%2FDWOGfQ&scan=1 Accessed 04.10.2019
https://www.freebmd.org.uk/cgi/information.pl?cite=h2m%2Fnd%2B%2B%2FoqxEvBbdNmajQ&scan=1 Accessed 04.10.2019
https://www.freebmd.org.uk/cgi/information.pl?cite=ZGEtevxrma2GRE6kDM5Nqw&scan=1 Accessed 04.10.2019