Joan Barnard is one of many people who have several family connections to Great Ellingham. What's more, her family retained many of the memories and stories about members of the families, as well as photographs.
What follows is Joan's account of her family member Luther Beales:
Luther Beales was born Great Ellingham 1893. He was a Special Reservist in 1915 and was in France and Belgium. In 1916, he was a British Army Sergeant of the Norfolk Regiment attached to Dublin Fusiliers. Later in 1916 he was a Prisoner of War in Bulgaria.

A Great Ellingham Village Magazine article dated May 1916 contains the following:
OUR SOLDIERS
"Luther Beales is a prisoner in Bulgaria, and lately no news has been received from him. Please remember him in your prayers, also Pte. Lincoln of Bow Street. Lincoln had been out since 1st August. He was wounded on Feb. 14th. He was in hospital in France for three weeks and now in Glasgow".
In a further article dated July 1916 it stated:
"I have just received a letter, dated April 20th, from Sergeant L. G. Beales, stating that he has safely received the four parcels, which were sent to him from this village on behalf of the Norfolk Prisoners of War in Bulgaria. He has asked me to express his most hearty thanks to all those who so kindly subscribed. He says, "The contents were absolutely grand and were in splendid condition; we could not really wish for anything better."
This letter is signed by himself and seven other prisoners.

In 1922 Luther purchased Shropham Mill, which mostly ground corn for animal feed. As this was seasonal, he turned his hand to other enterprises that made a small village function in the 1920s.

Luther farmed cereal, root crops, and livestock cattle and pigs. His wife Dorothy made butter from the milk. He was also in the building trade, carpentry, undertaking, and cycle repairs.

His brother Robert carried on his shoe making business in a small wooden shed at the Mill House. Having a musical talent Luther played the clarinet. However he really enjoyed the banjo, and forming his band "The Ever-Ready Dance Band" (see picture below in Cycle Repair Shop doorway). Luther's band would play at dances, socials and fetes in the local vicinity and in local pubs with his banjo.

In 1930 he was employed as a telephone operator for the air ministry Shropham Area, as well as carrying on his other activities. Although he had suffered from a Gas attack in the First World War, he did not let this stop him. He died in 1954.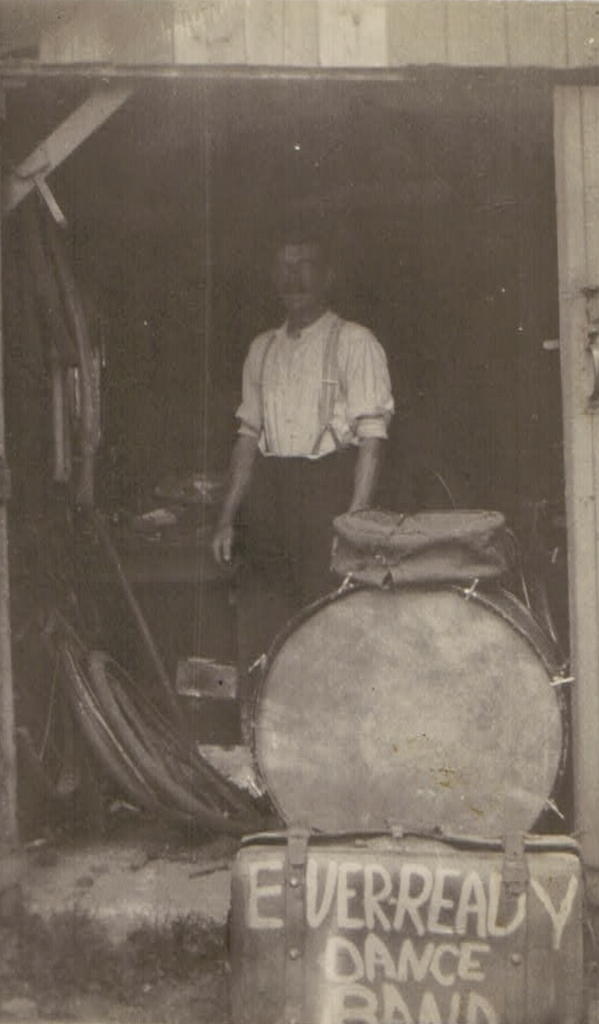 Luther Beales. Courtesy Joan Barnard
Luther's Early Life in Great Ellingham
Town Green
I think it likely that Luther was born in the family's home at Town Green.
The 1901 census captures 39 year old shoemaker Robert Beales with his 38 year old wife Ellen and children Henry 17, Robert 15, Birt 13, Luther 8, John 6, Herbert 4 and seven month old Ethel.
The census describes Ellen Beales as a grocer. Indeed Kelly's Directory of 1904 lists Robert Beales as a shopkeeper and shoemaker. Son Robert is his father's apprentice. Henry Beales is a farm stock tender and young Birt Beales at 13 is a baker.
Chequers Lane
By 1907, the Beales family moved from Town Green to Chequers Lane.
The 1911 census finds Robert and Ellen Beales with 7 of their 9 surviving children in a five-roomed dwelling in Chequers Lane. The couple had been married for 28 years during which time Ellen had given birth to twelve children – nine of whom had survived.
Robert and Ellen's four older children (aged 25 to 14) are working, including Luther who, at 18, is working as a farm labourer.
Shropham
In 1919, Luther married Shropham girl Dorothy Hunt. They were both living in Shropham and continued to do so.
Luther and Dorothy had two children during the early years of their marriage.
The 1939 Register lists Luther and Dorothy Beales at the Mill House, Shropham. It was a large household which comprised several 'visitors'. The couple were known to have many relatives staying with them on a regular basis.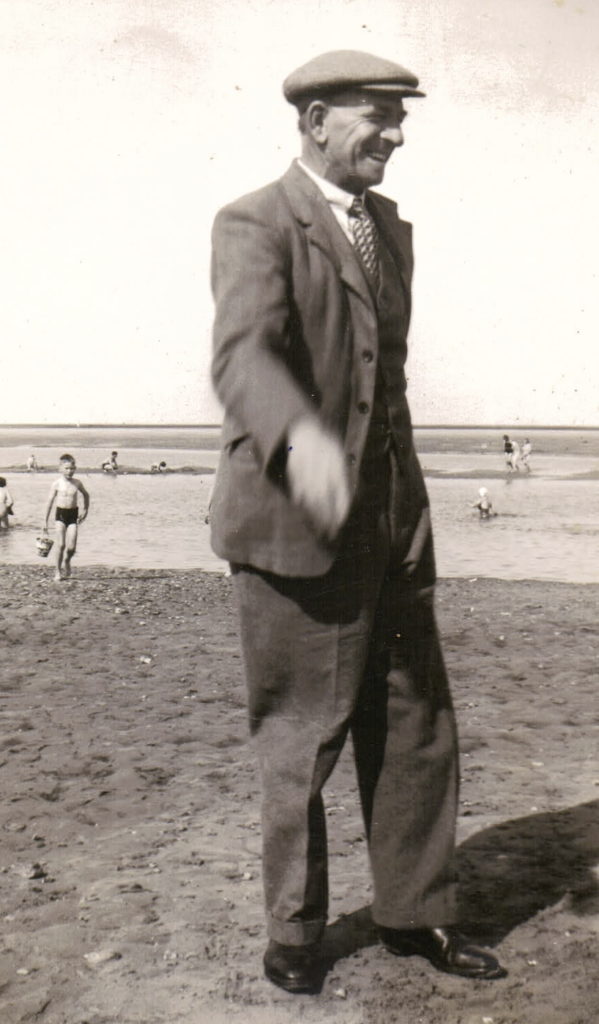 Luther Beales 1893-1954. Courtesy Joan Barnard
Luther Beales, a 'man of many talents', died on the 10th November, 1954. He was buried in the churchyard at Shropham on the 15th November.
Sources:
Huge thanks to Joan Barnard
1901 census RG13/1867/7
1911 census RG14/11473/118
1921 census RG15. Registration District 231. Great Ellingham Schedule 113. Viewed via FindMyPast
Shropham – Index only viewed via FindMyPast website
1939 England & Wales Register. The National Archives; Kew, London, England; 1939 Register; Reference: Rg 101/6590a Ancestry.com. 1939 England and Wales Register [database on-line]. Lehi, UT, USA: Ancestry.com Operations, Inc., 2018.
Shropham Parish Registers. Norfolk Record Office PD 20. Viewed via www.ancestry.co.uk
Luther George Beales in the England & Wales, National Probate Calendar (Index of Wills and Administrations), 1858-1995. Ancestry.com. England & Wales, National Probate Calendar (Index of Wills and Administrations), 1858-1995 [database on-line]. Provo, UT, USA: Ancestry.com Operations, Inc., 2010. Original data: Principal Probate Registry. Calendar of the Grants of Probate and Letters of Administration made in the Probate Registries of the High Court of Justice in England. London, England
GRO Index. Also via FreeBMD website