At the beginning of 1846, James Rose, a shopkeeper of Great Ellingham, published a notice in a local newspaper. This Notice was headed 'Thomas Mann's Assignment'.
What was the story behind the Notice?
Indenture dated 27th October, 1843
The Notice dated 12th January, 1846 was printed in the Norfolk Chronicle five days later.
James Rose referred to an Indenture dated the 27th October, 1843. This Deed was signed by himself, (James Rose), Thomas Mann (a miller, then of Watton) and several other parties, who were creditors of Thomas Mann.
The upshot of the Deed was that Thomas Mann had assigned all his personal estate and effects to James Rose. This was on certain trusts, and for the equal benefit of all his (Thomas Mann's) creditors.
However, some of Thomas Mann's creditors had not executed the Deed. Accordingly, those creditors were told that unless they did so within one month (of the date of the Notice), they would be excluded from any benefits afforded by the Deed of Assignment.
James Rose stated that the Deed "would continue to lie in my Warehouse situate in Great Ellingham.."
Rose also gave notice that any person owing money to Thomas Mann should immediately pay the amounts to him. In default, James Rose would begin legal proceedings for enforement of any debt.
James Rose's 'Warehouse' may well have been in Church Street.
Brothers-in-Law
James Rose and Thomas Mann were brothers-in-law.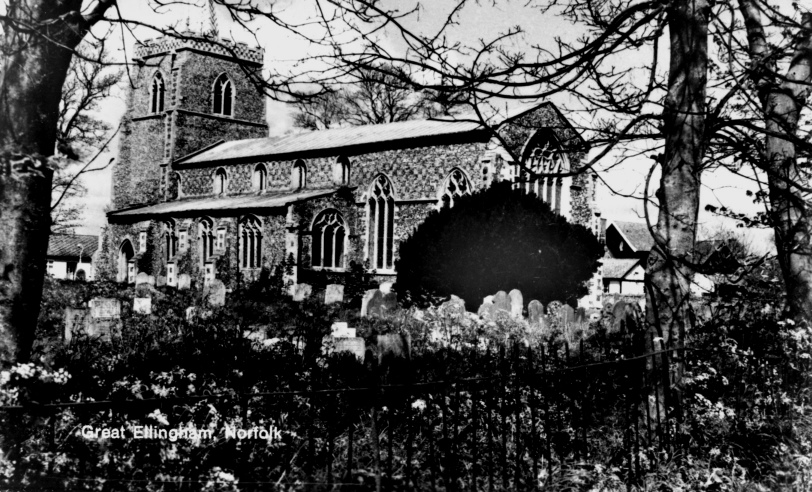 Great Ellingham Church of St James. Postcard BCV
Thomas Mann married James's sister, Rebecca Rose, in the parish church at Great Ellingham on the 5th October, 1827. It was a 'double wedding' for the Rose family. James and Rebecca's sister, Mary, married William Parsley of Caston, on the same day.
James, Rebecca and Mary were children of William and Amelia Rose of Great Ellingham. The siblings also had a brother, William.
1841 census
Around two years before the Assignment, the 1841 census captures miller Thomas Mann with his family in Watton.
Thomas and Rebecca were in Mill Street with children James 11, Maria 9, Fred 3 and one year old Mary. 80 year old Jane Mann is also with the household, together with an 18 year old female servant, Susan Nobbs.
Rebecca's brother, 30 year old grocer and draper James Rose, is with his wife, Elizabeth, and young children in Great Ellingham. However, the census does not specifically say where they were living in the village, other than it was 'on the south west side of the road leading from Attleborough to Watton'. However, I believe they were in Church Street.
Financial Difficulties
We can but wonder how Thomas Mann found himself in financial difficulties, and to what extent. Had he been out of work? Was he owed money? Had he been ill and unable to work to support his family?
Whatever the reason, it seems that his brother-in-law agreed to 'help him out'. We do not, of course, know what kind of relationship the brothers-in-law had. Were they good friends? Had James Rose intervened primarily to help his sister?
We also do not know when (or if) Thomas Mann's 'personal estate and effects' were re-assigned back to him – assuming that there was something left after the creditors had been satisfied.
Rebecca Mann's Inheritance
Rebecca Mann's father, William Rose, died just hours before the census in 1841. Along with her siblings, Rebecca would receive a quarter share of her father's estate. However, the siblings would not take their inheritance until after the death of their mother, Amelia Rose.
Accordingly, it was not until her mother died in 1868 that Rebecca Mann received her share of her father's estate. Further, her father had stated in his will that when calculating the respective shares, his executors and trustees should deduct (from the share due) the amount of any advances which William Rose had made to any of his four children and his two sons-in-law, William Parsley and Thomas Mann. This suggests that William Rose had loaned money to some (or all) of his children and sons-in-law.
I wonder whether Thomas Mann had indeed borrowed from his father-in-law? If so, was the sum still outstanding when William Rose's estate was distributed c.1868, which may have reduced the amount of Rebecca's inheritance?
1851
Eight years after assigning his estate and effects to his brother-in-law, the 1851 census captures 46 year old Thomas Mann living at Market Hill, Attleborough. With Thomas is his wife Rebecca aged 43, and children James 20, Frederic 13, Mary 11 and Jane 8. The two girls (both born in Watton) are attending school. Like their father, James and Frederic (both born in Great Ellingham) are working as carriers (i.e. transporters of goods).
At this time, Thomas's brother-in-law, grocer and draper James Rose and his wife Elizabeth and two young children, were also living in Market Hill, Attleborough. The Rose household was fairly large. Three of the four assistant grocers were family members i.e. William and Mary Parsley, and William Rose.
1861
Ten years later, Thomas and Rebecca are living 'By the Mere' in Stow Bedon. 57 year old Thomas is a shopkeeper – a common trade in his wife's family.
Thomas's brother-in-law, James Rose with his family were still in Attleborough, but had moved to premises in Crown Street.
1871
By 1871, Thomas and Rebecca Mann had moved to Lincolnshire. The census of that year finds the couple (now both in their mid-sixties) in Little Gonerby, Grantham, with their 26 year old daughter Mary. Thomas Mann is a draper.
Rebecca's mother had died in 1868. It was then that Rebecca would have received her inheritance from her father's estate. I wonder whether the inheritance (assuming that there was 'money in the pot'), facilitated their move?
1881
Thomas Mann died in 1876. Rebecca remained living in Lincolnshire. The 1881 census shows 74 year old widow Rebecca Mann working as a seamstress, and living at 3 Bakers Place, Manthorpe cum Little Gonerby.
I have not been able to find Rebecca Mann on the 1891 census. Accordingly, it is possible that she died between 1881 and 1891. However, I have not yet managed to find a likely registration entry in the General Record Office (GRO) Index for her death.
Sources:
Norfolk Chronicle 17th January, 1846. Viewed via British Newspapers Archive website https://www.britishnewspaperarchive.co.uk/ 28th November, 2020
Great Ellingham Parish Registers. Norfolk Record Office. PD 609. Also available at www.familysearch.org
1841 census HO107/785/29, HO107/781/8
1851 census HO107/1823/69, HO107/1823/70
1861 census RG9/1238/10
1871 cenus RG10/3359/52
1871 census RG11/3232/77
GRO Index. https://www.gro.gov.uk Also available at FreeBMDwebsite https://www.freebmd.org.uk/