Death of Retired Shopkeeper
Retired shopkeeper, 65 year old William Rose, died in Great Ellingham on the 6th June 1841. He may well have died just a few hours before the National Census which was undertaken that very night.
1841 Census
William's name does not appear on the census. His 60 year old widow, Amelia, is listed in Great Ellingham, together with 80 year old Hannah Steel. Given that William Rose had died during the course of the day, Hannah Steel may only have been staying overnight with Amelia.
Mourning Customs
Following William's death, we can only wonder whether the Rose family observed some of the mourning customs of the Victorian age. For example, stopping all the clocks in the house to show the exact time of William's death; the drawing of all the curtains at the windows; covering mirrors and turning any photographs in the house.
Burial
A few days later, William Rose was laid to rest in the churchyard at St James on the 11th June, 1841.
William's Will
When William Rose signed his Will on the last day of 1840, he described himself as a 'retired shopkeeper'.
Retirement
I wonder whether William Rose retired because of failing health, and his son James (already a grocer and draper) took over his father's shop. James with his wife and two young children had moved back to the village prior to the 1841 census, which also captures the family living in Great Ellingham.
Earlier Burials of Children
Just three months before William Rose made his Will (and likely at a similar time that his son James Rose moved back to Great Ellingham with his wife and young son), William and Amelia Rose buried their 29 year old son Samuel. He was laid to rest in the churchyard at St James on 11th September 1840. The burial entry records that Samuel Rose was of St Matthew, Ipswich.
Some thirty three years earlier in 1807, William and Amelia had buried their four year old daughter Anne in the same churchyard.
Executors
In his Will (and subsequent Codicil of the 1st June 1841), William Rose appointed his sons James (of Great Ellingham) and William (of Attleborough) together with his wife Amelia as his executors and trustees.
Legacies
He gave all his household furniture and goods (including china, printed books, wine and household implements) to Amelia.
William also left all his property (and the benefit of any income from his property) to Amelia for her use during her 'natural life'.
On the death of Amelia, the monies arising from the sale of all property would be equally divided between his surviving children: his sons James and William, and his daughters Mary, the wife of William Parsley, and Rebecca, the wife of Thomas Mann.
William also instructed that any money which he had already advanced to any of his children or sons-in-law (or advances he has made to any of them after making his Will) and which remained owing to him, should be accounted for in the distribution of his estate.
This suggests that William had already lent money to some of his children and/or his sons-in-law.
Amelia Rose
Following her husband's death, Amelia continued to live in Great Ellingham.
The census returns of 1851 and 1861 captures Amelia Rose in Church Street, and describes Amelia as a proprietor of houses.
We know from her husband's Will that Amelia had the benefit of William's property, but on her death, the property (or the money arising from a sale), would pass to her children with William.
Burial
Amelia Rose was buried in the churchyard at Great Ellingham on June 29th, 1868 aged 88 years.
Born in Watton, Amelia was a daughter of James and Mary Mitchell.
Amelia lived in Great Ellingham for most of her life.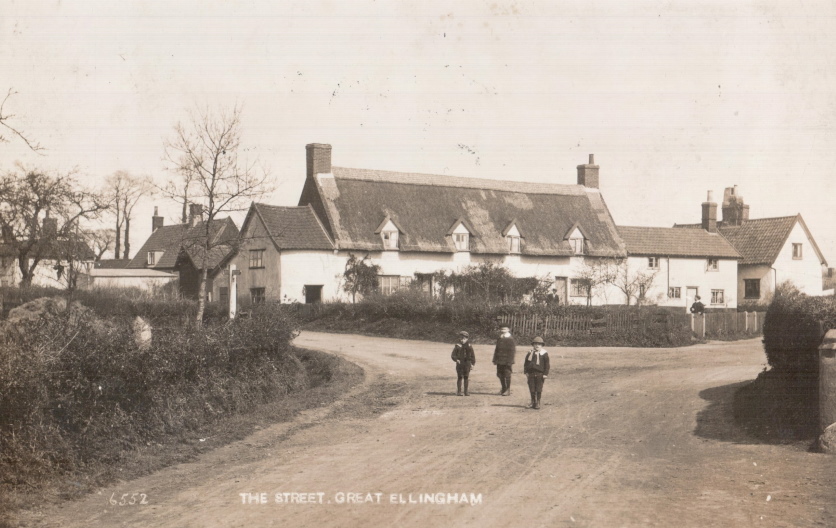 Thatched House (now two dwellings) with additional cottages standing on the corner of Chequers Lane & Church Street. Postcard courtesy of Carol Ewin
Amelia's Home in Church Street
I believe Amelia may well have lived in one of the cottages (the thatched house and cottages) which stand opposite the Mill, just into Church Street from the Chequers Lane/Long Street junction.
Indeed, the thatched building was once owned by Amelia's mother, shopkeeper Mary Mitchell, and likely Amelia lived there before her marriage. The cottages to the east (on the right) of the thatched building were also in the same ownership as the thatched house.
1868 Indenture
An Indenture of 11th December, 1868 (around 6 months after Amelia's death) refers to the sale of these properties. The Seller was John Oddin Taylor, a gentleman, of Norwich and the buyer was widow Sarah Ellis of Richmond, Surrey, who had successfully bid the sum of £215 for the properties at an Auction at the Crown Inn, Attleburgh on 13th August. The deed refers to the 'messuage' divided into four cottages and in the several occupations of William Mallows, Robert Dawes, __ Lebbell and Amelia Rose, deceased.
1868 Auction
The Norfolk Chronicle & Norwich Gazette of July 25th, 1868, included a notice of the auction being held in Attleburgh on the 13th August, 1868 of various properties in Great Ellingham. Amongst the properties was Lot 1 which was described as "Four freehold cottages with stables, gig-house, slaughter-house and excellent gardens in the several occupations of William Mallowes, Robert Dawes, ____ Lebbell and another, adjoining the road to Attleburgh and Hingham".
Sources:
Victorian Monsters website. Victorian Mourning & Funerary Practices. https://victorianmonsters.wordpress.com/victorian-funerary-practices/ accessed 05.05.2020
Great Ellingham Parish Registers. Norfolk Record Office PD/609. Also available at FamilySearch.org https://www.familysearch.org/search/image/index?owc=4J8C-CB7%3A29627201%3Fcc%3D1416598
1841 census HO107/781/8
1851 census HO107/1823/70, HO107/1823/130
1861 census RG9/1237/29, RG9/1237/81
Will. 1841. Rose, William, shopkeeper of Great Ellingham. Norfolk Record Office. NCC will register Traxton 300. Viewed via Norfolk Sources website. http://www.norfolksources.norfolk.gov.uk/ accessed 23.01.2019
GRO Index. https://www.gro.gov.uk
Norfok Chronicle & Norwich Gazette July 25th, 1868
Copy of Indenture dated 11th December 1868 (1) John Oddin Taylor (2) Sarah Ellis. Wymondham Town Archive, Council Offices, Middleton Street, Wymondham NR18 0AD