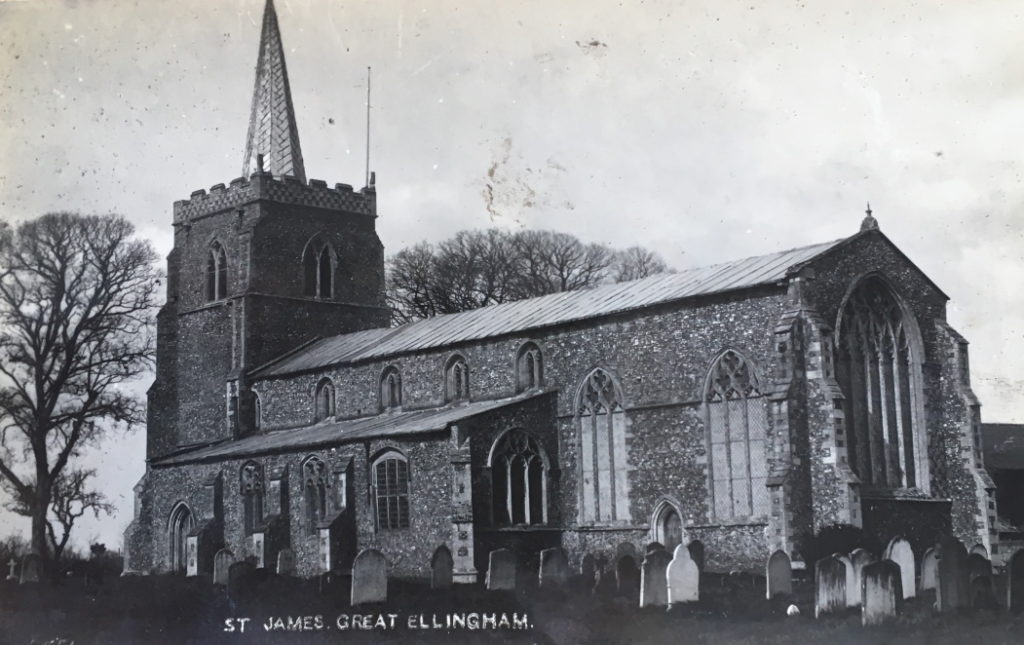 St James Great Ellingham. Postcard courtesy Attleborough Heritage Group
James son of William & Amelia Rose
The son of a shopkeeper, James Rose was baptised in the Church of St James, Great Ellingham on the 18th April, 1809. He was one of at least six children of William and Amelia Rose.
His parents had married in the same church some seven years earlier on the 27th July, 1802.
Athough he likely spent his childhood in the village, by the time of his marriage, he was living in Shipdham.
James Rose & Elizabeth Cordy
At 29, James Rose married 25 year old Elizabeth Cordy at the Parish Church of Scarning on 22nd May, 1838. The marriage entry describes James as a shopkeeper of Shipdham. Elizabeth, the daughter of a farmer, John Cordy, was described as a servant of Scarning. The couple signed the marriage register together with their witnesses John Cordy and Harriet Yull.
Within nine months of the marriage, James and Elizabeth Rose welcomed their son Charles Cordy Rose who was born on the 7th February, 1839. Charles was baptised a few weeks later at the Parish Church of Shipdham on 3rd March. The baptism entry confirms that James Rose was still a shopkeeper of Shipdham. It seems likely that the couple had made their home in Shipdham following their marriage in Scarning the previous year.
James Rose, Grocer & Draper
By 1841, James and Elizabeth Rose had moved back to James's home village of Great Ellingham. The census of that year captures grocer and draper James Rose with his wife Elizabeth and children, two year old Charles and nine month old Susanna, living in Great Ellingham. James Rose was also the postmaster. White's Directory of 1845 mentions that the post office (for Great Ellingham) is 'at Jas. Rose's'.
The couple may have moved to Great Ellingham on the retirement of James's father, William Rose, and before the birth of their daughter Susanna, who was born in the village towards the end of 1840.
When William Rose signed his Will on the last day of 1840, he described himself as a 'retired shopkeeper'. I wonder whether James took over his father's shop. William Rose died on the 6th June, 1841.
James & Elizabeth Rose move to Attleborough
Following the death of his father, and prior to the census of 1851, James and Elizabeth Rose along with their three daughters, Susannah, Sarah and Amelia, left Great Ellingham.
They may have briefly returned to Shipdham before moving to Attleborough. A burial entry for James and Elizabeth's nine month old daughter Sarah Amelia Rose 'from Shipdham' appears in the Great Ellingham Parish Registers for July 7th, 1843. Sarah Amelia Rose had been baptised in the Parish Church at Great Ellingham the previous year. Three years later, James and Elizabeth Rose's daughter Sarah Elizabeth was baptised in Great Ellingham on the 30th September, 1846.
1851
The 1851 census captures the Rose family in Market Hill, Attleborough. 41 year old James Rose is described as a master grocer and draper. His shop would have been a substantial. In addition to James, his wife Elizabeth and the three children, the household included two house servants and four assistant grocer and drapers. These assistant grocers included James's nephew and niece, William and Mary Parsley.
1861
Ten years later, the Rose family are still in Attleborough. This time the census finds them in Crown Street (now Church Street). Again grocer and draper James Rose is the head of a large household and an employer of two men and two boys.
The household includes James and Elizabeth's younger children 12 year old Amelia and ten year old Samuel and their adult children, 22 year old Charles Rose and 20 year old Susanna Rose who are both said to be assisting their father in the shop. Grocer's assistants, James Whiting and William Bush (both aged 24), an apprentice 18 year old Charles Wright and two domestic servants complete the household.
Death of James Rose
At the age of 53, James Rose died. He was buried in Attleborough on the 18th October, 1862.
Sources:
Great Ellingham Parish Registers. Norfolk Record Office PD/609. Also available at FamilySearch.org https://www.familysearch.org/search/image/index?owc=4J8C-CB7%3A29627201%3Fcc%3D1416598
Shipdham Parish Registers. Norfolk Record Office. PD/337. Also available at FamilySearch.org https://www.familysearch.org/search/image/index?owc=4JFM-D68%3A30191101%3Fcc%3D1416598
Scarning Parish Registers. Norfolk Record Office. PD/306. Also available at FamilySearch.org https://www.familysearch.org/search/image/index?owc=4JFM-DHQ%3A30170301%3Fcc%3D1416598
Attleborough Parish Registers. Norfolk Record Office. PD/438.Also available at FamilySearch.org https://www.familysearch.org/search/image/index?owc=4JZS-4D1%3A29358401%3Fcc%3D1416598
1841 census HO107/781/8
1851 census HO107/1823/70, HO107/1823/130
1861 census RG9/1237/29, RG9/1237/81
Will. 1841. Rose, William, shopkeeper of Great Ellingham. Norfolk Record Office. NCC will register Traxton 300. Viewed via Norfolk Sources website. http://www.norfolksources.norfolk.gov.uk/ accessed 23.01.2019
GRO Index. https://www.gro.gov.uk