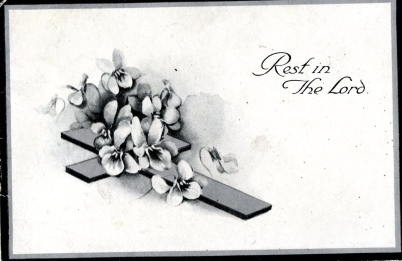 A resident of Chequers Lane, Mary Ann Scent died in Attleborough on the 29th March 1929 at the age of 79. She was buried a few days later on April 3rd in the churchyard at the Parish Church of Great Ellingham.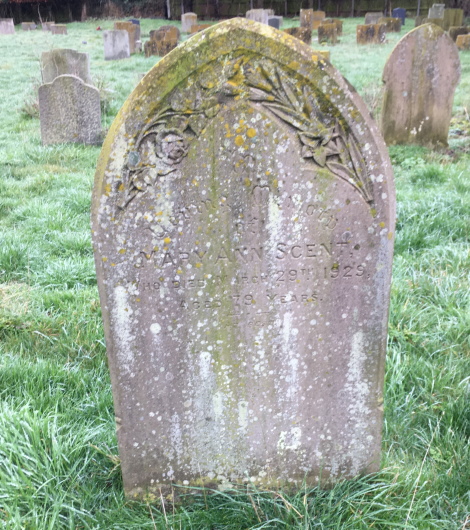 John Penson, Executor
In her Will of July 7th, 1927, Mary appointed her nephew John Penson of Tanyard Farm as her sole executor. Sadly, John Penson had buried his young wife, 33 year old Ellen (née Downes), at Great Ellingham just weeks before his Aunt was buried in the same churchyard.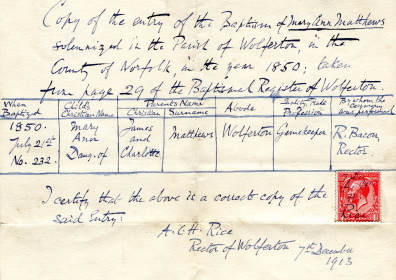 Mary's Early Life
Mary Ann was a daughter of James and Charlotte Matthews. She was born at Wolferton, just two miles from Sandringham. Her baptism is recorded in the Wolferton Parish Church registers.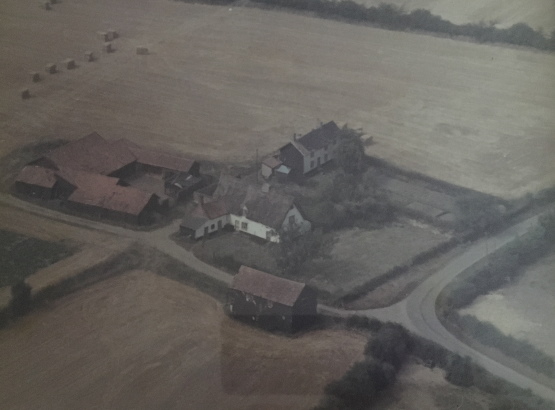 Tanyard Farm and Tanyard Cottages. Date unknown. Courtesy of Lucinda Bell-Tye
Around the age of 15, Mary Ann's father purchased Tanyard Farm, Great Ellingham. The Matthews family moved from West Newton to Tanyard Farm, possibly a short time after James Matthews had completed the purchase of the farm in 1865.
Marriage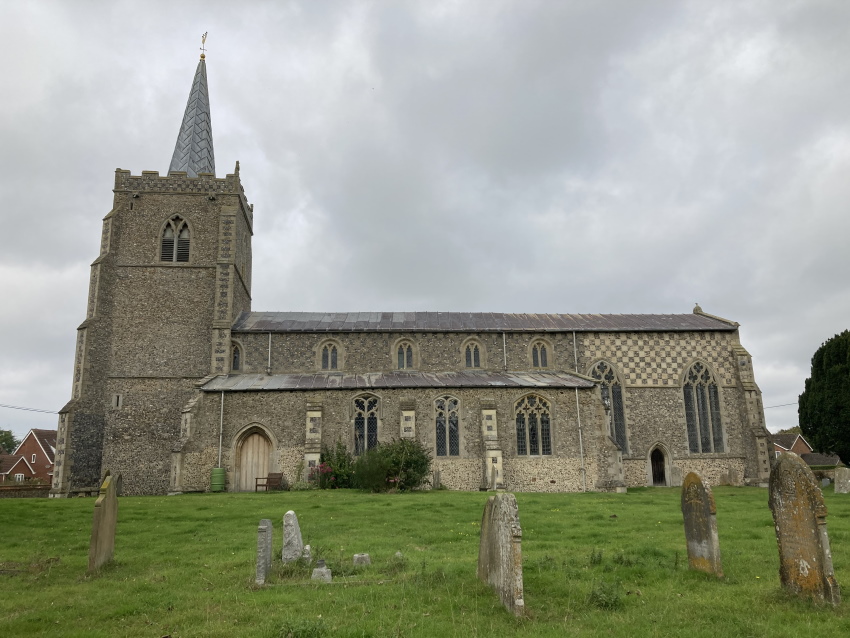 Great Ellingham Church St James
18 year old Mary Ann Matthews married 23 year old John Warren, a farmer, of Little Ellingham in the Parish Church at Great Ellingham on February 17th, 1869. The marriage was witnessed by Walter Bowles, Elizabeth Warren, Rebecca Rivett and Frederick Rivett. John Warren's father was also a John Warren.
1871 census
The 1871 census captures John and Mary Ann Warren living in Low Common, Great Ellingham. The same census reveals their one year old son Thomas Warren at Tanyard Farm, the home of Mary Ann's parents, James and Charlotte Matthews. Thomas had arrived within a few months of his parents' marriage. His birth was registered between April and June 1869. He was baptised in the Church of St James on the 20th June of that year.
Death of Husband John Warren
John and Mary Ann Warren's daughter Alice Mary was baptised in the same church on 11th August, 1872. Tragically within a few months of Alice's baptism, John Warren was dead. He was just 25 and left 21 year old Mary Ann a widow with two infant children. John Warren is buried in the churchyard at Little Ellingham.
Marriage to Alfred Scent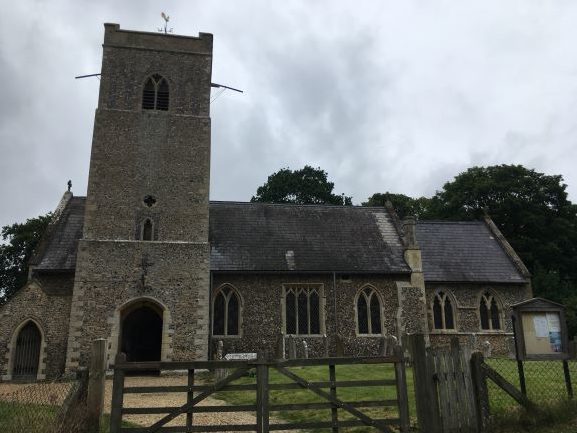 St Peter's Church, Little Ellingham
At the age of 29, widow Mary Ann Warren married 36 year old widower, Alfred Scent, in the Parish Church of Little Ellingham on the 11th March, 1880.
1881 census
The 1881 census finds Alfred and Mary Ann Scent living in Wood Lane, Little Ellingham with their six month old daughter, Lydia Elizabeth. Alfred was farming 23 acres and employed one man. The son of William Scent, Alfred was born in Spooner Row, Wymondham around 1842.
The same census finds Mary Ann's son Thomas from her marriage to John Warren, now aged 11, as a scholar at a Grammar School in nearby Hingham.
Little Ellingham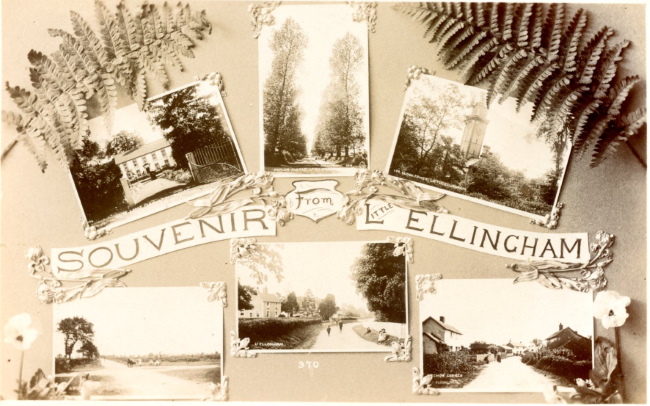 The family remained living in Little Ellingham for the next twenty years or so and had several children during this period, although sadly, the majority of their children did not survive infancy. The census returns of 1881, 1891 and 1901 captures only Lydia (born 1880), Alfred William (born 1885) and Daisy Mary (born 1887).
Death of Thomas Warren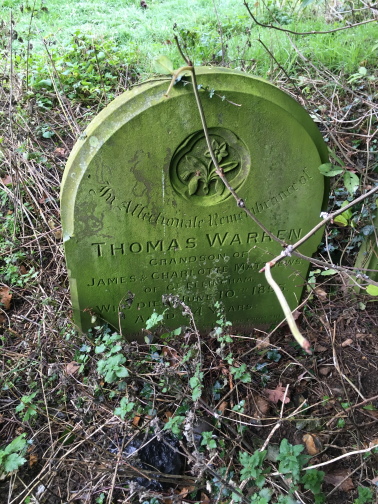 Headstone for Thomas Warren in the churchyard of Great Ellingham Parish Church
At the age of 34, Mary Ann's son Thomas Warren died and was buried in the churchyard at Great Ellingham on 14th June 1893.
The inscription on the headstone states that Thomas was the grandson of James and Charlotte Matthews; there is no mention of Thomas being the son of their daughter Mary Ann and her first husband John Warren.
Given that at the age of 11 Thomas was at a Grammar School in Hingham, I suspect that Thomas's education was funded by his grandparents, and that when he was not at the school, he was with his grandparents.
Death of Alfred Scent
After 22 year of marriage, Mary Ann was again left a widow. The death of a 66 year old Alfred Scent was registered in the Wayland District between January and March 1903.
1911 census
Mary Ann Scent continued to live in Little Ellingham. The 1911 census finds 61 year old Mary Ann living in Church Road with her 23 year old daughter, Daisy. Daisy is an Infant Teacher employed by the County Council.
It is very likely that Daisy Scent was a Pupil Teacher at Great Ellingham School. The list of Staff at the school for the period 1906 to 1916 (in the Great Ellingham County Primary School Centenary Book) lists 'D M Scent' as a Pupil Teacher.
The 1911 census also states that Mary Ann Scent had given birth to ten children of which only two children were still living. It is not clear whether the number of children included the children from Mary Ann's marriage to John Warren. The headstone for John Warren in Little Ellingham churchyard is also a memorial to his daughter Alice Mary Warren.
Chequers Lane
At some point after the 1911 census and before her death in 1929, Mary Ann Scent moved to Chequers Lane, Great Ellingham. I believe she was survived by her son William (Alfred William) and her daughter Daisy Mary.
Sources:
Funeral Card. Mary Ann Scent. Courtesy of Lucinda Bell-Tye.
Probate with Will annexed of Mary Ann Scent, 1929 & Copy of a Certified Entry of Baptism for Mary Ann Matthews in the Parish of Wolferton. 1913. Courtesy of Lucinda Bell-Tye.
Photograph of Tanyard Farm, Great Ellingham. Courtesy of Lucinda Bell-Tye
Great Ellingham County Primary School Centenary Book. 1896-1996. J E Watts
1851 census HO107/1828/1
1861 census RG9/1251/73
1871 census RG10/1841/93
1881 census RG11/1874/105, RG11/1955/41
1891 census RG12/15N49/89
1901 census RG13/1867/87
1911 census RG14/11484/19
GRO Index. https://www.gro.gov.uk
Great Ellingham Parish Registers. Norfolk Record Office. PD/609. Also available at FamilySearch.org https://www.familysearch.org/search/image/index?owc=4J8C-CB7%3A29627201%3Fcc%3D1416598
Little Ellingham Parish Registers. Norfolk Record Office. PD/568. Marriages. Viewed via FreeReg website. https://www.freereg.org.uk/search_records/581836fce93790eb7f61be11/mary-ann-warren-alfred-scent-marriage-norfolk-little-ellingham-1880-03-11?locale=en Accessed 18.04.2020
Little Ellingham Monumental Inscriptions. Norfolk Family History Society. Viewed online https://www.norfolkfhs.org.uk/ 19.04.2020