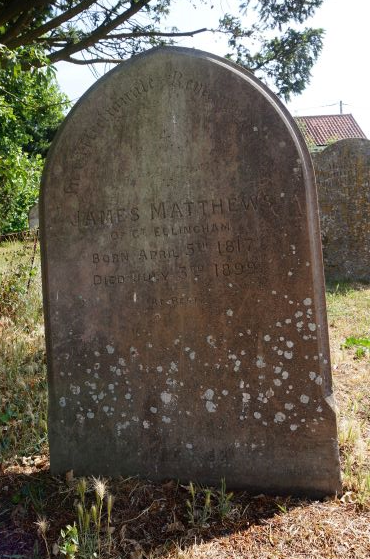 Headstone for James Matthews in Great Ellingham Churchyard
Memorial Inscription
After 120 years, the inscription on the gravestone for James Matthews of Great Ellingham which lies in the churchyard of St James remains very clear.
James Matthews was born on April 5th, 1817 and died on July 3rd, 1899.
James was 82 years old when he died. But who was James Matthews and whereabouts did he live in Great Ellingham?
1891 James Matthews, Farmer
The 1891 census which was taken 8 years before James Matthews died, tells us that 73 year old Farmer, James Matthews was living at Tanyard Farm, Low Common, Great Ellingham. With James is his 70 year old wife Charlotte and Charlotte's sister, 50 year old single woman Mary Ann Grice.
None of the three inhabitants of Tanyard Farm were born in Great Ellingham. However they were all born in Norfolk. James Matthews in Suffield; Charlotte in Wormegay and Mary Ann in Wolferton.
1861 James Matthews, Gamekeeper at Dersingham
Going back 30 years to 1861, the census reveals James and Charlotte Matthews living in Dersingham (Norfolk) with children Fredric 12, Mary A 10, Robert 9 and Lydia 3. James then aged 46 is described as a Gamekeeper.
1871 & 1881 James Matthews, Farmer at Low Common
The census of 1871, finds James and Charlotte in Low Common, Great Ellingham with son Robert then aged 19, one year old grandson Thomas Warren, Charlotte's widowed father Jeremiah Grice and Charlotte's unmarried sister 32 year old Mary Ann Grice.
James is described as a Farmer of 45 acres employing two men. Accordingly at some point between 1861 and 1871, James's occupation changed from a Gamekeeper to a Farmer and the family moved from Dersingham to Great Ellingham.
10 years later in 1881, James and Charlotte Matthews are still living at a farm in Low Common along with adult children Robert 29 and 23 year old Lydia and Charlotte's sister Mary Ann Le Grice. Although the 1881 census does not specifically say, I think it likely that James Matthews was at Tanyard Farm at that time. As mentioned, James Matthews was at Tanyard Farm in 1891.
Burials
Although James Matthews was buried in the churchyard in Great Ellingham, I have not found a burial entry in the parish registers for his wife Charlotte.
However, Charlotte's sister may well have been the Mary Ann Grice buried in the churchyard on 25th February, 1902 aged 62 years.
Sources:
1861 census RG9/125/73
1871 census RG10/1841/93
1881 census RG11/1972/94
1891 census RG12/1549/81
Great Ellingham Parish Registers Norfolk Record office PD/609. Also available at FamilySearch.org https://www.familysearch.org/search/image/index?owc=4J8C-CB7%3A29627201%3Fcc%3D1416598