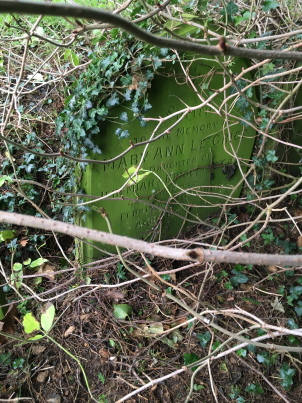 Headstone of Mary Ann Le Grice in the churchyard of St James Great Ellingham
Headstone
Amongst other headstones hidden by branches, twigs and ivy in the churchyard at St James, Great Ellingham stands the memorial to Mary Ann Le Grice.
The headstone inscription tells us that Mary Ann was the daughter of Jeremiah and Bridget Le Grice and that she died on February 20th, 1902, aged 64 years.
Burial Register
The corresponding burial entry in the Great Ellingham Parish Registers confirm that Mary Ann Grice was buried on the 25th February, 1902 aged 62 years. This conflicts with Mary's age inscribed on her headstone. However, it is not unusual to find a discrepancy in the details on a headstone and the burial entry!
Early Life
Mary Ann Le Grice was born around 1839 in the parish of Wolferton, a village in North Norfolk not far from Sandringham.
The 1861 census captures 22 year old Mary Ann living with her 21 year old brother Frederick Grice, his wife and two young children in Everton, Nottinghamshire. Frederick Grice was a farmer of some 285 acres employing six labourers and two boys. The household has a number of servants.
Move to Great Ellingham
By 1871, Mary Ann had moved to Great Ellingham. She was self supporting living on her own means.
The census of 1871 finds Mary Ann with the extended household of her brother in law and sister, James and Charlotte Matthews in Low Common, Great Ellingham. Also in the household is James and Charlotte's son Robert and grandson Thomas Warren. Charlotte and Mary Ann's 89 year old widowed father Jeremiah Grice is also with the household. Jeremiah Grice had then been living in Great Ellingham for some years.
After the death of her brother in law, James Matthews, Mary Ann continued to live with her sister Charlotte at Tanyard Farm. I believe the Matthews family had lived at Tanyard Farm from around 1864.
Sources:
Great Ellingham Parish Registers. Norfolk Record Office. PD/609
1861 census RG9/2412/29
1871 census RG10/1841/93
1881 census RG11/1974/94
1891 census RG12/1549/81
1901 census RG13/1867/82