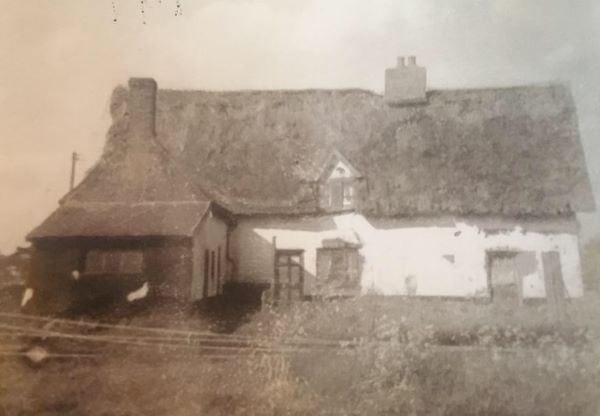 Tanyard Farm. Date unknown. Photograph Lucinda Bell-Tye.
Auction
I came across a notice in the Norfolk News of the 14th May 1864 announcing the forthcoming auction on the 16th June of a 'Desirable Small Farm' in Great Ellingham. The farm (including a dwellinghouse, agricultural buildings and cottages), were being sold by the Executors of the late Samuel Warren. Samuel Warren had inherited the property on the death of his father, John Warren, in 1834.
The corresponding Auctioneer's Particulars and Conditions of Sale (held by the Norfolk Record Office) provides us with further details including a good description of the premises being sold as well as a plan.
This plan mirrors the plan which was drawn on the 1864 Conveyance Deed which transferred the premises sold at the auction to the successful bidder, James Matthews.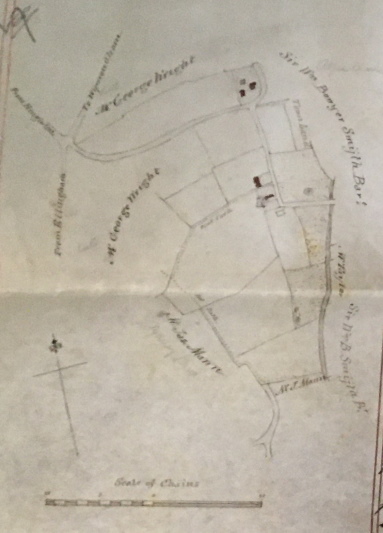 Plan drawn on an Indenture made the 12th October 1864 between (1) Samuel Townshend Warren, George Studd and Richard Wilemer (2) William De Urban Blyth and (3) James Matthews. Courtesy Lucinda Bell-Tye
Premises
The Auctioneer's Particulars reveal that the premises to be sold (in one lot) comprised a Farm House, Agricultural Buildings, several highly productive Inclosures of Arable and Pasture Land (containing by estimation 45 acres 2 roods and 10 perches), and six cottages.
The plan shows the Farmhouse (Tanyard Farm) with Tanyard Farm Cottages just to the north, and two more buildings further north of Tanyard Cottages. Tanyard Cottages comprised a double cottage and I presume the other four cottages would have each been two double cottages.
Farmhouse
The Farmhouse itself was described as containing "Parlour, Four Sleeping Rooms, and One Attic Kitchen, Storeroom, Pantry, Back Kitchen with Chamber over, Dairy, Cellar, and Counting Room." This gives us a good insight of what Tanyard Farmhouse was like in 1864.
The Parlour would have been the room to receive visitors. Samuel Warren would have carried out his business, including his book-keeping, in the Counting Room. This room may even have had a small window (or door) from which his farm workers received their pay.
Farm Buildings
The Agricultural Buildings were described as "a Clay-built Brick and Tiled Barn; Cart-horse Stable with Harness and Hay Houses; Cow House for four Cows, with Calves' Cribs, and Turnip House adjoining; Loose Box; Horse, Cow and Bullock Yards, with capital Shelter Sheds; Piggeries and Swill House; Fowl Houses; Wood House and other convenient Out-buildings; Clay-built, Boarded and Tiled Waggon and Cart Lodges, and Gig House with Granary over."
This gives us an excellent account of the buildings surrounding Tanyard Farmhouse at that time.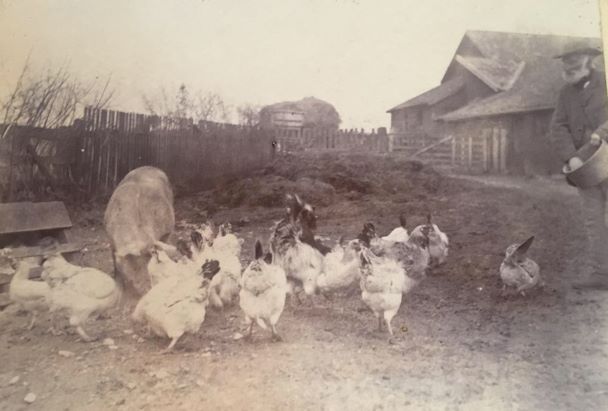 Feeding time at Tanyard Farm. Date Unknown. Photograph courtesy of Lucinda Bell-Tye
Sources:
Indenture. 12th October 1864. Warren, Studd, Wilemer, Blyth to Matthews. Lucinda Bell-Tye.
Auction Particulars & Conditions of Sale. Great Ellingham. Farm, six cottages and 45a. Property of the late Samuel Warner (Warren). Plan. Norfolk Record Office. Catalogue Ref: MS 18622/73, 476X9