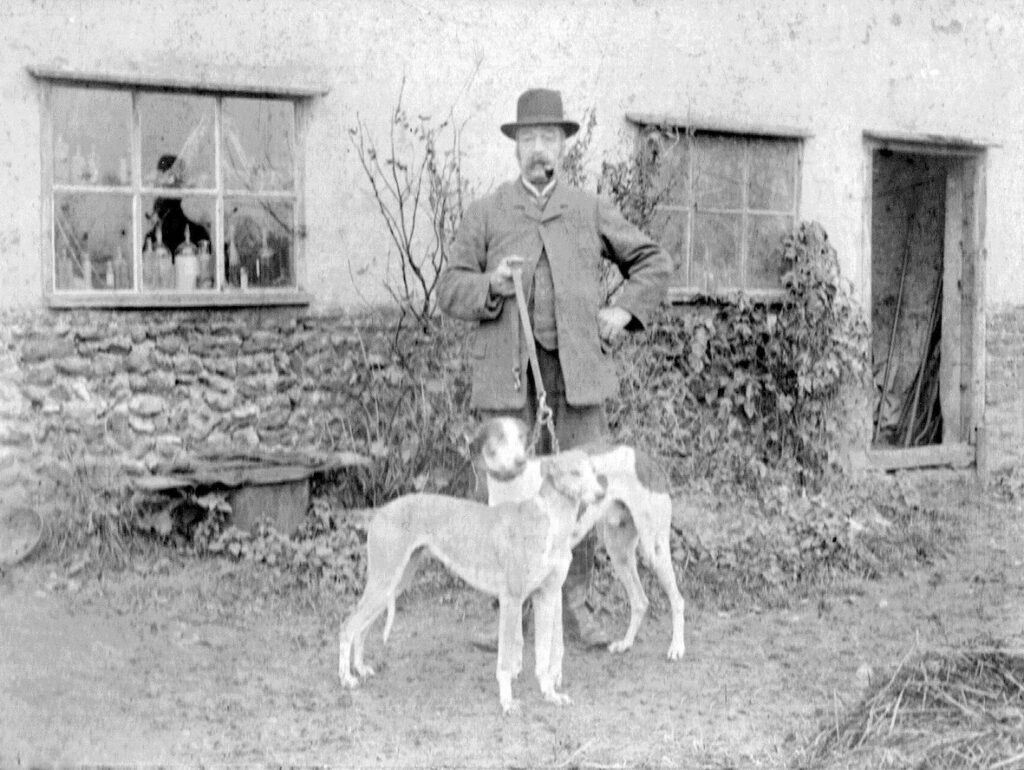 William Buchan Reynolds 1822-1886. Courtesy Ollie West
Harrod's Directory of 1878 lists William Reynolds & Son as farriers in Great Ellingham. Whilst a farrier is a skilled person with sound knowledge of shoeing all types of equine feet, William Reynolds was also a 'cow leach' (cow doctor) as well as veterinary surgeon.
From Suffolk to Norfolk
William Reynolds was born c.1822 in the parish of Bradfield St George, Suffolk. However, by 1851 William had moved to Norfolk.
1851 census
The 1851 census captures 28 year old veterinary surgeon William Reynolds lodging at the Bear Inn in Attleborough. [Now a private house, the Bear Public House was in Queens Road opposite the junction with the Cyprus Estate].
Was it whilst lodging with Robert and Maria Ebbage at the Bear that William met his future wife, London born Elizabeth Barrett? The same 1851 census finds 18 year old dressmaker Betsy Barrett listed as a visitor in the Ebbage household.
Marriage
Four years later on the 10th, 17th and 24th February, 1855, banns for the marriage of William Reynolds of Great Ellingham to Elizabeth Barrett of Crostwick were read in the Parish Church at Great Ellingham. Both William and Elizabeth are single.
I cannot find reference to the marriage in the Great Ellingham Parish Registers. However, given that at the time of the reading of the banns Elizabeth – or, rather, 'Betsy' as she was known, lived in Crostwick, I think it reasonable to think that the marriage took place in Crostwick.
Further, a marriage between William Reynolds and Elizabeth Barrett was registered between January and March 1856 in the St Faiths District. St Faiths include the parish of Crostwick.
Even if the marriage took place at the very end of 1855 (and registered at the very beginning of 1856), I wonder why there was such a delay between the reading of the banns and the actual marriage. A delay of some 10 months or so.
Home in Great Ellingham
Given that by February 1855 William Reynolds was living in Great Ellingham, it is reasonable to think that William and Betsy Reynolds began married life in the village.
During the marriage, the couple had nine known children.
Children
On the 7th March, 1858, the couple took their first born son, William Buchan, to be baptised in the Church of St James.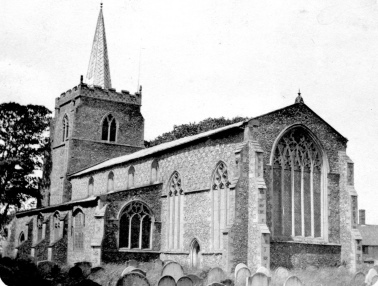 Church of St James, Great Ellingham
A second son, Frederick Buchan, was baptised in the same church on the 27th November, 1859. Sadly, William and Betsy buried infant Frederick on the 24th February the following year.
Betsy gave birth to a daughter, Alice Anna, at the beginning of 1861. The child was baptised in St James on the 3rd February the same year.
Alice was followed by the arrival of Albert Buchan in 1862. Young Albert was baptised in the parish church on the 11th January, 1863.
Two further daughters were born to William and Betsy – Rosina Agnes in 1865 and Sarah Jane in 1867. The two girls were baptised on a summer's day in St James' Church on the 21st June, 1868.
John Buchan Reynolds arrived in 1870 (baptised 10th April) followed by Amelia Laura in 1871 (baptised 21st January, 1872), and, finally, Ernest Herbert Buchan Reynolds in 1876.
Homes in the Village
During this time, the Reynolds family appear to move around the village.
1861 census
The 1861 census captures William and Elizabeth Reynolds (aged 34 and 26 respectively), living in Church Road with their two children – William 3 and Alice four months.
I cannot be certain exactly where they lived. However, I do think their home was near to or on the junction with what is now Church Street and the Attleborough Road.
Fractured Thigh
It may have been whilst the family were living here that William (or his son William) had the misfortune to suffer a fractured thigh. The name William Reynolds of Great Ellingham appears in the casualty list for the Norfolk & Norwich Hospital during February 1865.
1871
By 1871, William and Betsy with six children are living in Long Street.
1878
However, it appears that in 1878, the Reynolds family's home was along the main road to Watton.
Following the death of James Barnard, his executors arranged for two freehold properties to be auctioned at the New Inn Hotel, Attleborough on the 3rd October, 1878.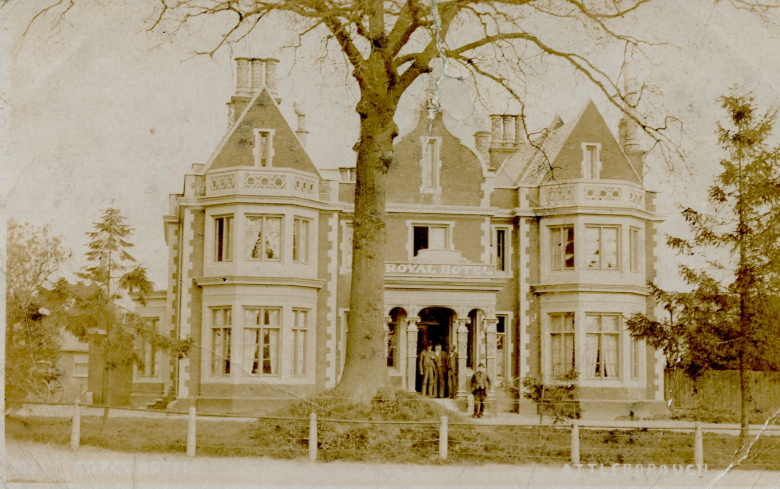 The New Inn, Attleborough later renamed The Royal Hotel
The notice appearing in the Norwich Mercury of the 21st September, 1878, describes Lot 2 as:
A small dwellinghouse with capital gig house, stable, cow house, loose box and other buildings, walled-in yard, orchard, garden with well of water therein and superior arable land adjoining, containing two acres, fronting the high road to Watton, and abutting lands of Lord Walsingham, Mr Joseph Warren and Mr Henry Ketteringham and now occupied by Mr William Reynolds at an annual rent of £14.
Given that in 1881, William Reynolds' son William was still living with his parents, I have no doubt that Lot 2 was the home of William and Betsy Reynolds. However, I am unclear as to where exactly the dwellinghouse was. At that time, there were very few dwellings along the road to Watton.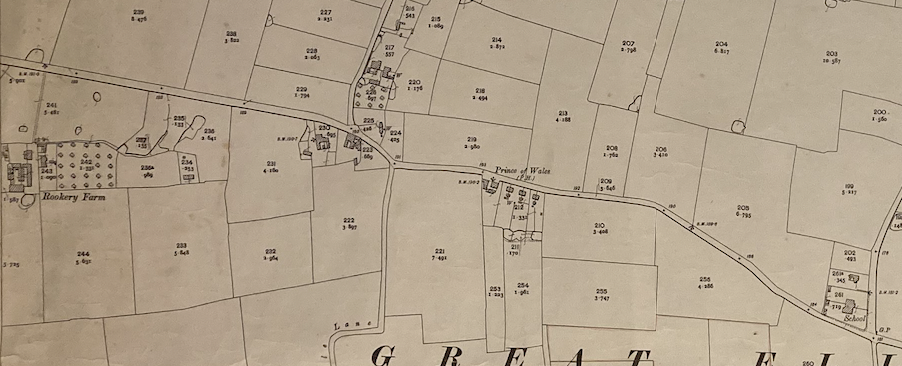 Extract from 1906 Ordnance Survey Map. Second Edition. Surveyed in 1881. Author's Collection
The above extract from an O.S. map of 1906 shows the high road (road to Watton) from the school corner (on the right) towards Rocklands (towards the left).
Given that the plan was drawn using information from a survey undertaken in 1881, I am confident that the extract shows the dwellings which were along the high road (Watton Road) at the time of the 1878 auction, save that the school and schoolhouse (on the far right) were not built until 1896. Accordingly, the Reynolds family occupied one of these properties in 1878.
Court Case
Either whilst living in Long Street or along the Watton Road, William Reynolds described as a cow doctor of Great Ellingham, appeared before the East Harling Petty Sessions on the 22nd December, 1874. Reynolds was charged with being in search of game on lands of H T Partridge Esq at Hockham on November 28th.
The charge was withdrawn with William Reynolds giving what was described as an 'ample apology' and a promise not to repeat the offence. Nevertheless, William Reynolds was ordered to pay costs amounting to £1 1s.
1881
By 1881, William and Betsy (now 61 and 48 respectively) with six children are living in Church Street. Again, I cannot be certain exactly whereabouts in Church Street the Reynolds family is living.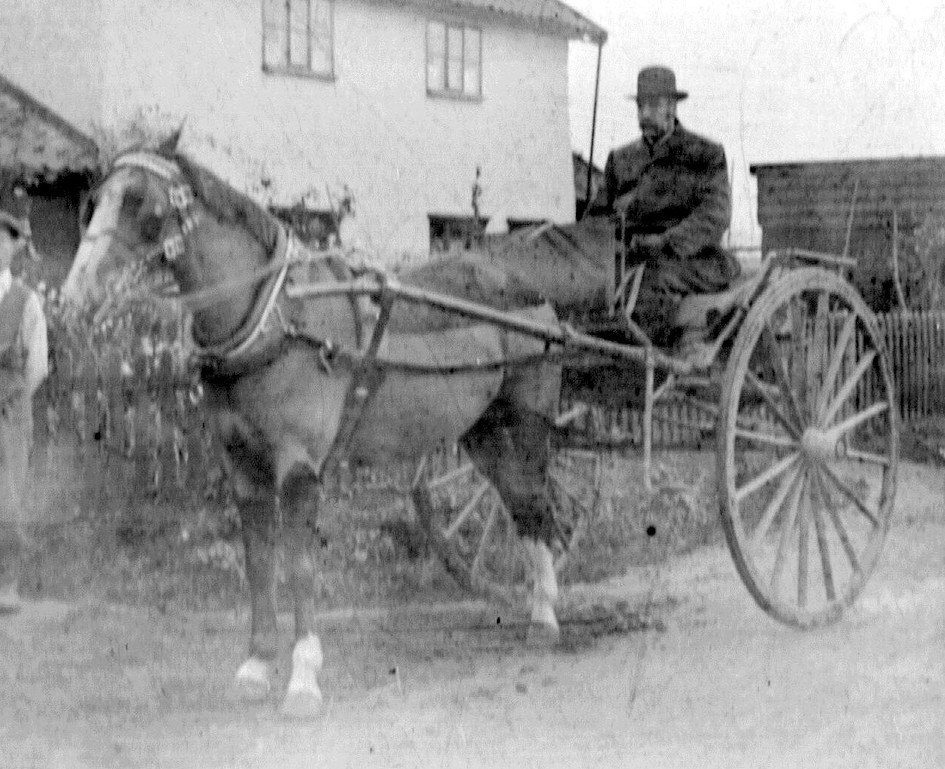 William Buchan Reynolds 1822-1886. Courtesy Ollie West
Now 23, William's son, William is working with his father as a farrier. Father and son had been working together since at least 1878 when the listing of 'William Reynolds & Son, farriers' appears in Harrod's Directory.
Save for Amelia aged 9 and Ernest 5, the rest of the Reynolds children are also working. 20 year old Alice is working as a domestic servant, 18 year old Albert is a bricklayer and 10 year old John a farmer's boy.
Death of William Buchan Reynolds Snr
On the 5th May, 1886, Betsy Reynolds buried her husband, William Buchan Reynolds, in the churchyard at St James's Church, Great Ellingham. He was 64.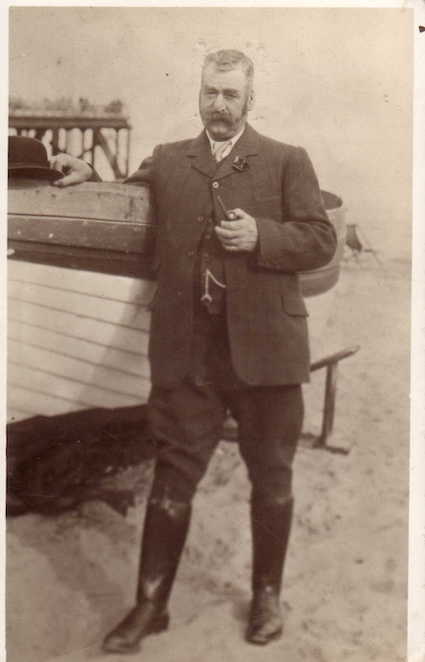 William Buchan Reynolds 1822-1886. Courtesy Ollie West
William's full name was William Elias Buchan Reynolds. This is confirmed by the baptism entry of his son, Frederick Buchan Reynolds, in the parish registers.
Widow Betsy Reynolds
Not long after William's death, Betsy moved with three of her children to the nearby town of Attleborough.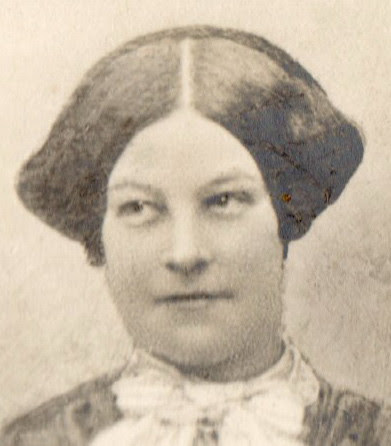 Elizabeth 'Betsy' Reynolds née Barrett. c1833-1899. Courtesy Ollie West
The 1891 census captures 57 year old Betsy with children 36 year old Alice, 19 year old Amelia and 16 year old Ernest in Market Street Common, Attleborough.
Betsy is said to be living on her own means with Alice described as a cook (domestic servant), Amelia a draper's assistant and Ernest working as a coach builder's apprentice. Betsy's grandchildren 9 year old Ethel Reynolds and two year old Edward Reynolds are also with Betsy. I believe Ethel and Edward are Alice's children.
Death of Betsy
Betsy Reynolds died in December, 1899.
Elizabeth Catherine Reynolds aged 69 of Great Ellingham was laid to rest in the churchyard at St James's Church, Great Ellingham on the 28th December, 1899.
Several members of William and Betsy's family continued to live in Great Ellingham and the surrounding villages for several years to come.
Sources:
1851 census HO107/1823/72
1861 census RG91237/90
1871 census RG10/1841/92
1881 census RG11/1974/92
1891 census RG12/1549/5
Great Ellingham Parish Registers. Norfolk Record Office PD609. Also available www.familysearch.org
Norfolk Chronicle & Norwich Gazette 25th February 1865
Eastern Daily Press 23rd December 1874
Norwich Mercury 21st September 1878
1878 Harrod's Directory. Attleborough Heritage Group
GRO Index. Free BMD website. 1856 Marriages Mar Qtr. Barrett Elizabeth. Reynolds William. St Faiths 4b 157. https://www.freebmd.org.uk/cgi/information.pl?cite=53HPTt4nHCtxIYmeeo22jA&scan=1
Many thanks to Ollie West