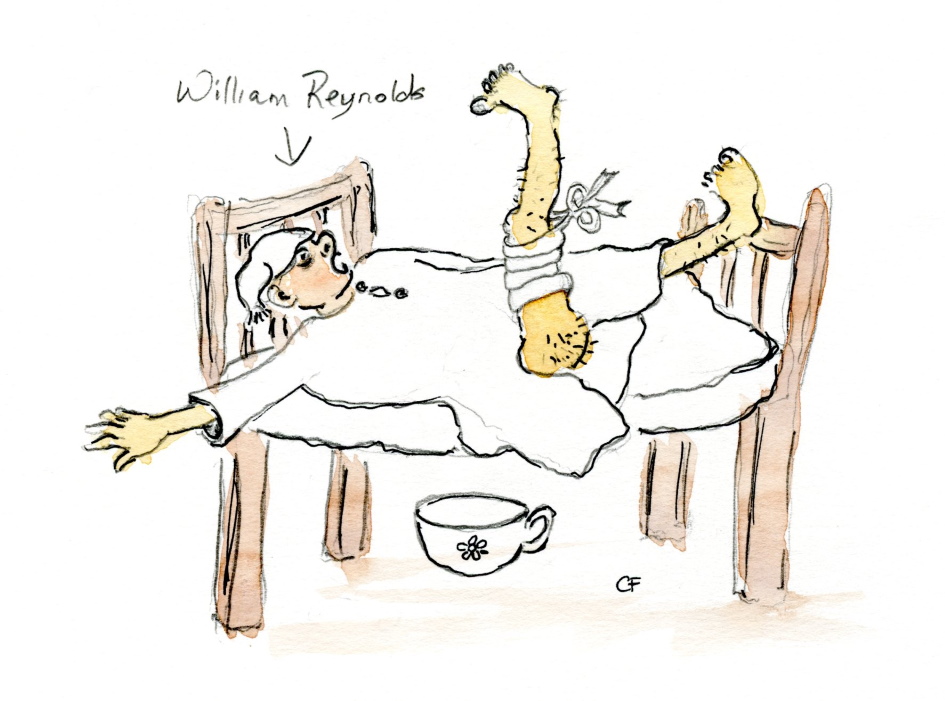 Illustration by Christine Fuller
Included in the list of the casualties received by the Norfolk & Norwich Hospital which appeared in the Norfolk Chronicle towards the end of February 1865, was William Reynolds of Great Ellingham. He was admitted with a fractured thigh.
Who was William Reynolds?
The 1861 census finds 34 year old veterinary surgeon William Reynolds with his 26 year old wife, Elizabeth, and children three year old William junior and four month old Alice Anna in Church Road, Great Ellingham. Whilst both children were born in Great Ellingham, William Reynolds was a Suffolk man. His wife was born in London.
This census mentions both Church Road and Church Street. St James's Church, the Crown Inn and the Wesleyan Chapel are all listed as being in Church Street. Six dwellings were said to be in Church Road including the household of William Reynolds. All but one of these households appear to be along or adjacent to the piece of road from the junction with the Attleborough to Watton Road, but not as far as the Parish Church. By the next census of 1871, 'Church Road' is no longer mentioned – just Church Street.
The list of casualties did not give the age of William Reynolds, or whether or not he was a child. Accordingly, I cannot be certain whether it was veterinary surgeon William Reynolds or his son, William, who was admitted to the Norfolk and Norwich Hospital.
Recovery
However, whether it be the veterinary surgeon or his son, the patient William Reynolds must have recovered from the injury as both William Reynolds and his son William are captured on the 1871 census. William and Elizabeth Reynolds with their six children (including 13 year old William junior) are now living in Long Street. William is described as a 'cow leech' (cattle doctor).
My inclination is that it was the veterinary surgeon who suffered the broken thigh, and I wonder whether he sustained the injury whilst tending a farm animal?
Sources:
Norfolk Chronicle & Norwich Gazette February 25th, 1865
1861 census RG9/1237/90
1871 census RG10/1841/92