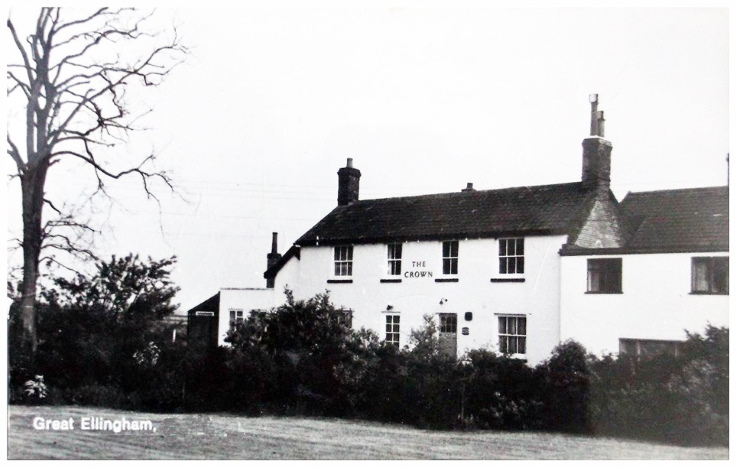 The Crown Public House courtesy of Tony Brooks. Date unknown
There has been a public house on the site of the present Crown Public House for well over two centuries. There is also evidence that in at least 1781, the pub was called 'The Bell'.
By 1800, it had become known as 'The Rose & Crown', and then 'The Crown' – although it seems it may have been 'The Crown' before 'The Rose & Crown'!
Fire
Given that in May 1787, The Times reported on a 'terrible fire' in Great Ellingham which 'totally destroyed' The Crown, the present building may well date from after 1787.
Landlords
There have been numerous landlords over the centuries. Below is a list of the known landlords:
Richard Leath before 1785
Alice Leath to 1786
Alice Jessup (formerly Alice Leath) with William Jessup
Benjamin Dennis and wife Frances (nèe Leath) to 1810
John Robert Barnard & Lydia Barnard 1810-1834
Lydia Barnard 1834-1845
Robert Lebbell before 1851 to 1885
Charles William Barnard 1891-1896
Frederick Beets 1901
Walter Buckle 1904-1910
Edward Palgrave 1911-1912
William Bales [Beales?] 1916-1925
Charles Thomas Ayers 1929-1956
James Skitmore 1956
Leslie Beales? 1960
John Burridge to August 1963
William Shepherd 1963 [temporary transfer]
Ronald Jack Drewry to 1968
Frederick Walter Drewry 1968 to 1970
Harold Chatters 1970-1979
David & Phyllis Robb 1979
If you are able to add any names to the list, please let me know via the contact page.
NB. All dates are approximate. Compiled with the help of Norfolk Pubs website https://norfolkpubs.co.uk/norfolkg/gtellingham/gtelcr.htm, Kelly's Directories, Census Returns & other documentation. The Times 18th May 1787. Norfolk Chronicle 1st September 1781