Fire starts at Widow Caddy's Home
The report of a 'terrible fire' at Great Ellingham, near Attleborough, made the edition of The Times on the 18th May, 1787.
The Widow Caddy must have been in great fear and distress when fire broke out at her home between eleven and twelve o'clock on the 'Wednesday night last'. With no mention in the report of any other person in the house, perhaps Widow Caddy was living alone.
We can only wonder how long the fire had been developing before the alarm was raised. Had the Widow Caddy retired to bed by candlelight and had forgotten to snuff it out? Did the fire start in the fireplace or chimney?
Did the neighbouring villagers form a chain with buckets from the nearest well to the burning properties in Church Street in order to get water over the flames in an attempt to quell the fire? They certainly would have been in fear for their own nearby properties, some of which certainly had thatched roofs.
What we do know is that unfortunately, Widow Caddy's home was 'entirely consumed' by the flames. Thankfully, there is no report of any casualties
Fire Spreads to the Crown Public House
However, the fire spread to the adjoining property, the Crown Public House, belonging to leather cutter and shoemaker, William Jessop. The Crown together with the furniture and the majority of William Jessop's stock in trade, was also totally destroyed.
If the loss of his household furniture and stock wasn't bad enough for William Jessop, The Times reported that his premises were uninsured!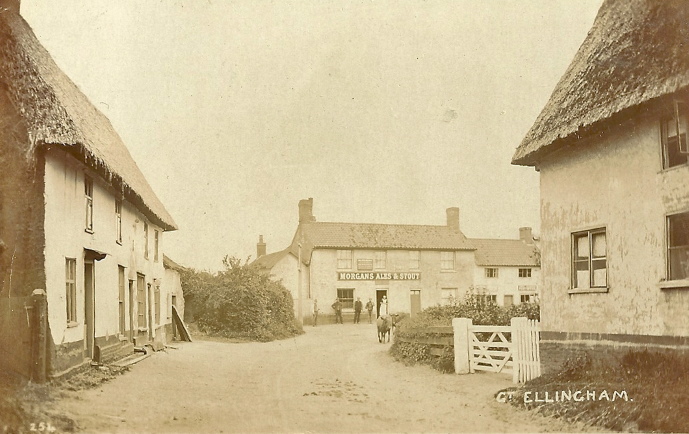 The Crown Public House in the centre of the postcard. Courtesy of Attleborough Heritage Group
The above postcard shows the Crown Public House, very similar in appearance as it is today. Given that The Times reported that the Crown was totally destroyed by the fire, the present Crown must have been built sometime after 1787.
Sources:
"In the article of villa's and country seats, the Duke of Marlborough many be said to possess more." Times, 18 May 1787, p. 3. The Times Digital Archive, https://link.gale.com/apps/doc/CS51119282/TTDA?u=nl_earl&sid=TTDA&xid=49ded6f3. Accessed 11 July 2020.
Jane Austen's World website. https://janeaustensworld.wordpress.com/tag/history-of-fire-fighting/ Accessed 11 July 2020