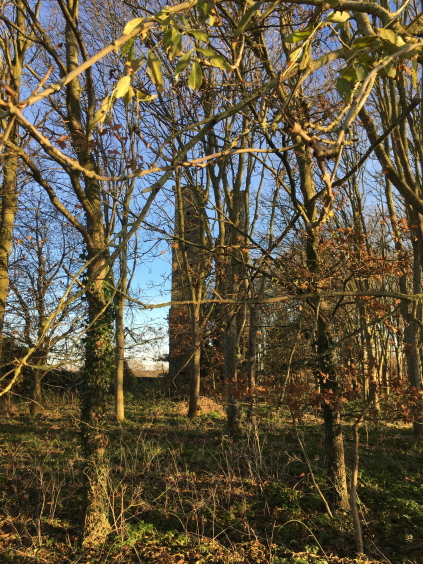 The remains of the Parish Church of Saint Andrew, Rocklands. Photograph taken December 2019
Norfolk Heritage Explorer describes what remains of St Andrew's Church, Rocklands as "the ruins of a 14th century church to the southeast of All Saints' Church".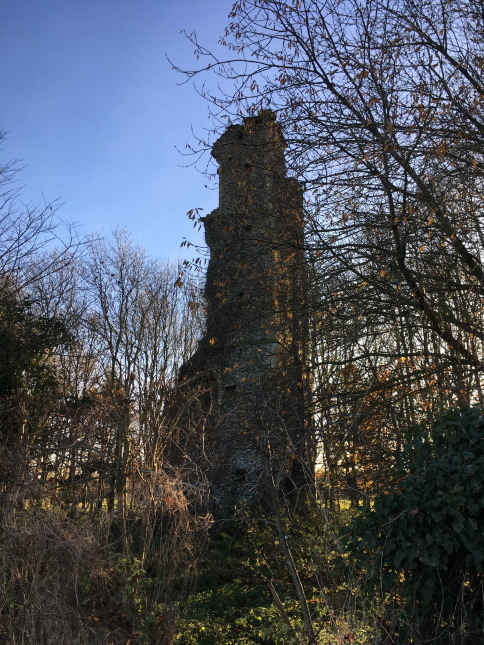 Ruins of Rockland St Andrew. Photograph taken December 2019
In his Essay Towards A Topographical History of the County of Norfolk, Blomefield (1705-1752) referred to the church of St. Andrew as "falling into decay, and standing not above a furlong eastward from All-Saints, was suffered to dilapidate". Blomefield also mentioned the square tower then still standing, but its three bells had been stolen "some years since, were never heard of".
Cromwell and St Andrew's
Oliver Cromwell became Lord Protector of the Commonwealth of England, Scotland and Ireland in 1653 and was 'in office' until 1658.
It is said that it was during this period that the church of St Andrew's in Rocklands was destroyed.
In the booklet 'A Little History of Great Ellingham', the authors refer to an area of an old defensive earthwork to the west of Great Ellingham Hall as 'How Furrow'.
So the story goes, Cromwell had his men position a cannon on this land which destroyed St Andrew's Church in Rocklands. Apparently a cannonball was found in a direct line between the two points.
How Furrow
A Particulars & Valuation of Great Ellingham (as taken by the Commissioners in relation to the Great Ellingham Inclosures) c.1800, lists two enclosures each referred to as 'How Fir Pightle'.
One pightle measuring three acres and thirty nine perches (3a 0r 39p) was owned by Stephen Taylor, but occupied by John Thurston. The other, measuring two acres, one rood and thirty eight perches (2a 1r 38p), was owned and occupied by Hannah Browne. Both Hannah Browne and John Thurston lived in Long Street.
The numbering used in the Schedules to the Particulars & Valuation concurs with the numbering of the parcels of land used in a map of Great Ellingham dated 1802.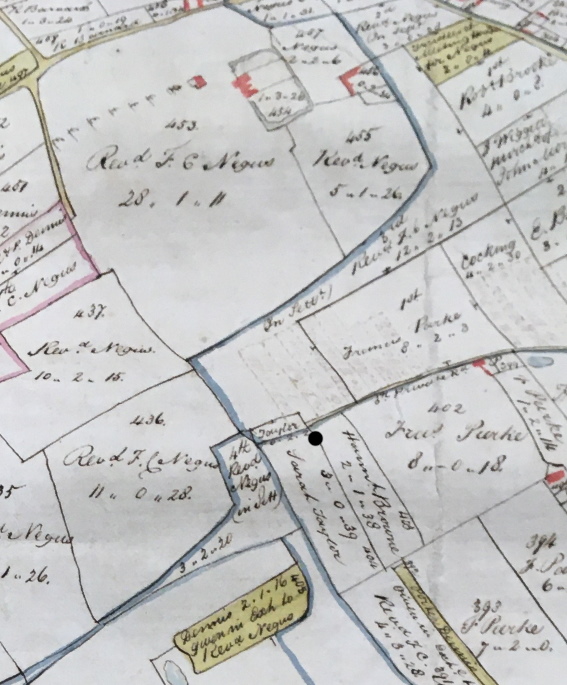 Extract from 1802 Map of Great Ellingham. Original held at Norfolk Record Office. Russell James Colman Plans. Cat. Ref. C/Ca 1/84. With kind permission of NRO
The extract from the 1802 map of Great Ellingham shows the position of the two pieces of land referred to as 'How Fir Pightle' in the Particulars & Valuation c.1800. For ease of reference, I have inserted a black dot on the extract of the map. These two pieces of land lie to the south-west of the farmhouse of Great Ellingham Hall.
By c.1840, that part of How Fir Pightle owned by Hannah Browne c.1800, was then owned and occupied by Robert Houchen, having been previously owned/occupied by Christopher Houchen and Edward Houchen. The piece of land was then known as How Furze Pightle.
The other part of How Fir Pightle was then in the ownership of Benjamin Barnard, having been in the ownership of Robert Barnard. This parcel of land was then known as How Furz(e) Allotment.
The old meaning of the word 'Howe' or 'How' is a hill or barrow. 'Furze' is another name for gorse. I believe the two pieces of land once known as How Fir Pightle and later as 'How Furze', are together the area 'How Furrow' referred to in the 'Little History of Great Ellingham'.
If the tale is to be believed, 'How Furze' is likely the site where Cromwell's men placed their cannon!
Sources:
Francis Blomefield, 'Hundred of Shropham: Rockland-Toft', in An Essay Towards A Topographical History of the County of Norfolk: Volume 1 (London, 1805), pp. 473-482. British History Online http://www.british-history.ac.uk/topographical-hist-norfolk/vol1/pp473-482 [accessed 15 November 2020].
https://www.lexico.com/definition/howe accessed 15.11.2020
Lebbell, W R & Fay,S. A Little History of Great Ellingham. Date unknown
1802 Map of Great Ellingham. Russell James Colman Plans. Norfolk Record Office. Catalogue Ref. C/Ca 1/84
1800 Inclosure Commissioner's Particulars and Valuation. Great Ellingham. Norfolk Record Office MC2213/119
F.W. Horner, Records of the Surveyors to Commissioners for Inclosure in Parishes in Norfolk & Suffolk. 1799-1842. Great Ellingham (Act 1799). Norfolk Record Office. Catalogue Ref BR 90/2