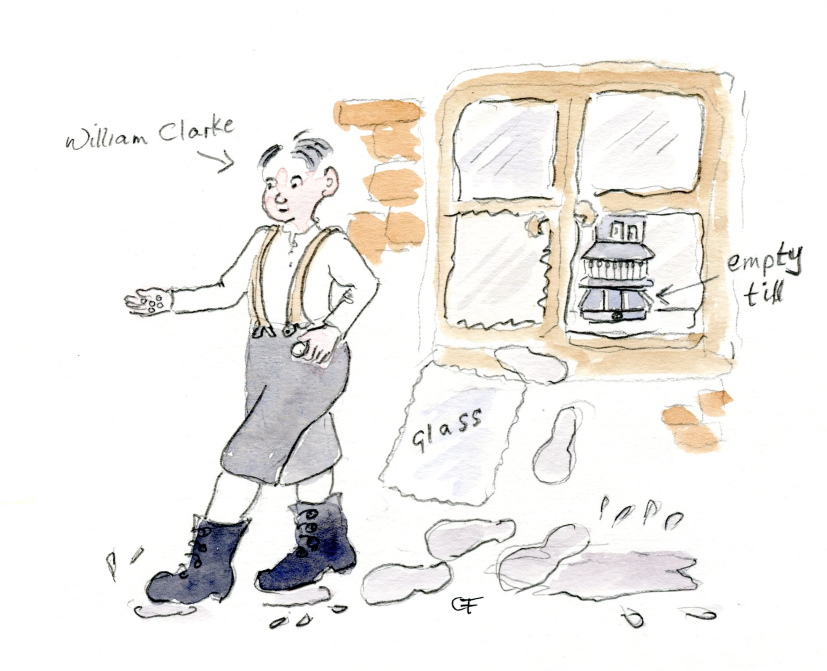 Illustration by Christine Fuller
On their return from chapel on Sunday, 3rd December 1865, Charles and Harriet Barnard may well have been shocked to find that their home had been broken into, and money stolen from their shop till.
Court Appearance for William Clarke
William Clarke, described as a youth and living with his parents in Great Ellingham, appeared on remand before the Magistrates at East Harling just a few days before Christmas 1865. He was charged with feloniously breaking and entering, and stealing all the money which had been left in the till, i.e. one penny and five farthings.
It was alleged that William Clarke had entered the property by removing a square of glass in a window at the back of the premises. Clarke had been apprehended by the Police after it transpired that the imprints left on the ground near the window through which William Clarke had gained access, matched his boot which had been taken to the local shoemaker, Edmund Kerrison, for repair and which had later been handed to the Police. After initially telling the Police that he knew nothing about the theft, William Clarke subsequently admitted the offence.
Charles & Harriet Barnard
Charles and Harriet Barnard had married in Great Ellingham earlier in 1865. Before her marriage, Harriet has been a grocer. It is possible that Harriet with Charles continued the business for a while after their marriage. However, the census of 1871 does not show either Charles or Harriet as a grocer or shopkeeper. The census describes Charles as a bricklayer.
Who was William Clarke?
Given that the newspaper report describes William as a 'youth', I believe William Clarke to be the 11 year old William Clarke living with his parents, Samuel and Mary Clarke, and siblings in Long Street at the time of the 1861 census. This would make William around the age of 15 or 16 at the time of the offence in December 1865.
Red House School
The newspaper report of the court hearing did not give details of the outcome. However, William Clarke was admitted to the Red House Reformatory School, Buxton. You can read about William's time at the Red House School here.
Sources:
1861 census RG9/1237/93
1871 census RG10/1841/82
Norwich Mercury December 23rd, 1865
Updated April 2023