I was delighted to be contacted by a descendant of one of the Clarke families who lived in Great Ellingham from at least 1800 to 1902.
Angela McCleery has studied the Clarke family for a number of years. She he is able to provide more information about William Clarke following his misdemeanour in the village in December 1865.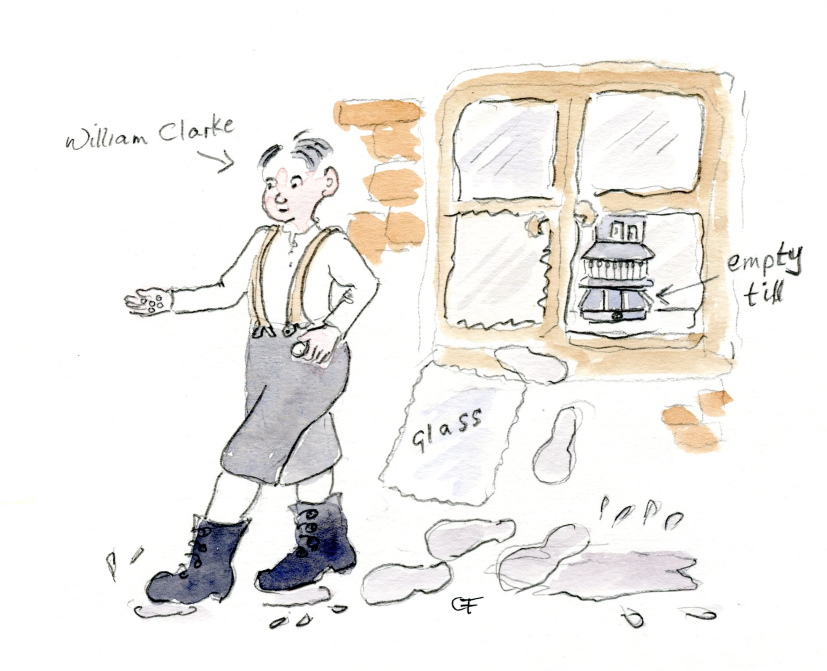 What follows is the result of Angela's research:
OFFENCE

On Sunday, 3 December, 1865, a William Clarke broke into the house of Charles and Harriet Barnard in Great Ellingham. He was apprehended after footprints on the ground matched the soles of his boots.

On 3 January, 1866, at the Castle in Norwich, he pleaded guilty of stealing 2 and a 1/4d, and was sentenced to two weeks in prison and then five years in a Reformatory School. 

We can only imagine his terror, at age 15, a country boy, appearing before a Court and being sentenced to all those years away from home. 

RED HOUSE REFORMATORY SCHOOL

William Clarke was admitted to the Red House Reformatory School, Buxton, near Norwich, on 17 January, 1866. It was the making of him.

His entry particulars state his age to be 15, the son of Samuel (a farm labourer) and Mary Clarke of Great Ellingham. William's previous mode of life was said to be a 'Bricklayers Labourer' and he had attended Great Ellingham School for two years. He could read 'a little'. There were two older children in the family and five younger.

FOUNDERS OF THE SCHOOL

John Wright founded, owned and managed the Red House, 1852-1871. He was a kind and generous benefactor who had suggested the setting up of the school for forty boys, of under twenty years of age, who had committed crimes. Thomas Babington, a big, kindly man governed the school 1855-97. Thomas Babington's wife acted as Matron and John Wright's wife taught at the school. They all took a personal interest in each boy and were respected very much by the boys.

Both Mr Wright and Mr Babington had the same vision, that the boys should learn to read and write and learn to farm. Some boys would also train to be bakers, tailors and shoemakers. Their aim was to give the boys responsibility and to build self-confidence. Corporal punishment was rarely used. Good conduct marks and badges were given, also pocket money, and a boys' council was set up to consider weekly misdeeds, remedies and punishments.

INSPECTION

At an inspection in 1871 there were 42 inmates, all healthy. Of the 27 who had been discharged in the previous three years, 19 were doing well, 1 was dead, 1 was doubtful, 5 had been convicted of crime, and there was 1 unknown.

WILLIAM'S JOURNEY

William thrived at the school. He was fed and clothed and his particular job was to help Mr Wright.

According to the school register: 1867 'This is a very good boy.'                 October 1868 'He stands no 1 in the school and is a first-rate boy.' 
William Clarke was discharged, early, in April 1869 and a week later, at age 19, he emigrated to America. The school received several letters from him, until May 1872, in which he said he was doing well and 'spoke highly of the country'. 

I have no more news of William.

Angela goes on to say:
I also cannot find later records of one sister nor two of his brothers. There are no family memories or stories about them. Perhaps they emigrated too. William's parents, Samuel and Mary Clarke, died in 1902 and were buried in Great Ellingham Church graveyard.
The inscription on their grave reads:
When the body's feeble nature/ Bows oppressed by grief and pain/ Help our souls to rise uninjured/ Soaring up to thee again.
From Angela's further research, she also mentions:
Reading reports of other boys in the school, nearly all of them had been sentenced for thieving, sometimes repeatedly. Many were illiterate on admission, many were from large families and with poor and sometimes drunk parents. Most of the boys wrote letters to the school for years after leaving and one boy visited the school ten years afterwards! Some boys became sailors and several emigrated to America and Canada.
The daily timetable:
Rise 5.30 Summer, 6.00 Winter. Make bed and have early morning bread. Work: farm tasks, kitchen, baking, room cleaning
7.30 Breakfast
8.00 Prayers, medical inspection, clothes and boot inspection
8.15 P.T.
9.00 Farm, trade training or school
7.45 pm Bed. Lights out 8.15
On Sundays there was Church at Marsham and religious instruction
In the evenings: 'slides, reading and singing'
Wednesday and Saturday afternoons: Games
Wednesday evening: all the school did sock knitting and darning
Saturday evening: baths and change of linen
The aim was to give boys routine but also the opportunity to amuse themselves without getting into trouble.
Sources:
'A History of the Red House Farm School, Buxton near Norwich; by Derrick Mellor. Norfolk Record Office. Cat. Ref. C/SS 8/209
Red House (Farm) School, Buxton 1853-1995. Register – nos 1-164, Oct 1853-Apr 1868. Norfolk Record Office. Cat. Ref. C/SS 8/31
Red House (Farm) School, Buxton 1853-1995. Photocopies of inspectors reports on the school 1871, 1896, 1906 and 1914 and extract from a report of 1902. Norfolk Record Office Cat. Ref. C/SS 8/90
Norwich Mercury 6th January, 1866
England & Wales Criminal Registers 1791-1892
Birth Record. www.findmypast.co.uk & www.ancestry.co.uk
Many thanks to Angela McCleery