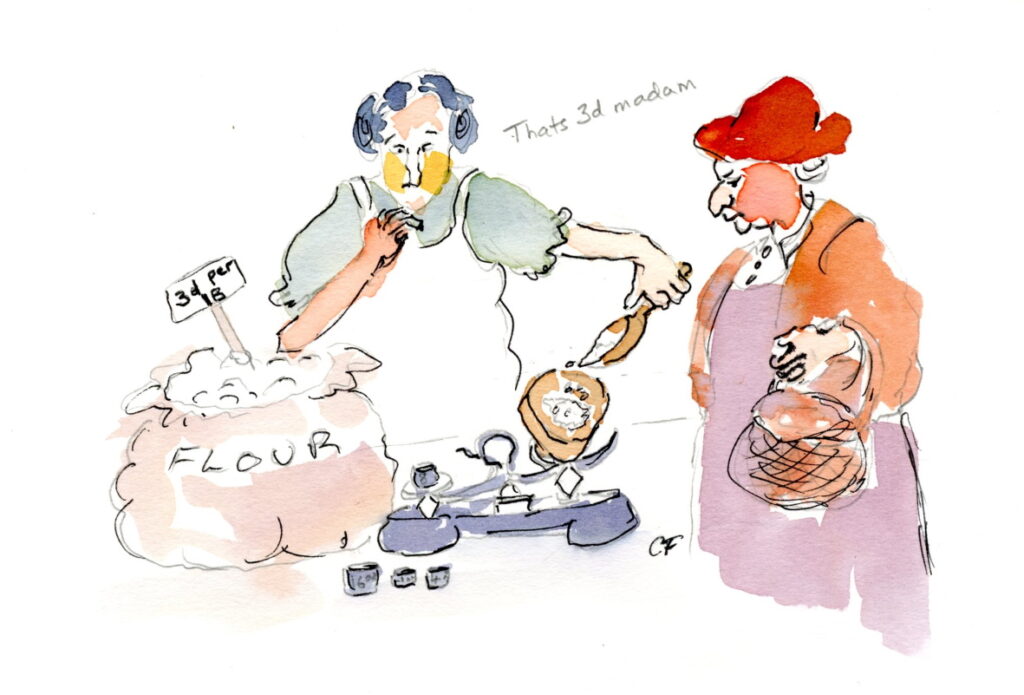 Illustration by Christine Fuller
Great Ellingham born Harriet Leeder was a grocery dealer living in Long Street during the 1860s, with her parents, William and Frances Leeder.
Court Appearance
In the August of 1864, Harriet Leeder, described as a flour seller, appeared before the Magistrates at the East Harling Petty Sessions charged with having an incorrect flour scale in her shop at Great Ellingham on the 20th July. Information had been provided to the court by Police Constable Kent. Harriet was convicted and was fined with costs the sum of £1 1s.
1861 census
The 1861 census captures 23 year old grocery dealer Harriet with her parents in Long Street. Her 67 year old parents were both in work. Harriet's father, William Leeder, was a cow leech (cattle doctor) and farrier, and her mother Frances (neé Lebbell) made straw bonnets.
Marriage to Charles William Barnard
A marriage between Charles William Barnard and Harriet Leeder was registered in the Wayland District between April and June 1865.
The census of 1871 finds Harriet with her husband and three year old daughter Elizabeth living in Great Ellingham. The census lists Charles William Barnard as 'William Barnard', a bricklayer. Harriet appears no longer to be a grocery dealer. Perhaps she ceased working when she married Charles Barnard?
Ten years later, the 1881 census shows the family to be living in Long Street where I suspect they were living in 1871. Charles and Harriet now have another daughter, Fanny Rebecca, aged 5. Their elder daughter, Elizabeth is now 13.
Charles Barnard, Licensee of the Crown
By 1891, Charles and Harriet Barnard had moved to the Crown Inn in the village. The census describes Charles as an innkeeper and bricklayer. Their 15 year old daughter Fanny is described as a school teacher. The informative book 'Great Ellingham County Primary School Centenary 1896-1996′ lists 'F. Barnard' as a Monitress at the school during 1889 and 'F.R. Barnard" as a member of the teaching staff between 1896 and 1906.
Norfolk Pubs website lists Charles William Barnard as licensee of the Crown in Great Ellingham between 1885 and 1896.
By 1901, Charles and Harriet with their daughter Fanny (now 25 and a school teaching assistant) had moved back to Long Street. Charles was working for himself as a bricklayer.
The 1911 census finds the couple (now in their seventies) living in Town Green. Charles and Harriet may well have been living in the same house as they were in 1901. The extent of what was then regarded as being part of 'Town Green' or 'Long Street' may have changed since the census return of ten years earlier. This seems common in the various census returns over the years.
Death Registrations
Harriet outlived her husband by a few years. A death for a Charles W Barnard aged 77 was registered between January and March 1918 in the Wayland District. Over three years later in 1921, the death for a Harriet Barnard aged 84 was registered in the same district between October and December.
Sources:
Norfolk News August 27th, 1874
1911 census RG14/11473/105
1901 census RG13/1867/79
1891 census RG12/1549/79A
1881 census RG11/1974/89
1871 census RG10/1841/82
1861 census RG9/1237/78
GRO Index. https://www.gro.gov.uk/
GRO Index via FreeBMD website.
https://www.freebmd.org.uk/cgi/information.pl?cite=UpYICew6UpQcFM777u2Y6A&scan=1 Accessed 11.03.2020
https://www.freebmd.org.uk/cgi/information.pl?cite=likYXMwicavOtrGaFgl%2BUQ&scan=1 accessed 11.03.2020
Great Ellingham County Primary School Centenary 1896-1996 Complied by J E Watts
Norfolk Pubs Website. http://www.norfolkpubs.co.uk/norfolkg/gtellingham/gtelcr.htm. Accessed 11.03.2020