In 1908, John Whellum of Paragon Street, Norwich, agreed to sell his modest farm in Bow Street, Great Ellingham.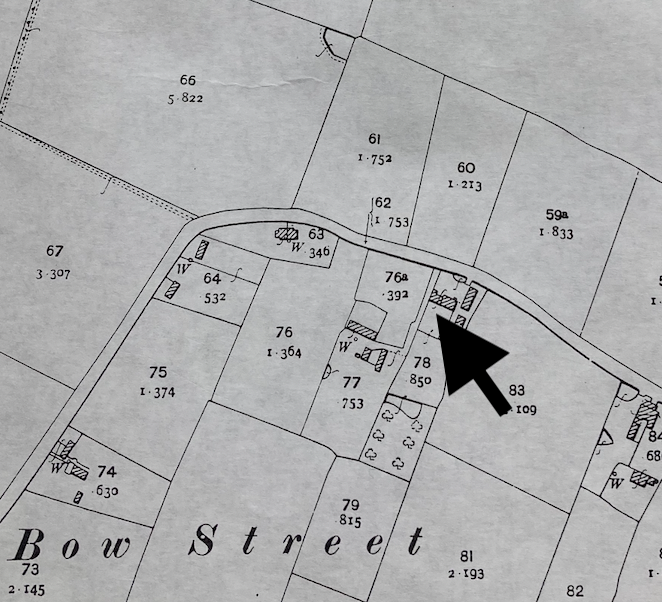 Extract from 1906 Ordnance Survey Map. Second Edition. Surveyed in 1881. Revised 1904. Courtesy Martin Jeffery
Whellum had owned the farm for some 30 years, having inherited the property from his late uncle William Wretham. He had never lived in the property.
Occupier James Fox
Since at least 1901, local man, James Fox, had rented the farm from John Whellum. However, Fox and his wife Hephzibah may well have been forced to leave the property when their landlord sold. It also appears from the deeds of 1908 that the eventual new owner, Horace Pike, may well have moved into the property before the completion of his purchase.
As a result, Fox sold off some animals, poultry, and farm implements at an auction held at the property on the 2nd October, 1908. He also sold part of his household furniture.
Sale to Dunnett
At some point, John Whellum entered into a formal agreement with Jeremiah Dunnett for the sale of the the property and land in Bow Street.
The farmhouse, barn, stable, outbuildings, garden, orchard as well as several parcels of arable and pasture land, comprised seven acres two roods and thirty three perches (7a 2r 33p). Of this, five acres and two roods (5a 2r) were copyhold of the Manor of Ellingham Hall.
Jeremiah Dunnett
In his fifties, Jeremiah Dunnett was a cattle dealer of Hall Road, Norwich. He was born in Old Buckenham, a village some 5 miles from Great Ellingham. In 1901, Jeremiah Dunnett lived with his wife and four of his children in White Horse Street, Attleborough.
By 1911, Dunnett was 59 and widowed. He lived at 24 Southwell Road, Norwich (a seven roomed dwelling) with his grown up daughters Ellen, Florence, Emma and Daisy.
Sub-Sale to Horace Pike
At some point after the Agreement for Sale was signed, Dunnett negotiates a sale of the Bow Street property to Horace Greaves Pike.
In addition, an agreement was reached that Whellum would deal with the enfranchisement of the copyhold land. The effect of this would be that the land would become freehold. However, this would be at the expense of Pike.
Horace Greaves Pike
Early Life
Horace Pike was a Norwich man. He was three months old when the 1851 census captures the Pike family in Pottergate Street, Norwich.
Pike's parents were both in work. His father, James, was a cordwainer's clicker (he cut out the uppers of shoes or boots), and his mother, Eliza, worked as a milliner and dressmaker. Horace had two older siblings, Helen 4 and John 2.
Ten years later, the Pike family (including ten year old Horace) is still in Norwich, albeit at 33 Distillery Street.
However by 1871, 20 year old Horace Pike had 'spread his wings', and is lodging in Ealing, Middlesex. He is working as a photographic printer.
Marriage
By 1879, Horace is living in Chester. However on the 26th April, 1879, he was back in Norwich when he married Norwich born Sarah Jane Bunting at Prince's Street Congregational Church in the city.
Photographer
Nevertheless before too long the couple were in Cheshire.
The 1881 census captures 29 year old photographer Horace G Pike with his 27 year old wife Sarah and their one year old son, Walter, at 3 Williams Terrace, Plemonstall (Plemstall), Cheshire. The family has a servant, 15 year old Elizabeth Blickley.
Ten years later, the 1891 census finds Horace and Sarah Pike with five children in Lichfield St Mary, Staffordshire. 40 year old Horace Pike is still working as a photographer. Again the family has a general servant.
The 1901 census captures Horace and Sarah with four of their children in Constitution Place, Norwich. Again, Horace is still working as a photographer.
Yeoman
The deeds relating to Pike's purchase of the Bow Street farm in 1908 reveal Horace Greaves Pike to be living at No.31 Trinity Street, Norwich. Pike's occupation is stated to be a yeoman (i.e. a modest landowner cultivating his own land).
Enfranchisement of the Copyhold
As agreed with Jeremiah Dunnett and Horace Pike, John Whellum approached the Lord of the Manor of Ellingham Hall for the enfranchisement of the copyhold parts of his farm in Bow Street.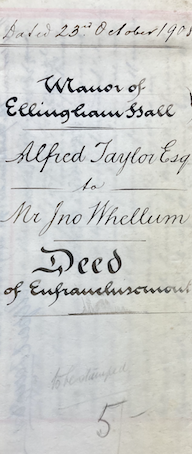 Extract from Deed of Enfranchisement Taylor to Whellum 23rd October 1908. Courtesy Roger Banks
On the 23rd October, 1908, Alfred Taylor Esq., of Starston, the then Lord of the Manor of Ellingham Hall, entered into a Deed of Enfranchisement with John Whellum.
For the sum of £35 12s 2d, Taylor agreed for the conversion of the copyhold land to freehold, and thus transferred the ultimate ownership to Whellum.
As a result the property was freehold when Pike completed the purchase just four days later.
1908 Conveyance Deed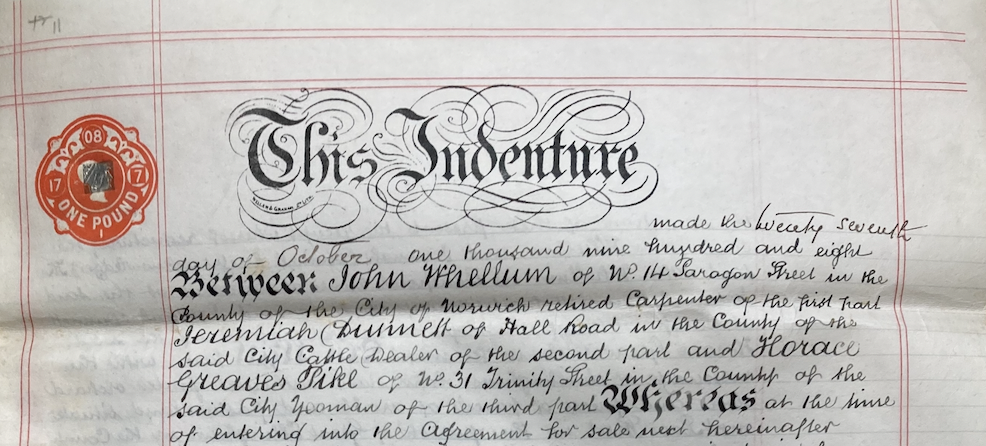 Extract from Indenture dated 27th October 1908 Whellum, Dunnett & Pike. Courtesy Roger Banks
The Conveyance Deed of the 27th October, 1908, sets out the agreement between Whellum, Dunnett and Pike.
It also confirms that earlier Whellum had entered into an agreement to sell the Bow Street property to Dunnett. However, Dunnett had since agreed to sell the property to Pike.
The Deed also confirms that since the agreement, the copyhold parts of the property have enfranchised at the expense of Pike.
Purchase Price
The price paid by Pike was £200. Of this sum, £130 was paid to John Whellum (the price agreed between Whellum and Dunnett) and the balance of £70 paid to Jeremiah Dunnett.
Sub-Sale
We can but wonder why Dunnett agreed to purchase the property but then, before completing the transaction, agreed to sell it to Pike.
Did Dunnett find himself unable to raise the £130 to complete the purchase, but found a willing buyer prepared to pay a much higher price? After all Dunnett got £70 out of the deal.
New Owner
Whatever the circumstances, the result was that on the 27th October, 1908, Horace Greaves Pike became the new owner of the freehold property:
All that farm with the Messuage or dwellinghouse, barn, stable, outhouses, garden orchard, closes and pieces or parcels of arable and pasture land situate next Bow Street in the parish of Great Ellingham in the county of Norfolk containing in the whole seven acres two roods and thirty three perches or thereabouts whereof two pieces or parcels do lie on the north side of Bow Street aforesaid and the remaining pieces or parcels whereof together with the said messuage and buildings standing thereon do lie on the south side of Bow Street aforesaid 
Which said hereditaments hereby assured were lately in the occupation of James Fox and are now in the occupation of the said Horace Graves Pike …
Mortgage
Just four days after he completed his purchase, Horace Pike mortgaged the property.
On the 31st October, 1908, Pike entered into a mortgage for a loan of £130 from the Trustees of the Loyal Wodehouse Lodge No.3661 of the Manchester Unity of the Independent Order of the Oddfellows Friendly Society.
Pike's Ownership
Horace Pike owned the property until 1918, when he sold the property to Nigel Browne. However, I am unclear how long Pike actually lived in the Bow Street property.
As mentioned, for many years Horace Pike was a photographer.
In the Conveyance Deed to him and in the subsequent Mortgage Deed to the Oddfellows Friendly Society, Horace Pike's occupation is that of a yeoman. Accordingly, it seems that at 57 years of age, Pike had a change of occupation.
However, perhaps life in the country did not suit Horace Pike. The 1911 census (undertaken less than two years after Pike's purchase), captures 60 year old Horace Pike with his wife Sarah at their son Walter's home in Barkingside, Essex.
31 year old unmarried Walter Pike is a dairy farmer. Horace Pike's occupation is once again a photographer, albeit retired. Accordingly, it seems that Pike's time in Great Ellingham was fairly short.
Sources:
1911 census RG14/9862/1; RG14/11321/106
1901 census RG13/1833/133; RG13/1867/16
1891 census RG12/2212/57
1881 census RG11/3562/11
1871 census RG10/1317/45
1861 census RG9/1220/25
1851 census HO107/1816/95
Eastern Daily Press 26th April 1879 and Eastern Daily Press 2nd October, 1908. Viewed via https://www.britishnewspaperarchive.co.uk 18 November 2022
Private Deeds Collection. Property in Bow Street. Thanks to Roger & Sue Banks