1904 Auction of Farm in Bow Street Occupied by James Fox
The Norfolk Chronicle of the 6th August, 1904, included notice of the sale by auction of a 'Desirable Small Occupation Farm' in Bow Street, Great Ellingham. The auction would take place at the Royal Hotel, Norwich at 7 o'clock in the evening of the 10th August.
The farm came with a garden, orchard, premises and land (both arable and pasture). The full extent of the farm premises and land comprised 7a 2r 33p. The premises was said to be well adapted for a dealer, poultry farmer and market gardener.
Occupied by a tenant, James Fox, at an annual rent of £20, the farm had been offered for sale at auction the previous year. Either the farm failed to sell at the earlier auction, or the new owner decided to sell-on within a few months of his purchase.
It is not clear whether the farm sold at the auction on the 10th August, 1904. However, it does appear that it had a new owner by October 1908.
1908 Auction of James Fox's Agricultural Stock & Implements
A notice of an agricultural auction taking place in Bow Street, Great Ellingham, was published in the Eastern Daily Press on the 2nd October, 1908. The sale would take place the next day.
Included in the sale were a Bay Cob, Fat Heifer (stall fed), two weanlings, 25 head of poultry and six ducks.
The farm implements included a tumbrel on iron arms, dealer's cart, one-horse iron roll, single-horse hoe, iron plough, wood and iron harrows, two pulpers, chaff cutter, weighing machine with weights, thatching ladder, three rolls of wire netting, two stack cloths, five fowl houses, two bullock bins, harness, part of a stack of corn hay and sheets of corrugated iron.
In addition, James Fox was selling part of his household furniture and other effects.
From the items being sold, it is clear that James Fox was 'selling up' and moving from the farm.
Where was James Fox's Farm in Bow Street?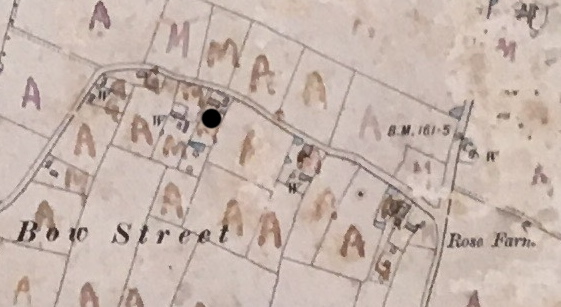 Extract from Second Edition, 1906. Norfolk, sheet LXXXV S.W. Courtesy of Ray & Maureen Beales
The black dot on the extract from a 1906 map shows what I believe to be the position of James Fox's farm in Bow Street.
Where did James Fox move to?
The 1911 census captures 51 year old James Fox with his 55 year old wife Hephzibah in a cottage in Long Street. Although married for 26 years, the couple did not have any children.
James Fox is no longer working for himself. He is now employed as a farm labourer. What prompted James Fox to sell up in Bow Street? Perhaps his poultry business was not profitable?
Who was James Fox?
Great Ellingham Born
James was born in Great Ellingham. His birth was registered in the Wayland District between January and March 1859. It is possible that he was born at the end of December the previous year.
Given that I have not found a baptism for James (or any of his siblings) in the registers for St James's Church, Great Ellingham, I suspect that his parents, John and Sarah Fox (née Banham) were non-conformists.
Parents' Marriage
With two children already, Sarah Ann Banham married John Fox between April and June 1855. Again, I have not found the marriage in the register for St James.
1861 census
The 1861 census finds two year old James Fox with his family at Low Common, Great Ellingham.
29 year old John Fox is working as an agricultural labourer. His 36 year old wife Sarah Ann is at home looking after the children – 9 year old Matilda Maria Banham and 8 year old Jonathan Wright Banham (Sarah's children from a previous relationship), and the Fox brothers, Charles Robert aged 4 and James 2.
1871 census
Ten years later, the family are still living in Great Ellingham. However, the census of 1871 does not provide the exact location where John Fox and his family are living.
39 year old John Fox and his two sons, 14 year old Charles Robert and 12 year old James are already working as labourers. Children nine year old William and five year old Ellen are both attending school. John's widowed mother, 72 year old Charlotte Fox, is also with the household of John and Sarah Fox.
1881 census
The 1881 census captures the Fox family at 'Burying Ground', Great Ellingham, not far from the Queens Head on the Attleborough Road.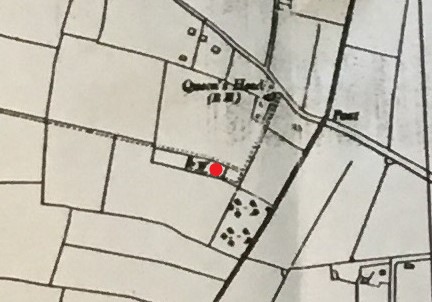 Extract from O.S. Map c.1945. Courtesy of Ray & Maureen Beales
John Fox is now 49 and his wife Sarah Ann 56. The children still 'at home' are 22 year old James, 19 year old William and 15 year old Ellen. John Fox and his two sons are all working.
The red dot on the extract of a much later map of 1945, shows the approximate position of John Fox's home at the Burying Ground.
Assault to sister Ellen Fox
In 1883, Mary Ann Mace, the wife of the landlord of the nearby Queens Head, was convicted of assaulting James's sister Ellen Fox.
James Fox marries Hephzibah Fox
A year or so later, James Fox married Hephzibah Fox. The marriage was registered in the Wayland District between January and March.
Although having the same surname, I do not believe that James and Banham born Hephzibah were closely related.
The 1881 census finds 26 year old Hephzibah Fox with her widowed father, 53 year old Henry Fox and her siblings, 14 year old John and Kate aged 10 at 9 Carr House Road, Doncaster. Born in Great Ellingham, Henry Fox was working as a tailor.
Chicken Dealer & Farmer
The 1891 census captures 31 year old James Fox and his 35 year old wife Hephzibah living in Long Street, Great Ellingham. James is a chicken dealer.
Kelly's Directory of 1896, lists James Fox as a farmer in Great Ellingham.
By 1901, James and Hepzibah moved to a farm in Bow Street, where James had his own farming business. Kelly's of 1904 again lists James Fox as a farmer in Great Ellingham.
However, within a few years of this census, the couple 'sold up' and moved back to Long Street where they are captured by the 1911 census.
Burials of Hephzibah and James Fox
61 year old Hephzibah Fox died on the 7th March 1916.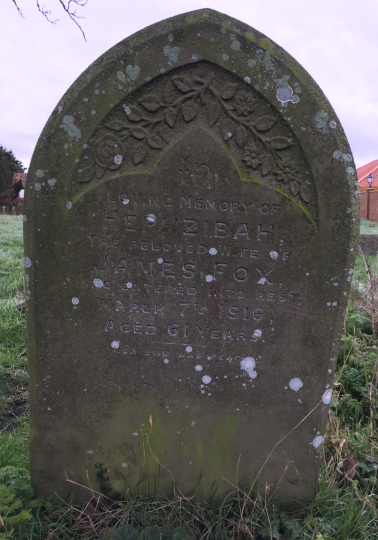 Headstone to the memory of Hephzibah Fox in the churchyard of St James's Church, Great Ellingham
Her burial on March 13th is recorded in the registers for the Church of St James, Great Ellingham. A note in the register confirms that Primitive Methodist Minister W S Marrett officiated. Accordingly, this confirms my belief that James and Hephzibah Fox were from non-conformist families.
James Fox died at the age of 65. Again his burial on March 3rd, 1924, appears in the registers for St James. Primitive Methodist Minister H W Pope officiated at his burial.
Sources:
Norfolk Chronicle 6th August, 1904.
Eastern Daily Press 18th September, 1903.
Eastern Daily Press 2nd October, 1908.
1911 census RG14/11473/84
1901 census RG13/1867/72
1891 census RG12/1549/79A
1881 census RG11/1974/95, RG11/4692/7
1871 census RG10/1841/95
1861 census RG9/1237/95
Great Ellingham Parish Registers. Norfolk Record Office. PD 609.
GRO Index. Searched via FreeBMD website.
https://www.freebmd.org.uk/cgi/information.pl?cite=Q3KGOE%2FH7opwCF7Hu%2FOrrQ&scan=1
https://www.freebmd.org.uk/cgi/information.pl?cite=A3An1Pz8RRuyBCdJftzURw&scan=1
https://www.freebmd.org.uk/cgi/information.pl?cite=qsfdS8nIL5SBzDVLMn3yAg&scan=1
https://www.freebmd.org.uk/cgi/information.pl?cite=1qWHbQk%2B2WIW0Dw9Rxc3ZQ&scan=1
Kellys Directory 1896. Author's own collection
Kellys Directory 1904. Attleborough Heritage Group, Town Hall, Queen's Square, Attleborough, NR17 2AF.