As a consequence of the end of a life interest, the late Reverend William Lobb's house and land in Bow Street was sold in 1845.
The Location of the Property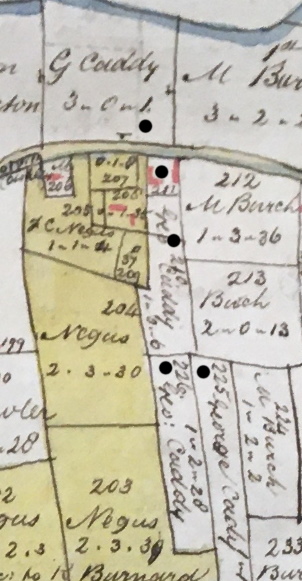 Extract from 1802 Map of Great Ellingham. Russell James Colman Plans. All rights reserved Norfolk Record Office Cat. Ref. C/Ca 1/84. With kind permission of NRO
The black dots on the above extract from the 1802 Inclosures Map for Great Ellingham shows the extent and location of the late Reverend William Lobb's house and land in Bow Street.
Rector of Wilby
For many years, Lobb was the rector of Wilby. He purchased the house and land in 1802. However, he never occupied it. Instead, he let the house and land to tenants.
Life Tenancy to James & Mary Howe
Nevertheless, when the Reverend Lobb died in 1804, he gave his servants, James and Mary Howe, a life interest in the property. This meant that although they could use and live in the property as their own, they could only do so during their lifetime. They could not leave the property to their descendants.
I am confident that the Howe family occupied the premises throughout their life tenancy.
It was following James Howe's death in March, 1845, that the property was sold.
Auction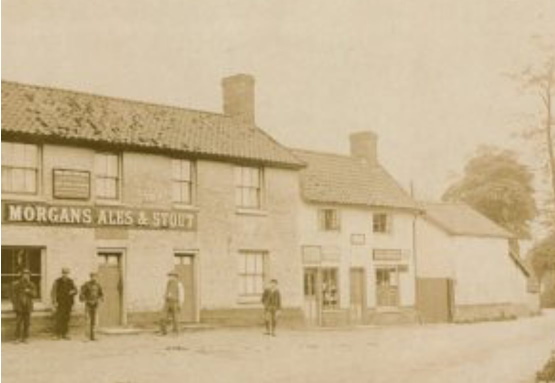 Crown Inn with adjoining shops. Postcard courtesy Carol Ewin
On the 2nd June, 1845, William Wretham, a carpenter, of Norwich successfully bid for the property at the auction held at the Crown Inn in Great Ellingham.
However, what we do not know is whether or not there was much interest in the property. Did people come from 'far and wide'? Did Wretham pay 'over the odds' for the property, or did he get it at a bargain price?
Whatever the circumstances, Wretham's bid at £575 was the highest.
Description of the Property & Land
Notice of the auction describes the property (in two lots) as follows:
Lot 1 - All that MESSUAGE or DWELLING-HOUSE, situate in Great Ellingham aforesaid, comprising Parlour, Kitchen, Wash-house, Dairy, Pantry, Cellar, and three good Sleeping-rooms, with the new built Barn, Stable and Cow-house, Yards, Garden and Orchard, and also two Inclosures of superior Arable and Pasture Land thereto adjoining and belonging, containing together by measure 4A 2R 25P, more or less, now in the occupation of Mr William Chaplin, as Tenant thereof
Lot 2 - All those two Inclosures of very productive Arable Land, in Great Ellingham aforesaid, lying opposite Lot 1, containing together by survey 3A 0R 8P, more or less, also now in the occupation of the said Wm. Chaplin
The whole property was subject to an annual land tax of ten shillings (10s) and the copyhold parts subject to an annual quit rent of one shilling and seven pence (1s 7d).
New Owner – William Wretham
William Wretham was a carpenter and lived in Norwich. By all accounts, he was successful. By the time he died in 1870, Wretham owned several properties in Norwich, as well as the property in Bow Street, Great Ellingham.
I originally wondered what prompted a seemingly Norwich man to purchase a property in Great Ellingham. However on a closer look at his early life, it was probably Wretham's family connection to Great Ellingham which brought about his purchase of the property in Bow Street.
Early Life
William Wretham was born in Great Ellingham. He was the eldest of seven known children of Thomas Wretham and his second wife Sarah Meek.
Father's Earlier Marriage
His father Thomas had previously married Elizabeth Beales. There were three children from this marriage. Sadly, Elizabeth Wretham (née Beales) died in 1786.
Several years later, Thomas Wretham married Sarah Meek in November, 1793.
Baptism
William was baptised the following year on the 9th March, 1794, in the Church of St James Great Ellingham.
Wretham Family's Cottage
The Wretham family lived in a cottage on the corner of Bow Street with the road to Rocklands. The cottage (owned by the Warren family) was divided into two tenements. The Wretham's occupied one part with Daniel Halls and his family occupying the other. It is more than possible that William Wretham was born in the cottage.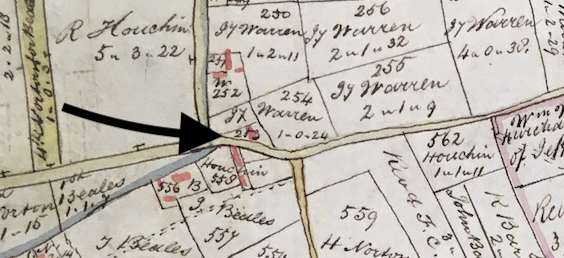 The arrow on the above extract from the 1802 Inclosure Map for Great Ellingham shows the position of the Wretham's rented cottage.
Move from Great Ellingham
William's father, Thomas was a carpenter. At some point, William also learned the trade and moved away from Great Ellingham.
Death of Parents
However by 1841, both his parents were dead. His mother, Sarah, died in 1819 and his father, Thomas, in 1828.
However, at least some of his siblings remained in the local area. His half-brother Edward moved to Rockland All Saints. His sister Ann remained in Bow Street, Great Ellingham.
Marriage
On the 4th April, 1843, and nearing the age of 50, William Wretham married spinster Tabitha Sexton in the Church of St Regimus, Hethersett.
At the time of the marriage, Tabitha (who was a similar age to William) worked in Hethersett as a servant.
Property Owner
I feel sure that at the time of his marriage, William Wretham already owned property in Norwich. To add to this, just two years after his marriage, he purchased the Bow Street property. Was this purely a business adventure or did William have some affection for the village of his birth?
Completion of Bow Street Purchase
On the 25th October, 1845, William Wretham completed his purchase.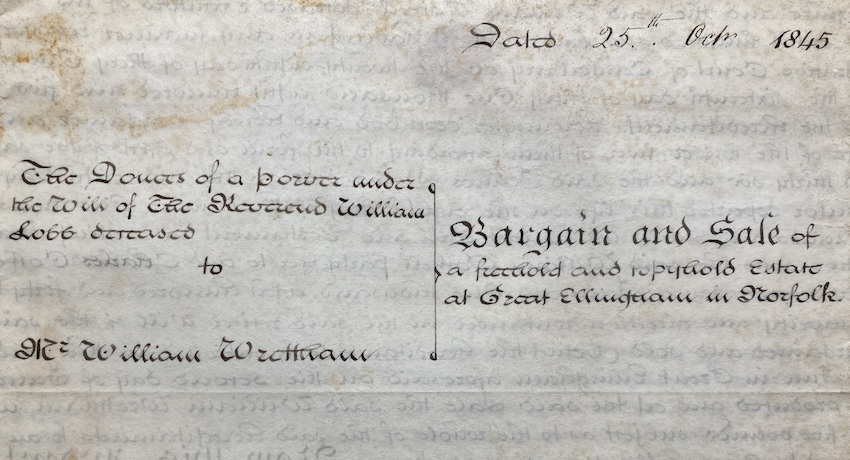 Extracts from Bargain & Sale 25 October 1845. Donees of a power of the will of The Revd. William Lobb deceased to William Wretham. Courtesy Roger Banks
Dower
In the 1845 Conveyance Deed, William Wretham declares that his widow "if he shall leave one surviving shall not have nor be entitled to dower in or out of the said freehold hereditaments and premises or any part thereof…"
Accordingly, should William predecease Tabitha, she would not be entitled to any interest in his freehold properties. In any event, the Bow Street property was not their marital home and as such, Tabitha would unlikely have had any claim on this property. Further the dwellings in Paragon Street – one being the marital home – was leasehold.
As it happens, William outlived his wife by nearly a year.
Occupiers of the Bow Street Property
When Wretham purchased the property, it was let to William Chaplin. The Chaplin family may well have continued to occupy the farm (and other land) throughout Wretham's ownership.
Wretham also let most of his other properties with the exception of one in Paragon Street, in which he (and Tabitha) lived.
1861 census
I have not been able to find William and Tabitha Wretham on the 1851 census.
However, the 1861 census shows 67 year old carpenter William Wretham with 68 year old wife Ann living in Paragon Street (Heigham Norwich). Tabitha Wretham née Sexton was baptised in Hainford. I feel sure that this is William and his wife. However, I am wondering whether Tabitha Wretham used the name Ann, or, whether the census is erroneous.
Deaths of William & Tabitha Wretham
Tabitha Wretham died aged 81 in 1869. William died the following year.
The couple are buried in Earlham cemetery, Norwich. Their memorial inscription reads:
Tabitha beloved wife of William Wretham died April 6th, 1869 aged 81. Also William Wretham died April 10th, 1870 aged 76.
I do not believe the couple had any children.
William Wretham's Will
William's last will and testament gives us an idea of his wealth at the time of his demise. The will also provides us with further information about his sisters, Ann, Amelia and Hannah, as well as Tabitha Wretham's family.
Wretham's Nephew John Whellum
William Wretham appointed his nephew, John Whellum, as his sole executor. He also gave John Whellum £10 for his 'care and trouble' in executing his wishes.
Like his uncle, John Whellum was also a carpenter, and he also lived in Heigham, Norwich. Whellum was the son of William Wretham's sister Amelia and her husband John Whellum.
John Whellum Inherits Property including Great Ellingham
John Whellum also inherited:
Two leasehold dwellings and premises in Paragon Street, Norwich – one of which William Wretham had occupied with his wife
Household furniture, plate, linen, china, glass, earthenware, books, prints, pictures and household implements AND
The property in Bow Street, Great Ellingham. However, this legacy was subject to John Whellum making an annual payment of £4 to William Wretham's sister Ann Saunders during her life
Sale of Wretham's Further Properties
William Wretham also directed his nephew to sell his five dwelling houses near Magdalen Street in the Parish of St Clement, Norwich, and to distribute the sale proceeds as follows:
One third share to William Wretham's sister, Ann Saunders, absolutely
One third share equally amongst the children of Wretham's late sister Hannah Stone
The remaining one third share equally amongst the children of Wretham's late sister Amelia Whellum
Legacies from the Sale of Wretham's Personal Estate & Effects
In addition, Whellum must also arrange for the residue of William Wretham's personal estate and effects to be sold and distribute the proceeds as follows:
The sum of £15 to Wretham's late wife Tabitha's nephew Jeremiah Pye
£50 to Tabitha's niece Mary Ann Clark, the wife of Thomas Clark. However, should Mary Ann Clark predecease William Wretham, then the £50 to be shared equally amongst the children of Edward Sexton of the parish of St Clement Without, Norwich
A legacy of £160 to be shared equally amongst the children of Edward Sexton (in addition to any share of the £50 mentioned above)
Robert Sexton, John Sexton, Mary Ann Sexton and Elizabeth Sexton – all children of Robert Sexton late of New Catton deceased – the sum of £19 19s (nineteen pounds and nineteen shillings)
John Whellum inherits any residue of such proceeds of sale and distribution
Humble Beginnings to Property Owner
There is no doubt from William Wretham's will that from his humble beginnings in Great Ellingham, Wretham was successful, accumulating several properties during his lifetime. I think it reasonable to think that Wretham was a man of some wealth at the time of his death.
New Owner for the House & Land in Bow Street
Following the death of William Wretham in 1870, the house and land (comprising both copyhold and freehold parts) in Bow Street would, once again, have a new owner.
Sources:
Transcript of Norwich, Earlham Cemetery, Burials Volume 4, Area 41. 1872-2017. Norfolk Family History Society, 70 St Giles St, Norwich NR2 1LS.
31 December 1869. Will of William Wretham, carpenter of Heigham. Norfolk Family History Society, 70 St Giles St, Norwich NR2 1LS. Ref: 1007. Wills Books. Book 1. Page 19.
1861 census RG9/12/9
1851 census HO107/1823/114; HO107/1823/150
Great Ellingham Parish Registers. Norfolk Record Office. PD 609. Also available at www.familysearch.org
24 May 1845. Norfolk Chronicle & Norwich Gazette. Viewed via www.britishnewspaperarchive.co.uk
Hethersett Parish Registers. Norfolk Record Office. PD 41. Transcription view via FreeReg website https://www.freereg.org.uk/
Private Deeds Collection. Property in Bow Street. Thanks to Roger & Sue Banks