Manor Farmhouse
Norfolk Heritage Explorer describes the Grade II listed building Manor Farmhouse in Great Ellingham, as an ornate timber framed farmhouse dating to around 1630. A brick skin was given to the north-elevation of the farmhouse in 1780.
In the informative booklet A Little History of Great Ellingham c.1965, the authors mention the existence of a meat jack in Manor Farmhouse. A device for roasting meat in front of a fire, a meat jack was an elaborate brass mechanism with a lead weight covered with bars, and weighing about four stone. Whilst the meat jack at Manor Farm was wound up inside the house, the weight was outside to give the jack a longer and easier counter-balance.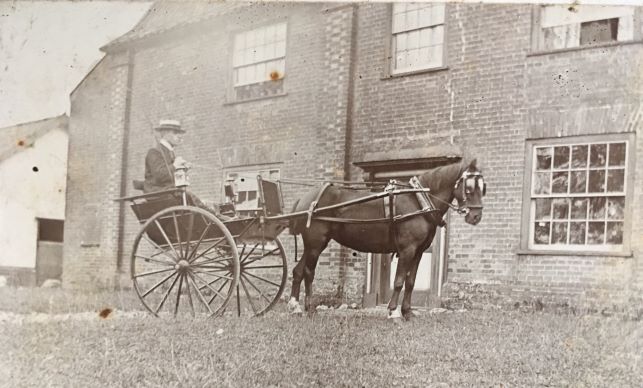 Manor Farm late 1800s. Possibly a member of the Mann family seated. Photograph Cyril Edwards
Mendham & Mann
c. 1770-1810
A Particulars and Valuation for the parish of Great Ellingham was undertaken c.1800 by the Commissioners for the purpose of inclosing the commons, common fields and waste lands. This document provides schedules of the various parcels of land in the village. This included the land (amounting to just over 120 acres) owned by Robert Mendham Esq.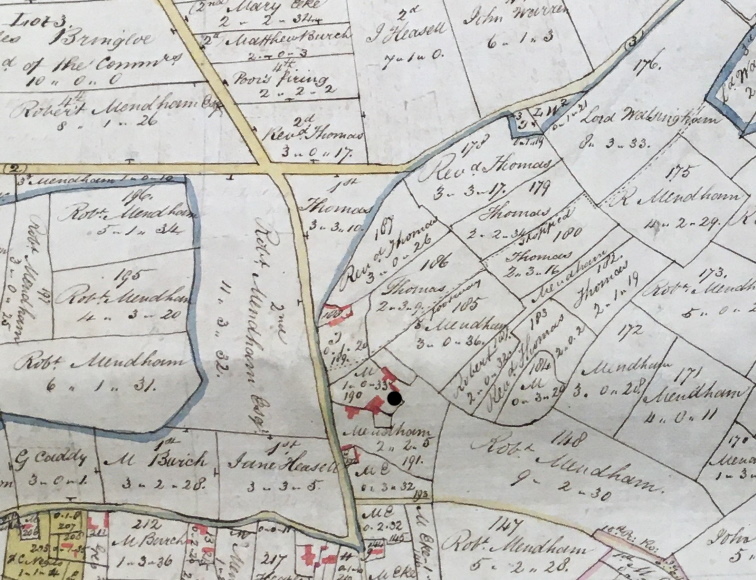 Extract from 1802 Map of Great Ellingham. Original held at Norfolk Record Office. Russell James Colman Plans. Cat. Ref. C/Ca 1/84. With kind permission of NRO
The numbering used in the Particulars and Valuation corresponds with an 1802 map of Great Ellingham.
The black dot on the above extract from the 1802 map shows the position of inclosure numbered 190, comprising Farm House Outbuildings Barn Stables Yard and Garden. The property is Manor Farmhouse (known previously as Ellingham Farm).
The map also identifies other parcels of land owned by Robert Mendham. For example,
185. Barn Meadow
175. Rhombs
147. Lepps's
191. Homestall
Merchant Robert Mendham
Robert Mendham was not a local man. He was a merchant of Highgate, London. As far as I am aware, Robert Mendham never lived at the property. The Particulars and Valuation of 1800, tells us that the property was occupied by John Mann.
How did Robert Mendham become the owner of Manor Farmhouse? Did he purchase it, or perhaps, it was inherited? Did he have a local connection?
A Statement of Claims c.1799 for the Great Ellingham Inclosure, contains the following claim by Robert Mendham Esq.
One Messuage 98 acres and 19 perches of Land occupied by John Mann, of which 10 acres and one rood, and a piece of land without content, are copyhold of [the Manor of] Ellingham Hall, two acres and three roods of Ellingham Rectory, six acres of Bury Hall, eight acres three roods and twenty perches of Buckenham Lathes Outsoken and six acres and three roods of Buckenham Close Outsoken
In addition, Robert Mendham claimed various rights benefiting his land and premises over the commons and waste lands in Great Ellingham.
Any change in the ownership of copyhold land would need to be dealt with at the appropriate Manor Court. Accordingly, a look at the Manorial Court Roll (Court Books) for one or more of the above mentioned Manors may provide us with further information about Robert Mendham, and how he came to own Manor Farmhouse.
Inheritance
The Manor Court Rolls for Buckenham Lathes and Buckenham Close tells us that Robert Mendham of Saint Stephen, Wallbrooke, London, a merchant, inherited various pieces of copyhold land lying in Great Ellingham, from his Uncle, Thomas Feveral (Feverall), of Carbrooke.
In his Will dated 12th July, 1788, Thomas Feveral gave his nephew, Robert Mendham, "all and every my messuages, lands, tenements and hereditaments whatsoever as well freehold or copyhold situate lying or being in Great Ellingham in the county of Norfolk or in any other town or towns …"
Earlier Owner Richard Thurrold
Thomas Feverall had himself taken certain copyhold land in Great Ellingham on the surrender of Richard Thurrold (or Thorold) in 1770.
I think it likely that in addition to parcels of copyhold land, Manor Farmhouse (Ellingham Farm) was also in the ownership of Richard Thurrold, and then Thomas Feverall, before it came to Robert Mendham.
Mendham's Marriage & Children
Robert Mendham was born about 1733. He married Margaret Scott in 1762. The couple had at least 8 children, one of whom was John Mendham. Born in London about 1771, John Mendham was the next owner of Manor Farmhouse on the death of his father, Robert Mendham, in 1810.
1810-1854
Again the Manor Court Rolls for Buckenham Lathes and Buckenham Close Outsoken, provide us with further information regarding the Mendham family and the property in Great Ellingham. The Court Rolls include an extract from Robert Mendham's will of the 10th October, 1810.
Robert Mendham's Wills
Amongst other provisions in his Will, Robert Mendham gave his son John Mendham the sum of Five Hundred Pounds, together with his freehold and copyhold estates in Great Ellingham, and all his copyhold estate in Highgate, London. Robert Mendham also instructed that his wife Margaret was to be allowed to remain living in his dwellinghouse at Highgate for the term of her natural life.
Survey 1817-1819
Although Robert Mendham died in 1810, a Survey for the Parish of Great Ellingham dated 1817-1819 still lists Robert Mendham as the owner of most (if not all) of the land and premises listed in the earlier Particulars and Valuation c.1800, including the Farm House Barn Stable Yards (Manor Farmhouse). Again the occupier of the property (and land) is said to be John Mann.
1840
A schedule of land associated with the Great Ellingham Estates – Estates & Occupations Collected c.1840, again lists most (if not all) of the same premises and land as appearing in the Particulars and Valuation c.1800 and the Survey dated 1817-1819, including the Farm House Barn Stable Yards. The owner again is stated to be Robert Mendham Esq. However, later alterations to the pages indicate that John Mendham was the subsequent owner of the land and premises, and the subsequent occupier to John Mann was Mary Mann.
1841- 1854
The 1841 census reveals 50 year old farmer Mary Mann at a property in Hingham Road, Great Ellingham. With Mary is 20 year old John Mann, 40 year old Maria Doughty, and servants 25 year old Samuel Chaplin, 20 year old Robert Chainey and 22 year old Rebecca Cann. I have no doubt that Mary Mann was at Manor Farmhouse.
Ten years later, the 1851 census finds 63 year old Mary Mann, a farmer of 130 acres at 'Stolling Common', Great Ellingham. Born in Shipdham, Mary Mann is described as an employer of 9 labourers. I believe Mary Mann was at the same property in Hingham Road as she was 10 years earlier, and that property was Manor Farm. With Mary at this time is 55 year old Maria Doughty described as a visitor. Maria Doughty was said to be living on an annuity. House servant, 27 year old Susanna Halls and farm servant 31 year old Christmas Chaplin complete the household.
The same census (of 1851), captures the owner of Manor Farm, 80 year old London born John Mendham living in High Street, Clophill, Bedfordshire, with his 69 year old wife Ann. With the couple is their niece, 24 year old Mary Ann Powell, and two servants.
Further along High Street, is John Mendham's 50 year old son, John, with his wife 45 year old Sophia and three servants. Also born in London, John Mendham junior is the Rector of Clophill.
John Mendham senior died at the age of 85 in 1854. His death was registered in the Ampthill District of Bedfordshire between April and June.
1854-1871
The 1861 census finds the Reverend John Mendham, now aged 60, with his 55 year old wife Sophia at The Rectory, Clophill, Bedfordshire.
Living not far away at Clophill House in Church Street, Clopham is the Reverend John Mendham's widowed mother Ann. At 79, Ann Mendham is described as a 'Fund Holder'. Living with Ann Mendham are three unmarried nieces – 62 year old Elizabeth Pilcher, 47 year old Susannah Pilcher and 45 year old Mary Pilcher. A cook and two housemaids complete the household.
In Great Ellingham, 73 year old widow Mary Mann is still in occupation of Manor Farm. Mary now employs four men and one boy. In addition to 66 year old Maria Doughty, 16 year old Mary Mann (described as Mary Mann's niece) is also with the household. Dairy maid, 33 year old unmarried Mary A Bushel, and 16 year old team-man, Alfred Lincoln, are also with the Mann household.
Life Interest Trust
I believe that after the death of John Mendham senior, the ownership of Manor Farm in Great Ellingham was held by John Mendham's executors in trust whilst his wife, Ann, was still alive (living in Clophill).
It was only on the death of Ann Mendham, that her son John Mendham junior would take the premises and land in Great Ellingham for his own use (in addition to other land situate elsewhere) due to him from his father's will.
Widow Ann Mendham died in 1870 aged 89 years. However, her son the Reverend John Mendham, died the previous year on the 23rd April 1869.
'Ellingham Farm' is left to George Evans
Clues as to what happened to the ownership of Manor Farm after the death of Ann Mendham and her son, the Reverend John Mendham, can be gleaned from Catalogue Notes from the Bedfordshire Archives Service, and the Will of the Reverend John Mendham.
Manor Farm continued to be occupied by the Mann family.
Two years after the death of the Reverend John Mendham, the 1871 census captures 83 year old Mary Mann still farming the 133 acres in Great Ellingham. Her 25 year old niece, also named Mary Mann, is still with her aunt along with a general servant, 23 year old Sarah Ann Dye, and farm servant, 16 year old Charles Coldham.
Rev. John Mendham's Will
The Catalogue Notes of the Bedfordshire Archives Service with regard to the deeds and agreements concerning the Will of the Reverend John Mendham, suggest that there may have been questions about the provisions in the will. I have not seen the documents referred to, but I have seen a copy of the will.
The Reverend John Mendham had substantial assets. He was also a keen collector. Whilst John Mendham left his 'coins' (presumably a collection) to his wife Sophia for her enjoyment during her lifetime, he instructed that on Sophia's death, the coins were to be given to the Bedford Archaeological & Architectural Society.
He also had a vast collection of books (ancient and modern) and manuscripts, which he had inherited from his Uncle James Mendham. These were also left to Sophia.
John Mendham was generous in his bequests. He left legacies to various charitable organisations including the British & Foreign Bible Society, the Poor Pious Clergy Society, the Wanstead Orphan Asylum and a sum to the Minister and Churchwardens of the Parish of Clophill, for the maintenance of the parish church.
He held shares in Margate Pier, the Bank of Amsterdam and the Union Fire Offices of Birmingham and London, which he bequeathed to various beneficiaries.
The will mentions property in Cophill, Bedfordshire, a freehold house, garden & paddock, and two cottages in Sutton Coldfield (which had been conveyed to John Mendham under the will of his cousin Robert Mendham), a freehold house and warehouse in Upper Thames Street in the City of London (bequeathed to him by his late father, John Mendham), a freehold house in Richmond, Surrey (again bequeathed to him by his late father), further freehold houses and cottages, lands and farmstead at Clophill, leasehold messuages and dwellinghouses in Middlesex (bequeathed to John Mendham by his father) and 'all the farm lands and hereditaments situate in Great Ellingham in the County of Norfolk' which he (John Mendham) would expect to receive from his father's estate on the death of his mother, Ann Mendham.
The Reverend John Mendham left his Great Ellingham property (referred to in the Bedfordshire Archive Catalogue Notes as 'Ellingham Farm') to his cousin, George Evans (who was also an executor and trustee of the will with James Phillips).
The Bedfordshire Archives Service Catalogue Notes mention an action in Chancery in 1870 between George Evans (the Plaintiff) of the Thatched House Club, Saint James Street, Middlesex and Sophia Mendham of 20 St Mary's Terrace, Hastings, Sussex (the Defendant).
I do not know the full details of the case or the result. Accordingly, I am uncertain as to whether the outcome affected the legacy of Ellingham Farm (Manor Farm) to George Evans.
However, the Bedfordshire Archives Service Catalogue Notes mentions an Agreement dated 11th October, 1871 between (1) George Evans & James Phillips [the executors and trustees of John Mendham deceased] and (2) John Eagling Mann and Mary Mann for the letting of Ellingham Farm, Great Ellingham (133 acres) for a term of 11 years with an annual rent payable.
1871-1882
Whilst the tenure of the Mendham family had likely come to an end on the death of the Reverend John Mendham in 1869, Manor Farm (or Ellingham Farm as it was then known) was still in the occupation of the Mann family for some time after.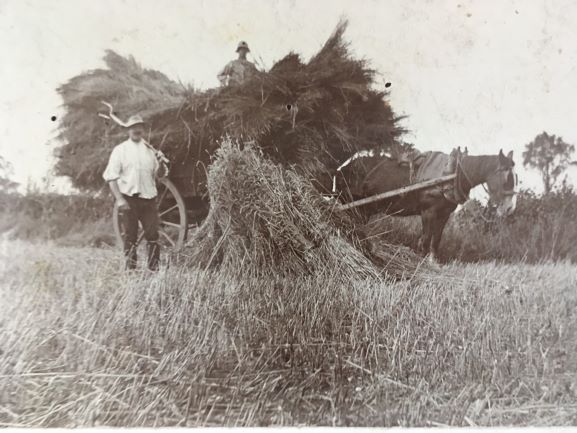 Farming at Manor Farm. Late 1800s. Photographs Cyril Edwards
Sources:
Lebbell W R & Fay S. c.1951. A Little History of Great Ellingham
1841 census HO107/781/8
1851 census HO107/1823/117, HO107/1754/113, HO107/1754/139
1861 census RG9/1237/83, RG9/999/105, RG9/999/100
1871 census RG10/1841/81
Mendham, John. Rev. Will. 18th February, 1864. Proved London 12th July 1869. Copy obtained https://probatesearch.service.gov.uk/#wills
Bedfordshire Archives Service Catalogue Details. Deeds concerning the Will of Rev. John Mendham, clerk in holy orders of Clophill. 1869-1885. Reference X916/6
WeRelate.org website. https://www.werelate.org/wiki/Person:Robert_Mendham_%281%29 Accessed 20th September, 2020
1753-1847 Manor of Buckenham Castle, Lathes, Close and Priory. Court Book. Norfolk Record Office. Catalogue Ref: MC 1833/8 -MC 1833/16. Also available at https://www.familysearch.org/