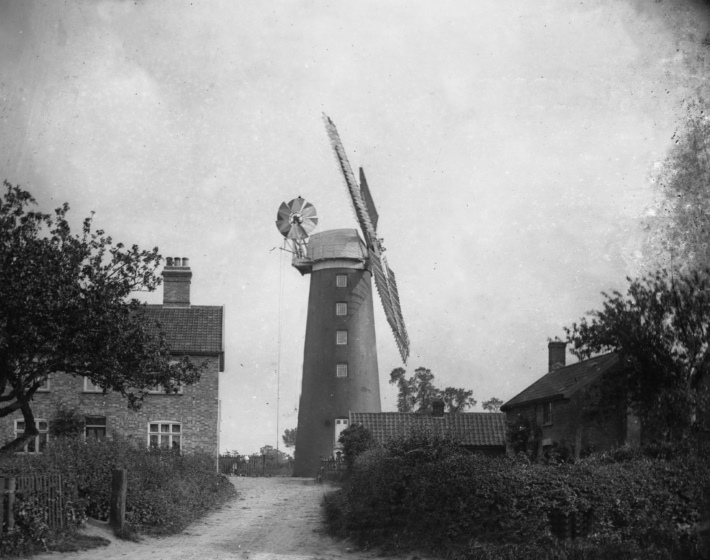 The brick built Windmill, Great Ellingham built in the 1840s. Photograph courtesy of Attleborough Heritage Group
Since the 1600s, Great Ellingham has had at least three windmills at various times.
The tower of the brick built Windmill, which was erected in the late 1840s, is still visible in the village today.
The Statement of Claims for the Great Ellingham Inclosure (c.1800), referred to a decayed Mill on land occupied by John and Elizabeth Turner. The same Statement of Claims, mentions a Windmill together with a dwelling and an acre of land occupied by Thomas Steward.
On the "Twelfth day of October in the first yeare of the Reigne of our most gracious Soveraigne Lord King James the second" (1685), worsted weaver Anthony Beales of Great Ellingham sold his windmill and the half an acre of land in which it stood at the West Field in Great Ellingham, to John Browne, a baker "of the same towne". The property included the 'millstones goeing greere and appurtenances whatsoever to the sayd windmill'.
The signature of Anthony Beales appears at the foot of the Conveyance Deed dated the 12th October, 1685. Amongst the three witnesses also signing their names were Richard Beales and Eadmond Sharpin.
Anthony Beales had purchased the windmill two years earlier on the 19th October, 1683 from Anne "the relict of Daniell Littleproud late of the sayd Towne of Great Ellingham, Miller"
I am wondering whether the windmill purchased by John Browne from Anthony Beales in 1685, was the windmill referred to as a "decayed Mill" in the Great Ellingham Inclosure Statement of Claims.
Sources:
Inclosure Commissioner's Particulars & Valuation 1800 held at Norfolk Record Office Catalogue Ref: MC 2213/119, 941X7
12 Oct 1865. Feoffment (indented). Anthony Beales of Great Ellingham, worstead weaver, to John Browne of Great Ellingham, baker. Norfolk Record Office. Catalogue Ref: NRS 2434, 11E1