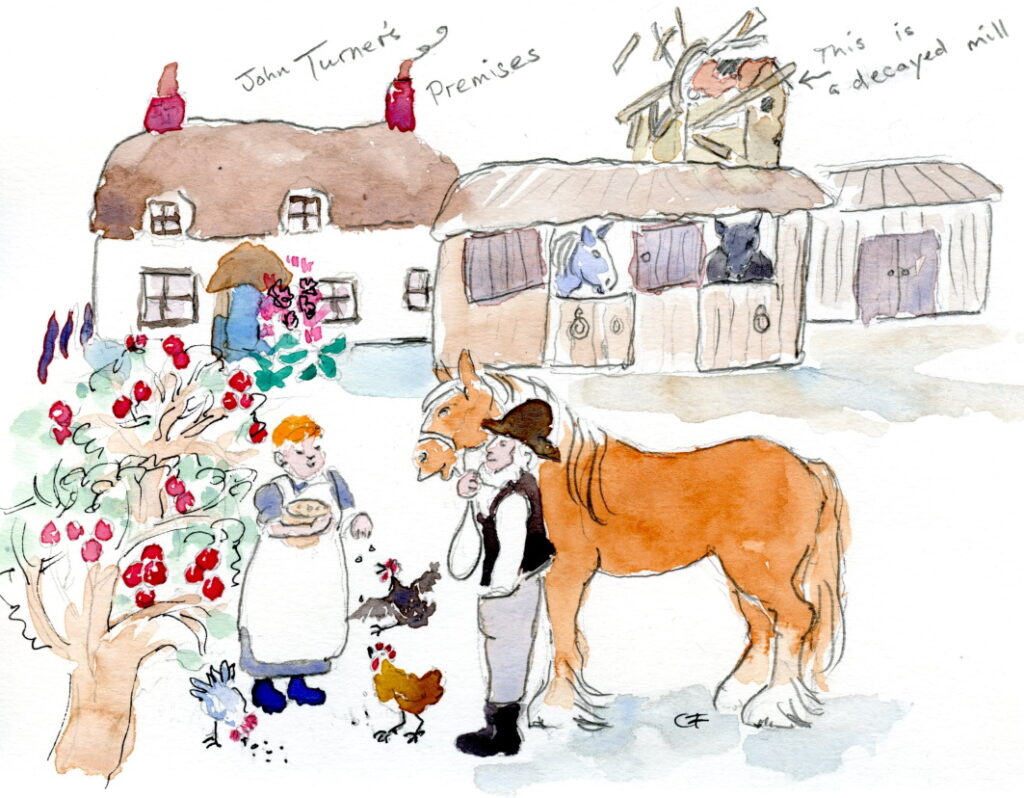 Illustration by Christine Fuller
John Turner's Property including the Decayed Mill
The Statement of the Claims for the Great Ellingham Inclosure (c.1800) included at No.13, John Turner and his wife Elizabeth.
John and Elizabeth Turner owned and occupied one messuage (a dwelling house with land and associated buildings) and 40 acres of land. There was also reference to a decayed Mill.
Along with other landowners, the couple also made a claim for various rights over the Common and Waste Lands in the village.
A Particulars and Valuation Document of a similar date (i.e. c.1800), as taken by the Commissioners in connection with the Inclosures, also confirmed that John Turner held a House, Outbuilding, Barn, Stable, Yards and Garden together with several acres of land and an Orchard. Some of the pieces or parcels of land are named. For example, Hilly Pightle, Calves Pightle, Prightsell, Long Four Acres, Picks Croft. John Turner also held allotments on Pennell Common and Hall Croft Field.
Although an 18th century map of Pennell and Anchor Commons in Great Ellingham, pre-dates the Inclosure Statement of Claim, it does show that a John Turner owned land which was adjacent to the south side of Pennell Lane (now known as Penhill Road).
In addition, the numbering used on an 1802 map of Great Ellingham (held at Norfolk Record Office) corresponds with the numbering used in the schedules in the Particulars & Valuation document c.1800. This tells us exactly where John and Elizabeth Turner's land was.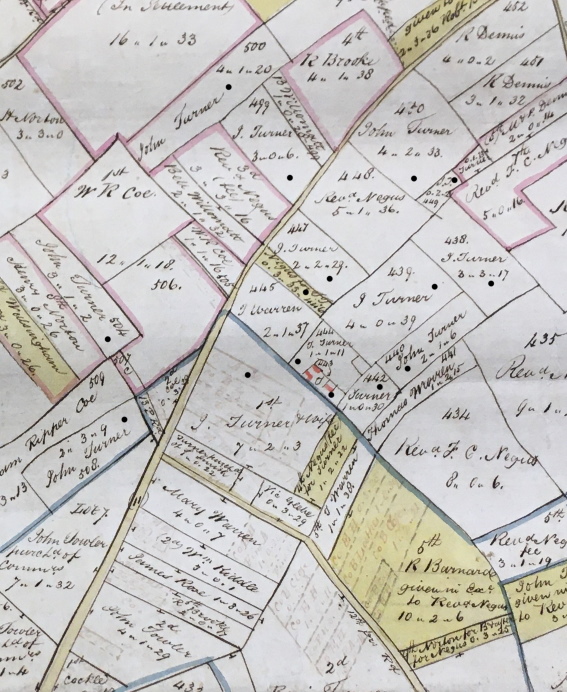 Extract from 1802 Map of Great Ellingham. Original held at Norfolk Record Office. Russell James Colman Plans. Cat. Ref. C/Ca 1/84. With kind permission of NRO
The black dots on the extract from the 1802 map (above) pinpoints most of the land owned by John and Elizabeth Turner, and the position of their House, Outbuilding, Barn, Stable, Yards and Garden (shown in red), which today we know as 'Penhill Farm'. The decayed mill was somewhere on the Turner's land. I wonder where?
John and Elizabeth Turner's Family
John Turner married Elizabeth Ellis in the Church of St James on 13th July 1769. Both John and Elizabeth were single, both of Great Ellingham and they each signed the Marriage Register.
The marriage was witnessed by Daniel Lister and Jeremiah Ellis who also signed the Register.
John and Elizabeth brought their children for baptism in the Church of St James.
Son Ellis was baptised on August 13th, 1769, just a month after the couple married (the pregnancy could well have been the reason for the couple to hastily marry by Licence!). The couple buried Ellis (in the churchyard) towards the end of that year.
Three daughters followed Ellis. Elizabeth baptised April 1st, 1771 followed swiftly by Mary on March 3, 1772 and Susanna on 25th December 1773. John Ellis Turner was baptised on March 3, 1776, Hannah two years later on September 6th, 1778, Earsham (a son) on December 2nd, 1781 and finally James on September 18, 1785.
On June 15th, 1808, John Turner buried his wife in the churchyard at St James. John Turner died in January 1814, and was also buried in the churchyard aged 71 years.
Updated September 2020
Sources:
Great Ellingham Parish Registers Norfolk Record Office Reference PD/609. Also available at FamilySearch.org https://www.familysearch.org/search/image/index?owc=4J8C-CB7%3A29627201%3Fcc%3D1416598
18th Century Plan held at Norfolk Record Office Catalogue Ref: MC 2213/114, 941X7
Inclosure Commissioner's Particulars & Valuation 1800 held at Norfolk Record Office Catalogue Ref: MC 2213/119, 941X7
1802 Russell James Colman Plans. Great Ellingham. Norfolk Record Office. Cat. Ref. C/Ca 1/84