A Notice advising of a meeting of the Proprietors of Land Estates in Great Ellingham appeared in the Norfolk Chronicle of 1st September, 1781.
The meeting would take place at the Bell in Great Ellingham on Tuesday 11th September at ten o'clock in the morning. Those Proprietors attending the meeting would be expected to express their approval (or otherwise) to the inclosing and dividing of the commons and waste lands in Great Ellingham.
But where was the Bell?
According to Norfolk Pubs Website, documentation of the Brewery, Cann & Clarke, dated 26th May, 1876, indicates that the Crown Inn was previously known as the Bell, although recorded as the Crown as early as 1789.
The Inclosures Particulars and Valuation of the Parish of Great Ellingham dated 1800 lists the Rose & Crown (and the Chequers) but not the Bell or the Crown.
It appears that at some point the Bell became known as the Rose & Crown, and then the Rose 'disappeared' and the Rose & Crown became known as the Crown.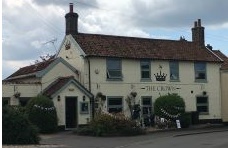 The Crown as it is today (2019) . Over 200 years ago, it was known as the Bell and also as the Rose & Crown
Sources:
Norfolk Pubs Website accessed 11.07.2019
1800 Inclosure Commissioner's Particulars and Valuation held at the Norfolk Record Office catalogue reference MC 2213/119, 941X7
Norfolk Chronicle 1st September 1781