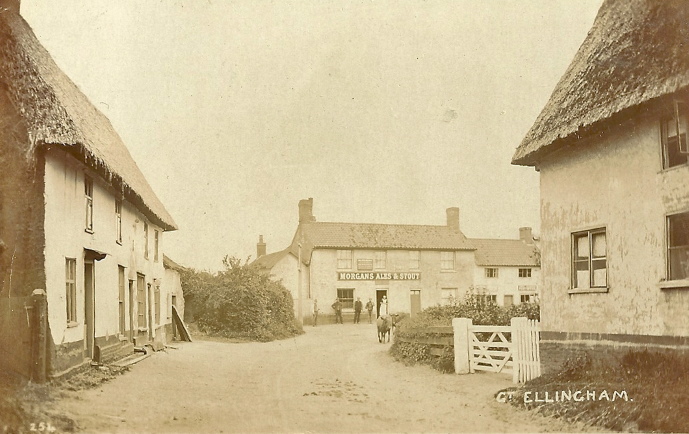 Church Street including the Old Thatche Shoppe to the left, Islay House to the right and the Crown Public House with adjoining shops in the centre. Attleborough Heritage Group
Rose & Crown
At the turn of the 19th century, Alice Jessup ran the Rose & Crown Public House together with her second husband William Jessup.
I have no doubt that Alice previously ran the pub with her first husband, Richard Leath, who also owned the pub.
The Bell
Previously, the pub had been known as 'the Bell' as well as 'the Crown'. It was then the 'Rose & Crown' before being once again known as The Crown (as it is today).
Alice marries Richard Leath
As Alice Clarke of Forncett St Peter, she married Richard Leath of Great Ellingham around 1781. Following the marriage, Alice moved to Great Ellingham.
Daughters – Hannah, Frances & Elizabeth
The couple had three daughters in Great Ellingham – Hannah in 1782, Frances 1783 and Elizabeth in 1784.
Death of Richard Leath
Tragically just four years after the marriage, Richard Leath died. He was buried in the churchyard of St. James on the 22nd March, 1785.
Alice marries William Jessup
Widowed with three young daughters, it is not surprising to find that Alice Leath remarried. She married William Jessup in 1786. Jessup was a leather cutter and shoemaker, and he continued his trade in his workshop adjacent to the pub.
Fire
In 1787, the pub and an adjoining cottage were reported to have been destroyed by fire. Jessup's tools of his trade and his stock were also destroyed. The Times also reported that the property was not insured!
Was the pub actually destroyed and rebuilt, or just badly damaged by the fire?
Daughters – Sarah and Anne
The very same year (1787), Alice gave birth to a daughter, Sarah. A further daughter, Anne, arrived in 1788.
Alice Jessup's Properties
A Particulars and Valuation of 1800 prepared in relation to the Great Ellingham Inclosures show that Alice Jessup owned:
land upon Low Common
the Rose & Crown Public House (occupied by herself) and two cottages with a yard (occupied by Robert Tooke and Edward Steel)
cottage and garden occupied by Stephen Houchen
However, I believe that Alice's ownership of the properties was limited to her lifetime, and that Alice's first husband, Richard Leath, bequeathed the properties to his young daughters, Hannah, Frances and Elizabeth.
Great Ellingham Marriages of Frances, Hannah & Elizabeth
On the 8th December, 1803, Frances Leath married Benjamin Dennis. The couple lived in Great Ellingham and had at least 10 children.
On the 17th June, 1806, Hannah Leath married Henry Balls.
Elizabeth Leath married Edmund Kerrison on September, 26th, 1808.
The Crown is sold to John Robert Barnard
In 1810, the pub (and the adjoining two cottages with a yard) was purchased by John Robert Barnard.
Given that in the conveyance of the properties to Barnard (which includes The Crown), Benjamin Dennis is described as a victualler of Great Ellingham, I believe it more than likely that Alice's daughter Frances was running the pub with her husband Benjamin Dennis before the property was sold to John Robert Barnard.
Death of Alice Jessup
Alice Jessup died in the February of 1812, and was buried in the churchyard of St James.
What happend to Sarah & Anne?
I am unclear as to what happened to William Jessup and his two daughters following Alice's death – assuming that they all survived Alice.
Sources:
Great Ellingham Parish Registers Norfolk Record Office PD/609. Also available at FamilySearch.org https://www.familysearch.org/search/image/index?owc=4J8C-CB7%3A29627201%3Fcc%3D14
Norfolk Pubs Website http://www.norfolkpubs.co.uk/norfolkg/gtellingham/gtelcr.htm accessed 11.06.2019
1841 census HO107/781/8
1800 Inclosure Commissioner's Particulars and Valuation held at the Norfolk Record Office catalogue reference MC 2213/119, 941X7
1810 Abstract of Title. The Crown, Great Ellingham. Wymondham Town Archive, Council Offices, Ketts Park, Harts Farm Road, Wymondham, Norfolk, NR18 0U