Emergency Powers
Just days before the outbreak of the Second World War, the Emergency Powers (Defence) Act 1939 came into effect. This new legislation gave the government "special powers to take almost any action necessary to carry out the war successfully."
The new powers controlled many aspects of everyday life during the war – including the rationing of food and 'the blackout'.
The regulations affected the whole country including, of course, Great Ellingham.
Negative Impact
There is no doubt that the blackout regulations would have had a negative impact on the day to day life of the village. For example, there may well have been an increase in accidents and incidents such as tripping and bumping into things in the dark. Perhaps there was also an increase in crime.
Blackout Curtains
The new regulations required all windows and doors of houses, shops and other buildings to be covered at night with heavy blackout curtains or other such like material, as well as cardboard or paint. It was believed that any escape of light could aid enemy aircraft. Outside lights (including any street lights) were either to be turned off, dimmed or shielded.
Enforcement
Civilian ARP (air raid precautions) wardens were tasked with enforcing the regulations. Strict penalties would be handed out for any infringement.
Great Ellingham Wardens
The Great Ellingham Invasion Committee Records list the following villagers as 'Wardens' (or 'Fire Wardens'):
Long Street: Mr H Myhill (also Home Guard), Mr R Sadd, Mr W Lebbell (also Home Guard), Mr E Beales (also Home Guard)
Church Street: Mr E Reynolds
Mill Lane: Mr O Beales (also Casualty Service)
Tanyard & Portwood: Mr E Allen (also Casualty Service)
Fire Service Volunteers
The following persons are listed as 'Fire Service':
Long Street: Mr J Lee
Town Green: Mr Pegnall 
The Street: Mr W Poll, Mr W Bilverstone
Attleboro' Road: Mr Lambert 
Rockland Road: Mr Ransome 
Hingham Road: Mr J Bilverstone
Village's Police Constable
The same Invasion Committee Records lists Mr Saville as a Police Constable living in Attleboro' Road.
Indeed, Police Constable Eric Saville lived in the newly built Police House along the Attleborough Road with his wife, Hilda, and their two sons.
Contraventions of the Blackout Regulations
Samuel H Houchin
The 'blackout infringement' case against 64 year old Samuel Hilling Houchen was heard by the Magistrates at East Harling in September 1940.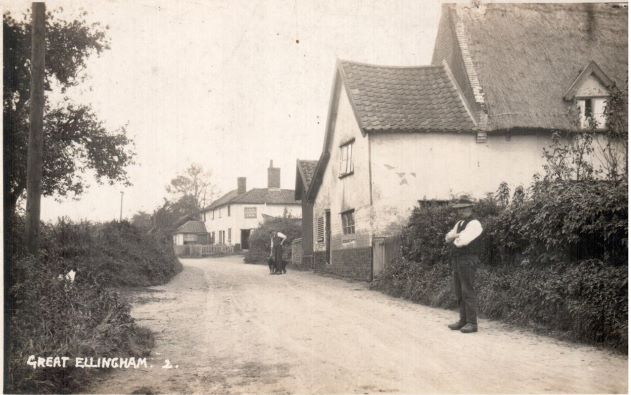 Chequers Lane, Great Ellingham. Postcard courtesy Carol Ewin
Samuel Houchen's home was likely in part of the building in the background
The Diss Express of the 27th September, 1940, reported that Houchen, an agricultural labourer of Chequers Lane, Great Ellingham, was charged with displaying a light from a roofed building during the hours of darkness.
The circumstances of the case were that at 11pm on the 28th August, 1940, Special Constable Chillystone saw a light at Houchen's home in Chequers Lane which was caused by an ill fitting blind. He called for it to be put out.
Police Constable Savill [Eric Saville] said that he later interviewed Houchen on the 1st September. On inspection, he found that the 'blackout' merely consisted of sacks covered with paper.
In a statement, Samuel Houchen said that the only light in the room was a burning oil stove.
Nevertheless, Houchen was found guilty. He was fined 1s (one shilling) with costs of 7s 4d (seven shillings and fourpence) and was given 11 days to pay.
Edith Polehampton
Born in Hertfordshire in 1869, Edith Polehampton was the sister of a former Rector of the parish, the Reverend Edward H Polehampton.
The 1939 England & Wales Register (initially undertaken just prior to WWII for the purpose of issuing National Identity Cards), captures 70 year old spinster Edith Polehampton living at The Parsonage, Attleborough Road, Great Ellingham.
Living with Edith is retired schoolmistress Mary Antcliffe. The Register lists Edith as a 'billeting officer' with Mary described as 'assisting the billeting officer'. Accordingly, Edith and Mary were tasked with finding suitable accommodation in the village for evacuees.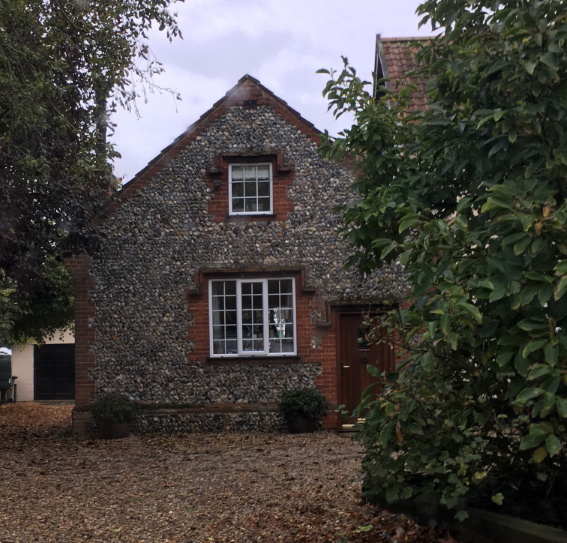 The former National School-room attached to The Parsonage in Attleborough Road. It may have been used by Edith Polehampton and Mary Antcliffe to welcome the evacuees to the village.
On the 20th December, 1940, the Diss Express reported that "Edith Helena Polehampton, an independent person, of The Parsonage, Great Ellingham, was fined £1 for unlawfully displaying a light in a roofed building, the illumination being visible outside at Great Ellingham on November 19th. P.c. Savill proved the case".
Bearing in mind Helena Polehampton's active role in the village's war effort, did the court case cause some embarrassment?
Martha Reynolds
In November 1940, the Petty Sessions at East Harling included a blackout infringement case against Martha Reynolds.
The case was subsequently reported in the Diss Express on Friday 22nd November.
Widow Martha Reynolds of Islay House, Great Ellingham, was convicted of allowing light to come from an unscreened window. In proving the case, P.c. Savill told the court that Reynolds had been warned previously.
Negligent or just flouting the law?
One wonders whether Martha Reynolds was negligent or whether she chose flout the law. Just two months later, on the 17th January, 1941, the Diss Express reported on a similar court case again involving Martha Reynolds.
Reynolds was one of two Great Ellingham inhabitants before the East Harling Magistrates for blackout infringements.
"P.c. Savill stated that at 11pm on December 31st, he was in Church Street, Great Ellingham when he saw a light from an unscreened bedroom window. He knocked on the door but got no answer and the light disappeared from the window. Witness returned the next morning and defendant told him that it was a night light on the landing shining through an open door and the window was not blacked out. Defendant had previously been warned."
Nevertheless, Martha Reynolds was once again found guilty. On this occasion she was fined 15/- (Fifteen shillings).
Attleborough Born
Born in Attleborough at the beginning of 1863, Martha was the daughter of Abraham Downes. At 18, Martha married local farrier, William Buchan Reynolds Jnr.
William's father (also William Buchan Reynolds) was also a local farrier.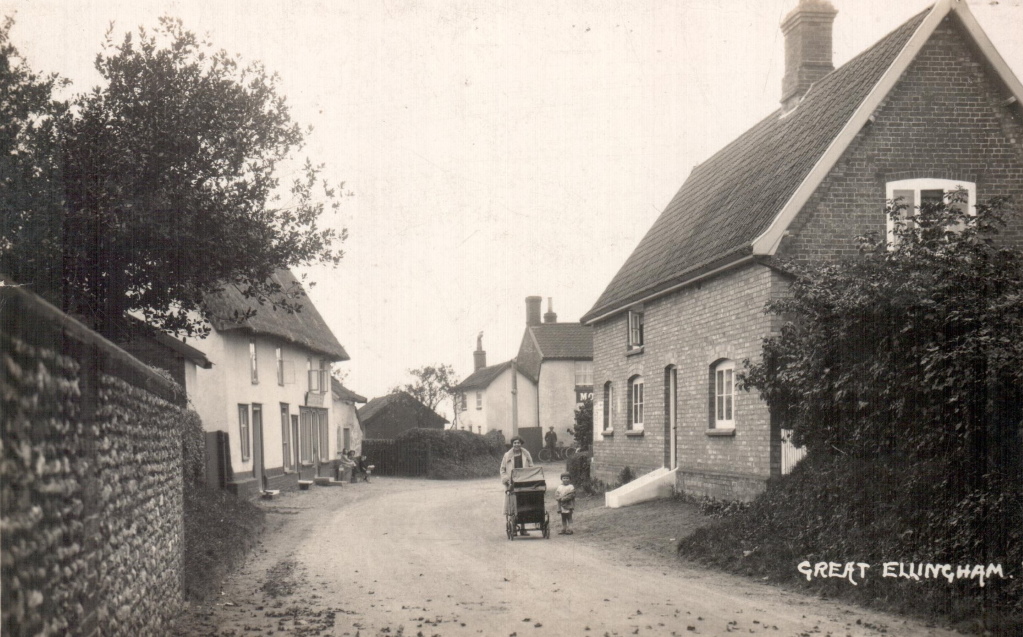 Church Street also known as The Street. Islay House on the right. Ye Olde Thatche Shoppe on left and the Crown in the background. Postcard courtesy Carol Ewin
Martha and William Reynolds moved into Islay House in Church Street between 1911 and William's death in 1928.
The 1939 Register captures widow Martha Reynolds in 'The Street' – I assume at Islay House. With Martha is single woman 65 year old Henrietta Howlett who is described as an invalid.
Martha Reynolds died on the 11th November, 1945 aged 82.
James Sadd
At the same time as the East Harling Magistrates heard the case against Martha Reynolds, the case against James Sadd was also heard.
The Diss Express (again published on the 17th January, 1941), reports his case as follows:
"James Sadd of White House Farm, Great Ellingham, was summoned for displaying a light inside a roofed building, the illumination being visible from outside at Great Ellingham on December 27th and January 1st. 

Defendant was also summoned for displaying a light from an unscreened hurricane lamp at Gt. Ellingham on December 27th.

P.c. Savill proved each case stating that [the] defendant was argumentative and abusive. The light was coming from an open dairy door and badly screened skylight and when witness [was] asked for an explanation defendant said 'I have screened the lights the best I can and can't do any more about it.'

In a letter [the] defendant said it was difficult to black out the places and he could not work in the dark. 

Defendant was fined £1 in each case."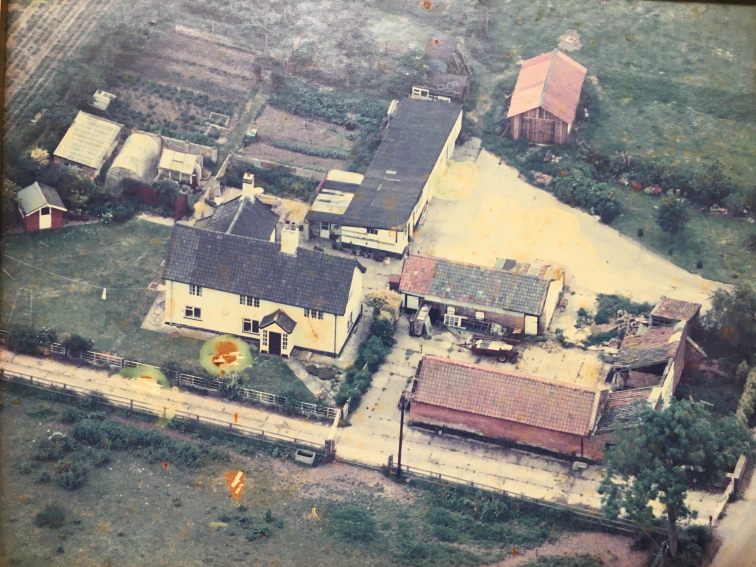 White House Farm, Long Street, Great Ellingham. Once the home of James Sadd. Courtesy Justin Wilkins
Driving in the Dark
Lights on motor vehicles were also affected by the new regulations. Initially only side-lights were allowed. However, with the huge increase in the number of accidents involving motor vehicles (and many of these were fatal), the government was forced to review the regulations.
This resulted in dipped headlights being permitted. However, the legislation required the headlamps to be covered, and these covers were required to have three horizontal slits. In an attempt to reduce accidents further, a 20 mph speed limit was imposed on night drivers.
Speeding Offence in Great Ellingham
On the 22nd December, 1939, the Diss Express reported that Herbert Walter Brighty of Carleton Forehoe was summoned to appear before the East Harling Petty Sessions.
On the 15th November, whilst driving a heavy lorry at Great Ellingham, Brighty had exceeded the 20 mph speed limit.
P.c. White told the court that Brighty's speed was 35 mph. In his defence, Herbert Brighty wrote to the court to say that he "forgot his speed in eagerness to get home before the blackout."
Nevertheless, Brighty was found guilty and fined 30s (thirty shillings).
End of Blackout Measures
The blackout measures continued until the end of the war in Europe in 1945.
Sources:
The Guardian. https://www.theguardian.com/lifeandstyle/2009/nov/01/blackout-britain-wartime Accessed 29 October 2022
Spartacus Educational. https://spartacus-educational.com/2WWblackout.htm Accessed 29 October 2022
Gt. Ellingham Invasion Committee Records. 1942. Sue Fay
Diss Express 22nd November 1940, 17th January 1941, 20th December 1940, 27th September 1940, 22nd December 1939 accessed via https://www.britishnewspaperarchive.co.uk/ 28 October 2022
1939 England & Wales Register. Ancestry.com. 1939 England and Wales Register [database on-line]. Lehi, UT, USA: Ancestry.com Operations, Inc., 2018. Original data: Crown copyright images reproduced by courtesy of TNA, London England. 1939 Register (Series RG101), The National Archives, Kew, London, England.
Great Ellingham Parish Registers. Norfolk Record Office. PD609.