In this blog, we look at two of the families who occupied a particular house in Long Street from around 1904 until at least the 1960s.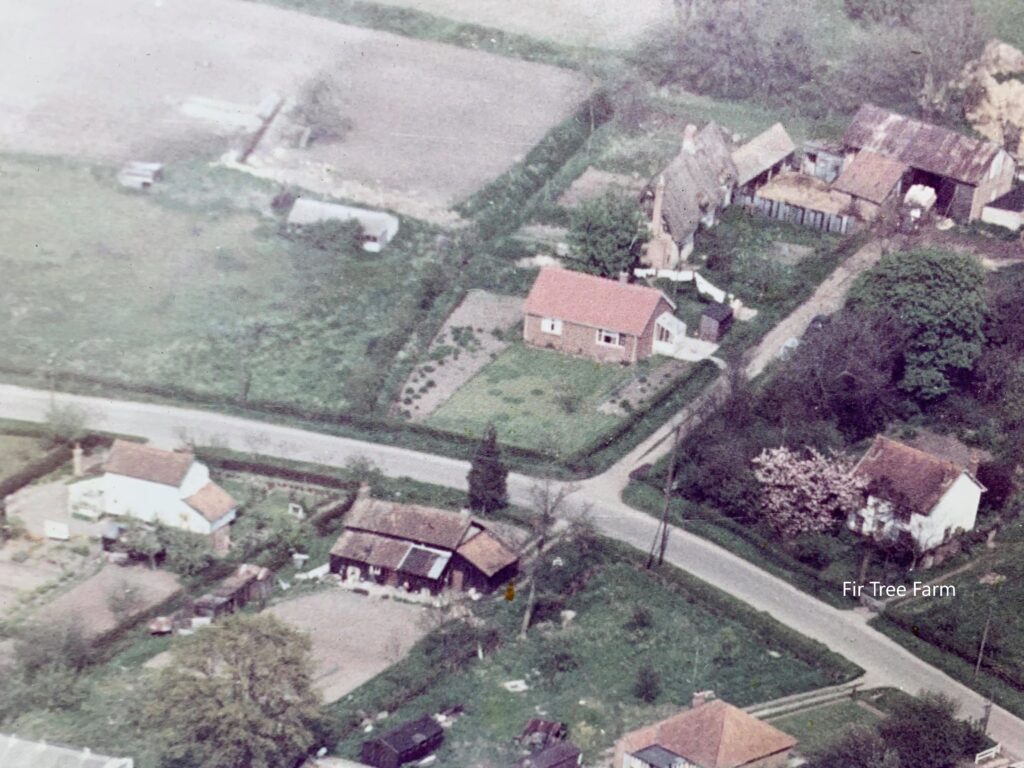 The house is now known as Fir Tree Farm. However, I am uncertain when the farm was given the name 'Fir Tree Farm'.
I have discovered that the house – or at least a house, existed on the land since at least the early 1700s. The original house may have been replaced, or much altered over the years.
1909 Auction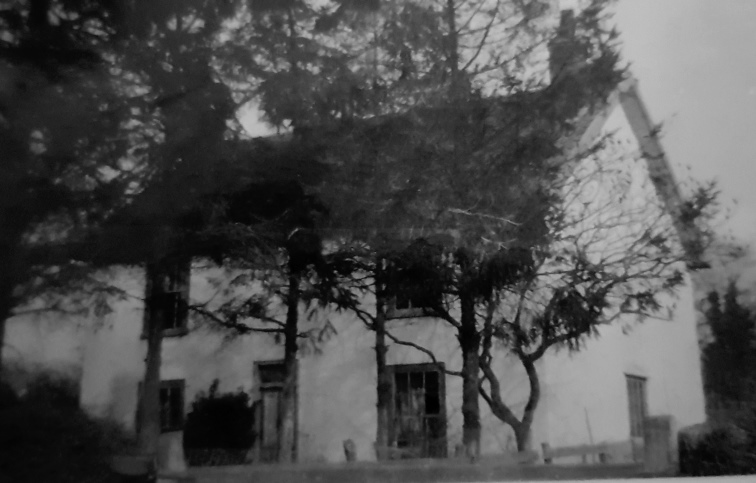 Fir Tree Farm. Courtesy Fiona Rainbird Clarke
The Eastern Daily Press published on Thursday 1st July, 1909, includes details of a forthcoming auction at the Royal Hotel, Attleborough on the 8th July, 1909. The auction included a small holding and accommodation land in Great Ellingham, which was to be sold in two lots:
Lot 1: VALUABLE SMALL FARM, known as Fir Tree Farm, comprising Dwelling-house, containing 2 Sitting-rooms, 4 Bedrooms, Kitchen, Storeroom, Dairy, Coal-house and W.C., Well of Water, Gardens, Orchard, Agricultural Premises, and 18a. Or. 15p. of Arable and Pasture Land, situated in the Village, on the road from Attleborough to Rockland, occupied by Mr. F. L. Smith. 

Lot 2: TWO ENCLOSURES of ACCOMMODATION ARABLE LAND, containing 9a. 2r. 1p., as situated on the Penhill Road, and occupied by Mr. F. L. Smith. 
The auction details include a good description of the property. It also tells us that the farm was occupied by Mr F L Smith. But who is Mr F L Smith?
Frederick Smith
I believe Mr F L Smith may be the Frederick Smith listed in Kelly's Directory of 1904 as a farmer in Great Ellingham.
The name of Frederick Smith is also listed in the Register of Electors (Occupation Voters) for Great Ellingham between 1904 and 1910. Between 1904 and 1907, Frederick Smith is listed as occuping a dwellinghouse in Long Street. However, between 1908 to 1910, he is listed as occuping land and tenement.
Marriage in Great Ellingham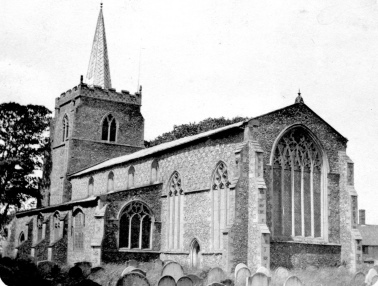 Church of St James, Great Ellingham
Frederick Smith, a gardener of Fritton, Norfolk married Emily Butcher of Great Ellingham in the parish church of St James on the 27th May, 1895. 25 year old Frederick was the son of Samuel Smith. Emily, also aged 25, was the daughter of Elijah Butcher. Neither Frederick nor Emily had been married previously.
1901 Hempnall
Although marrying in Great Ellingham, the 1901 census captures Frederick and Emily Smith living in Field Lane, Hempnall. Frederick is working as a carter (agricultural) on a farm.
1904-1909 Great Ellingham
If this is indeed the same Frederick Smith found in the Register of Electors in Great Ellingham between 1904 and 1910 and the Mr F L Smith occupying Fir Tree Farm, Long Street in 1909, then the couple were in Great Ellingham from at least 1904 until 1909.
1911 Hempnall
However by 1911, Frederick and Emily Smith were back in Hempnall living in a three-roomed property.
The Jackson Family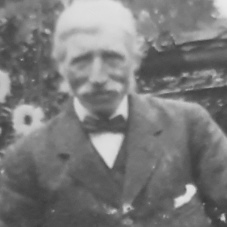 William Jackson. Courtesy Fiona Rainbird Clarke
By the 2nd April, 1911, 55 year old former fishmonger William Jackson moved into the six-roomed property known as Fir Tree Farm, Long Street, Great Ellingham.
1911 census
Along with William Jackson, the 1911 census lists his 55 year old wife, Alice, and two daughters, 26 year old Ida Alice Jackson and 20 year old Eva Kate Jackson. William and Alice Jackson had completed 30 years of marriage. The couple have three children.
William Jackson is a farmer working for himself. Both his daughters are elementary school teachers. The census also tells us that William was born in Walton, a village in West Norfolk, and Alice in Sedgeford (North West Norfolk). Ida was born in Stow Bedon and her sister Eva in Rockland All Saints.
1901 census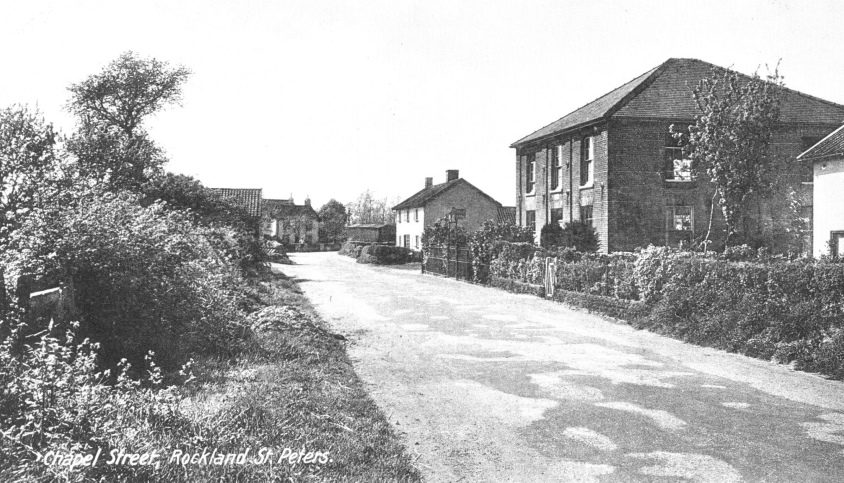 Chapel Street, Rockland St Peter
Ten years earlier, the family were living in Chapel Street, Rockland St Peter where William Jackson was the fishmonger.
The census for that year captures William and Alice Jackson with their three children Robert W Jackson aged 18, an employed blacksmith, Ida A aged 16 who is working as a teacher's assistant, and 10 year old Eva K.
What prompted William Jackson to change his occupation of fishmonger to farmer? It may be that William Jackson farmed in Rocklands (as well as dealing in fish) before he moved to Fir Tree Farm, Great Ellingham.
Eva Kate Jackson
By the 7th December, 1904, William's daughter Eva was a pupil of Great Ellingham Board School. However, I do not known exactly when the Jackson family moved into Fir Tree Farm. As mentioned, at the time of the auction of the property in July 1909, Fir Tree Farm was occupied by 'Mr F L Smith'.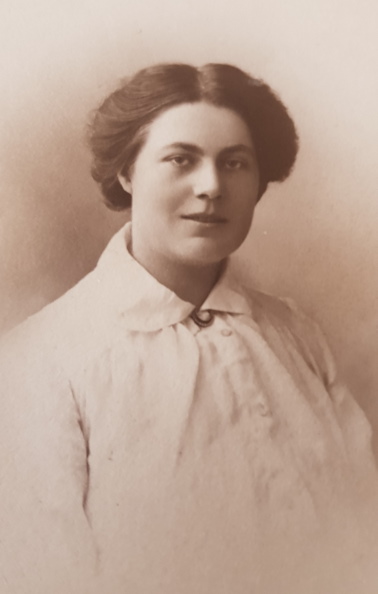 Eva Kate Jackson. Courtesy Fiona Rainbird Clarke
In a report of the Norfolk Junior County Scholarships published in the Norwich Mercury of the 7th December, 1904, Eva K Jackson of Great Ellingham Council School was the recipient of one of ten scholarships awarded to those pupils who intend to become pupil teachers. This ties up with Eva being shown as an elementary school teacher on the 1911 census.
Eva Kate Harper
In 1913, and whilst living with her family at Fir Tree Farm, Eva Jackson married William C Harper. Their marriage was registered between April and June in the Wayland District.
As both the bride and bridegroom were living in Great Ellingham at the time of the marriage, I assume that the marriage took place in the village.
William C Harper
The 1911 census reveals 22 year old William C Harper with his family at Tanyard Farm, Great Ellingham.
The household comprise 46 year old William Harper, his 41 year old wife, Susannah M A Harper and their children 22 year old William C, 19 year old Clara F, James W aged 15, Lily 12 and nine year old May. All members of the household were born in Norwich.
Later, William Harper's sister May married Bunwell born Walter Jackson. They lived at the Red House, not far from Fir Tree Farm in Long Street.
Children
Within months of her marriage to William Harper, Eva gave birth to Audrey. The birth of Audrey A P Harper was registered between July and September of 1913.
Four years later, Irene was born. The birth of Irene E Harper was registered between April and June 1917.
1921
The 1921 captures William and Alice Jackson at Fir Tree Farm. With the couple are their daughters, 37 year old Ida Alice Jackson and 30 year old Eva Kate Harper. Eva's children, Irene Elsie Harper and Audrey Alice Phoebe Harper also also listed in the household.
Was Eva just visiting her parents, or, was she living there with her children? I believe the latter is the case.
Her husband, William C Harper is with his parents in Rocklands.
1923
The Electoral Registers for 1923 lists William and Alice Jackson living in Long Street. I presume they are still at Fir Tree Farm. However, the same Electoral Register shows Ida Alice Jackson at nearby Broad Marsh (Broadmarsh) Farm.
1929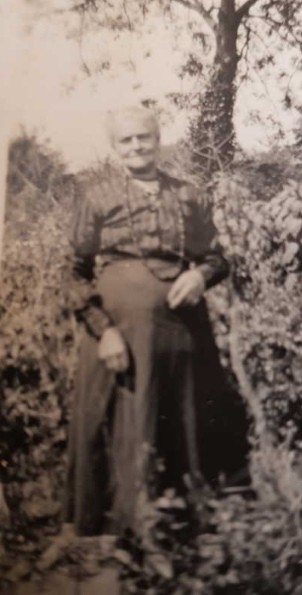 Alice Raines Jackson. Courtesy Fiona Rainbird Clarke
William Jackson died in 1927. By 1929, Ida Jackson was back living at Fir Tree Farm with her then widowed mother, Alice Jackson. Also listed at Fir Tree Farm in 1929 is Eva Kate Harper.
1939
The 1939 Register lists 55 year old unmarried Ida A Jackson as the head of a household in Long Street. With Ida is her 84 year old widowed mother Alice and her 48 year old sister, Eva K Harper. I have no doubt that the family are still at Fir Tree Farm. The Register gives Ida's occupation as 'farmeress heavy work'. Eva Harper is working as an elementary school teacher.
I believe Eva's husband to be the 50 year old William C Harper with 47 year old widow, Mabel Stevenson, in West Carr Road, Attleborough. William is working at the local cyderworks.
Is it just coincidence that the various registers or censuses capture Eva Harper and her husband William at different households or had the couple been living apart for several years?
1942
The Great Ellingham Invasion Committee Records complied by William Robert Lebbell, lists 'Mrs Jackson 88, Miss Jackson 58 and Mrs Harper' at a house in Long Street. With the household are '2 children from Norwich'. I suspect that these two children have been evacuated from Norwich. Again I have no doubt that Ida, Eva and their widowed mother Alice are still at Fir Tree Farm.
Death of Alice Jackson
In 1945, Alice Jackson died at the age of 91. Her death was registered between October and December of that year.
Ida continued to farm at Fir Tree Farm. Eva carried on living with her sister.
1950s to 1960s
The fond memories recalled by Eva's granddaughter Gill gives us an insight of Fir Tree Farm in the 1950s to 1960s.
Gill, then living with her family in Norwich, visited her Nana Eva and Great Aunt Ida on many occasions. The following is Gill's own account of her memories of Fir Tree Farm:
"The Jacksons didn't use the front door of the farmhouse.  If you stand on the road looking to the building the access was to the left, through a five bar gate and into the farm yard.  To the right were the buildings housing the toilet (the only one they had!), the cows - one was grumpy and I had to stay away from it, then the pigs and chickens that free roamed until night time. Also a working horse in a stable. There was also farm machinery including a hay wain. I have vague memories of riding on the hay wain full of hay. 

Through another gate and walking in a straight line away from the house, then through another gate and into one of the large fields put to hay. If you kept walking you then entered into the pastures that sloped away to a stream. That field was full of wild orchids and other meadow flowers. 

Now turn back to face the farmhouse, on your right were more fields for grazing. They were rented out to other farms.

Back into the the first field, on your left were the orchards - pears, apples, and crab apples. Then a large duck pond, with mallards and geese.  Also the large well that provided the water for the house and farm. I remember that the water was cold, clear and tasted almost sweet. I didn't like going to the well because little frogs lived in it! 

There was a porch at the back of the farmhouse which housed the boots and coats etc. Going through the backdoor and into the corridor, on your left was the dairy. There were marble counter tops to keep the milk, cheese and butter cool. Pails and the butter churns also stood in the dairy. There was a channel in the floor to let all the liquids flow away. 

Directly opposite (and through the hallway) was the kitchen. In the corner nearest the corridor was a large copper kettle (in those days it was the name of the large basin that clothes were washed in).  I also remember a pantry and a fire place. 

On the internal wall was an electric cooker that Great Aunt Ida refused to cook on. She did all the cooking on a little gas camping stove (I don't know why she did that).  

Back in the hallway were the flight of stairs, and behind that was the parlour, with a dark wooden fire surround. 

The floor of the whole bottom of the house was compacted earth with large rugs as coverings. I very rarely went upstairs, but I recall there were four bedrooms. Nana Eva's was at the back of the house and great aunt Ida's at the front. All bedrooms had wash stands with jugs and bowls. Under the beds were pots (used overnight). These were emptied into the toilet ouside in the mornings. 

I loved being at the farm. It was the dream place to play and build dens. I loved my Nana Eva and Great Aunt Ida very much."
Deaths of Ida and Eva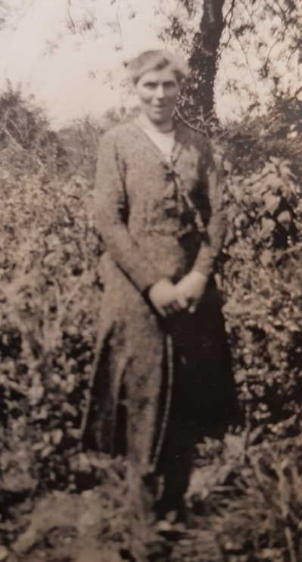 Ida Alice Jackson of Fir Tree Farm, Great Ellingham died on the 28th November, 1966. Just months earlier, the death of her sister, Eva K Harper was registered between April and June.
Fir Tree Farm, Long Street, Great Ellingham would have new occupiers.
Sources:
1 July 1909 Eastern Daily Press. Viewed via www.localrecall.co.uk 18 July 2020
7 December 1904 Norwich Mercury. Viewed via https://www.britishnewspaperarchive.co.uk 23 March 2022
1904 Kelly's Directory. Attleborough Heritage Group. Town Hall, Queen's Square, Attleborough NR17 2AF
Norfolk, England, Register of Electors, 1832-1915. Great Ellingham. Ancestry.com. Norfolk, England, Register of Electors, 1832-1915 [database on-line]. Lehi, UT, USA: Ancestry.com Operations, Inc., 2016.England, Norfolk Register of Electors, 1844-1952. Salt Lake City, Utah: FamilySearch, 2013.
Great Ellingham Parish Registers. Norfolk Record Office PD 609. Also available www.familysearch.org
1901 census RG13/1860/68, RG13/1868/76
1911 census RG14/11464/137, RG14/11473/1, RG14/11473/69
1939 England & Wales Register. Ancestry.com. 1939 England and Wales Register [database on-line]. Lehi, UT, USA: Ancestry.com Operations, Inc., 2018.
The National Archives; Kew, London, England; 1939 Register; Reference: Rg 101/6590c
The National Archives; Kew, London, England; 1939 Register; Reference: Rg 101/6590h
1921 census. The National Archives. RG 15. Search only carried out of online database via https://www.findmypast.co.uk/1921-census
1942 Great Ellingham Invasion Committee Records compiled by William R Lebbell. Sue Fay.
1920 Southern Parliamentary Division of the County of Norfolk. Parish of Great Ellingham
1923 Southern Parliamentary Division of the County of Norfolk. Parish of Great Ellingham
1925 Southern Parliamentary Division of the County of Norfolk. Parish of Great Ellingham
1928 Southern Parliamentary Division of the County of Norfolk. Parish of Great Ellingham
1929 Southern Parliamentary Division of the County of Norfolk. Parish of Great Ellingham
1931 Southern Parliamentary Division of the County of Norfolk. Parish of Great Ellingham
GRO Index. https://www.gro.gov.uk/gro/content/certificates/login.asp
Also via FreeBMDwebsite
1913 Marriage. Harper, William C. & Jackson, Eva K. June Qtr. Wayland. https://www.freebmd.org.uk/cgi/information.pl?cite=EszfYFfML5ZAIneenzoZMA&scan=1
1966 Death. Harper, Eva K. Norwich. https://www.freebmd.org.uk/cgi/information.pl?cite=5Mg6P%2Bg6Sh%2BZHxGWNjFULg&scan=1
1945 Death. Jackson, Alice. Wayland. https://www.freebmd.org.uk/cgi/information.pl?cite=Wt945LMXPlAqguD2WBv9LA&scan=1
1927 Death. Jackson, William. Wayland. https://www.freebmd.org.uk/cgi/information.pl?cite=BM90LYn66oo8QE%2BlxCHfPQ&scan=1
England & Wales, National Probate Calendar (Index of Wills & Administrations), 1858-1995, 1967. Jackson, Ida Alice. Viewed via Ancestry.com. England & Wales, National Probate Calendar (Index of Wills and Administrations), 1858-1995 [database on-line]. Provo, UT, USA: Ancestry.com Operations, Inc., 2010.
Huge thanks to Fiona Rainbird Clarke and Gill