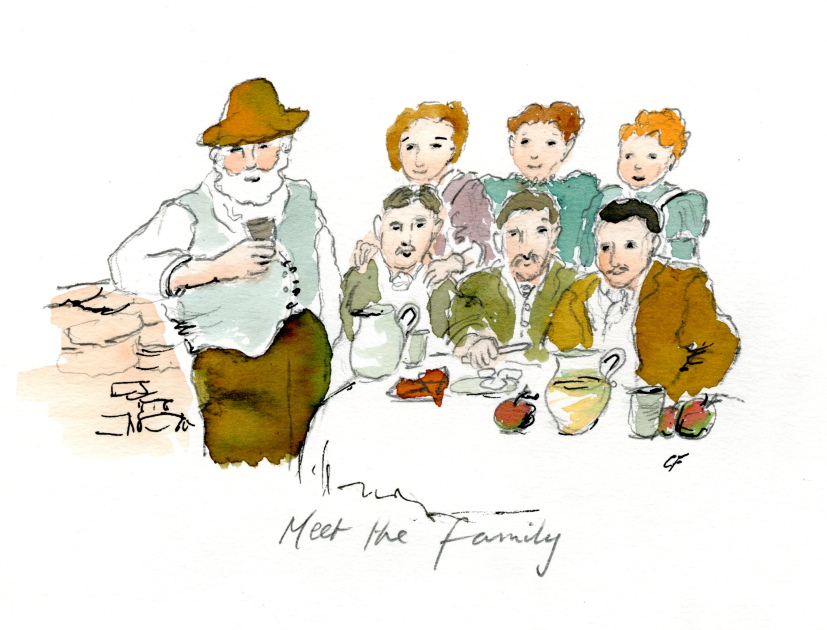 Illustration by Christine Fuller
Death of William Downes
William Downes died on the 30th August, 1853 at the age of 79. He was buried in the churchyard at the Parish Church of St James a few days later on the 4th September.
Just three weeks earlier, William had put his affairs in order. He signed his last Will and Testament on the 9th August in the presence of Jeremiah and William Fielding.
Ann, Amy and Mary Ann share their Father's Estate
William appointed William Lebbell and John Brothers as Executors and Trustees of his Will. He left all his personal estate "whatsoever and wheresoever" to his three daughters in equal shares : Ann the wife of John Denny, Amy the wife of John Mallows and Mary Ann the wife of John Simmonds.
Given that 'John' was a fairly common first name, I guess it is not too surprising that all three of William Downes's sons-in-law were named John. However, this may not have caused confusion as William Downes may well have followed Victorian etiquette and addressed (or referred to) his sons-in- law by their respective surnames.
With no mention of his wife in the Will, I assume that William Downes was a widower at the time he made his Will.
Was William Downes a local man?
The 1851 census, undertaken around two years prior to William's death, states that William Downes was born in nearby Attleborough. I have not been able to find a baptism entry for a William Downes (or Downs) around 1774 (the approximate year of his birth), in the parish registers for St Mary's Church in Attleborough.
However, in the Great Ellingham Parish Registers there is a baptism entry for the 25th April, 1773 – William baseborn (illegitimate) son of Mary Downes, spinster. This may well be the baptism of William Downes.
Mary Downes gave birth to another baseborn son, Henry, who was also baptised in the Church of St James. Henry's baptism took place on March 22nd, 1778.
Marriage to Elizabeth Genery
William Downes, then said to be of Ovington, married Elizabeth Genery in the Parish Church at Attleborough on the 7th March, 1803. Their daughter Ann was baptised in the Parish Church at Hingham just nine months later on November 27th, 1803. The register records Elizabeth's maiden name as Jennery.
Two years later, daughter Emma was baptised in the Church at Great Ellingham on November 17th, 1805. The mother's maiden name was recorded as Chenery. However, I believe the child is in fact Amy and the baptism entry is erroneous. It may be that the clerk making the entry in the parish registers misheard the name of the child.
I have not yet found a baptism for Mary Ann. It may be that William and Elizabeth Downes moved out of the village for a period and then came back again.
Farmer of Great Ellingham
William Downes and his family were certainly living in Great Ellingham from at least 1836. White's Directory lists William Downes as a farmer in Great Ellingham at that time.
The 1841 census captures the household of 65 year old farmer William Downes in Great Ellingham. Although the census does not specifically say where William Downes was living, his home was on the south west side of the Attleborough to Watton Road (Town Green/Long Street/Penhill Road area). With William is his 65 year old wife Elizabeth, a 15 year old female servant Mary Denny, James Denny aged 5, and 15 year old male servant Jeremiah Edwards.
The Register of Electors for Great Ellingham 1842-1843, lists William Downes as occupying a property in Long Street.
The notice of a forthcoming auction of a farm-house with suitable outbuildings and several inclosures of arable land (altogether amounting to around 18 acres) situate in 'the centre of the town' of Great Ellingham appeared in the Norwich Mercury of September 6th, 1845.
The auction of the premises occupied by William Downes (who had been given the appropriate notice to quit he property by Michaelmas) would be held on the 22nd September at four o'clock in the afternoon at the Crown Inn in Great Ellingham. Michaelmas was a week later.
By 1851, William Downes was widowed. His wife Elizabeth died in July 1849 at the age of 73 and was buried in the churchyard of St James.
The census of 1851 captures 77 year old widower William Downes described as a farmer, living in Church Street, Great Ellingham. Living with William is a married couple, 29 year old Robert Reynolds and his wife Mary Ann together with their one year old son William John. Robert and Mary Ann are described as servants to William Downes. Completing the household is 10 year old Elizabeth Simmons.
William Downes died just over two years later.
Sources:
1841 census HO107/781/8
1851 census HO107/1823/130
Great Ellingham Parish Registers. Norfolk Record Office PD/609.Also available at FamilySearch.org https://www.familysearch.org/search/image/index?owc=4J8C-CB7%3A29627201%3Fcc%3D1416598
Attleborough Parish Registers. Norfolk Record Office PD/438. Attleborugh Marriages. Norfolk Family History Society via website https://www.norfolkfhs.org.uk/ Accessed 01.04.2020
Hingham Parish Registers. Norfolk Record Office. PD/575. Also available at FreeReg website. https://www.freereg.org.uk/search_records/5818ffb0e93790ec8b920281/ann-downs-baptism-norfolk-hingham-1803-11-27?locale=en. Transcription Hingham St Andrew Parish Register. Baptism.
England, Norfolk Register of Electors, 1832-1915, database with images, FamilySearch (https://familysearch.org/ark:/61903/3:1:S3HY-6PC3-PR5?cc=1824705&wc=MX6S-529%3A161034801%2C161988401%2C161990901 : 21 May 2014), Norfolk > Western division > 1842-1843 > image 1 of 56; Record Office, Central Library, Norwich. Accessed 31/03/2020
1836 White's Directory. Norfolk Record Office
Norwich Mercury 6th September 1845
Norwich Consistory Court Probate Records. 1853 Downes, William of Great Ellingham. Norfolk Record Office. Catalogue Ref: NCC will register Veale 516. Norfolk County Council. Norfolk Sources website http://www.norfolksources.norfolk.gov.uk/DserveNS/ Viewed 23.06.2020