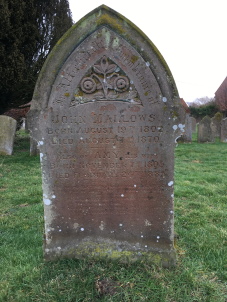 The inscription on the headstone in the churchyard at Great Ellingham for John Mallows and his wife Amy is still clear after over 130 years.
John Mallows. Born August 19th, 1802. Died August 7th, 1870.
Also of Amy, his wife. Born November 7th, 1805. Died February 24th, 1885.
Burial entries for John Mallows and his wife Amy appear in the Great Ellingham Parish Registers as follows: John Mallows of Great Ellingham was buried on August 12th, 1869 aged 67 years. Amy Mallows of Great Ellingham was buried on February 27th, 1885 aged 79 years.
Checking the General Record Office (GRO) Index for the registration of a death of John Mallows in the Wayland District (Great Ellingham was part of this District) between 1869 and 1870, there was only one death of a John Mallows registered during 1869 to 1870. 1869 September Quarter Wayland District John Mallows aged 67. Accordingly the inscription on the headstone is erroneous. John Mallows died in 1869 not 1870.
I wonder if anyone noticed the error either at the time or later? Perhaps John Mallows' family spotted the error but, for whatever reason, the family chose to leave it be. Is it only now, some 150 years after John Mallows' death, that the error has come to light?
Who were John & Amy Mallows?
The 1841 census captures the couple living with their children 10 year old Emily and Charles 8 at the home of John's father, 75 year old Thomas Mallows, at Borough Common, Attleborough. A later census states that John Mallows was born in Attleborough and Amy in Great Ellingham (although I have not been able to find evidence of a baptism for Amy in the Parish Church registers).
John Mallows was baptised in the parish church in Attleborough on 10th September, 1802. At the age of 23, John Mallows married Amy Downs in the same church on 7th November, 1825.
In 1851, 48 year old John and his 45 year old wife Amy are living at Town Green in Great Ellingham.
Ten years later, the census of 1861 states the couple to be living in Long Street. However I suspect that John and Amy were living in the same house as they were in 1851 and that part of what was described as Town Green in 1851 is now referred to as being part of Long Street. With the couple is their nine year old granddaughter Mary Ann Fox (born Winfarthing) and boarder Henry Eastell aged 19, a cordwainer (shoemaker) born Besthorpe.
Following John's death in 1869, Amy may well have moved to Wymondham to live with her son Charles, his wife Elizabeth, and their two daughters. The 1871 census captures 66 year old widow Amy Mallows with the household of Charles Mallows at Norwich Common, Wymondham.
Between 1871 and 1881, Amy moved back to Great Ellingham where the 1881 census finds her living alone in Church Street. Amy died in 1885.
In conclusion
I wonder whether the headstone for John and Amy Mallows was erected after Amy's death – some 5 years after her husband John? Perhaps their family were mistaken in recalling when John had died? It is, of course, possible that the stonemason made an error in the inscription but one would have thought the family would have noticed the error soon after the headstone was erected.
Sources:
1841 census HO107/781/1
1851 census HO107/1823/110
1861 census RG9/1237/92
1871 census RG10/1825/81
1881 census RG11/1974/96
https://www.freebmd.org.uk/cgi/information.pl?cite=OaYZJhLDbRR%2FA6a94TEH9Q&scan=1 Accessed 11.12.2019
Attleborough Parish Registers. Norfolk Record Office. PD/438. Transcription Norfolk Family History Society, Kirby Hall, Norwich. Website https://www.norfolkfhs.org.uk/
Great Ellingham Parish Registers. Norfolk Record Office.PD/609. Also available at FamilySearch.org https://www.familysearch.org/search/image/index?owc=4J8C-CB7%3A29627201%3Fcc%3D1416598