Newspaper Articles
Newspapers are a great source of information for local and family historians. Publications may include reports of events taking place in the parish, or reports concerning the inhabitants.
Some articles reflect 'happy events'. For example, weddings and other celebrations. However, newspapers will also include reports of misdemeanors and tragedies.
Nevertheless, together the varied articles help us piece together the lives of the people who once lived in our village.
In this blog, we look at Thomas Drake Chilleystone, a team man who lived in Rockland All Saints, but worked and tragically died in Great Ellingham.
We begin with the report of the inquest into his death, which appeared in the Lowestoft Journal on the 26th March, 1910.
Later, we look at the names by which he was known, and why Thomas adopted a certain name at a particular time of his life.
Inquest
Married man, Thomas Drake Chilleystone, was 65 years old when he died at Great Ellingham, shortly before the 17th March (the date of the inquest).
Team Man employed by William Downes
Thomas was employed by William Downes, a farmer, of Great Ellingham. He was as a team man – a driver of a team of horses. His widow, Elizabeth Chilleystone, told the coroner that Thomas had, on the day in question, left his home in Rockland All Saints at 4.15 am to go to work.
Farm labourer, Albert Spurgeon, was also employed by William Downes. He told the coroner that he and Thomas Chilleystone had started drilling oats around 6 am. They continued drilling until the incident, which occurred around 11 am.
There were two horses in the drill. Chilleystone was leading the shaft horse with Spurgeon walking behind. The shaft horse suddenly bolted. Despite the efforts of Spurgeon to throw the drill out of gear to stop it from sowing, he was unable to do this until the horses pulled up.
By this time, tragically Thomas Chilleystone had received fatal injuries.
Verdict
A verdict of 'accidental death' was recorded, and sympathy was offered to Thomas's widow and family.
Long Working Days & Risks
Likely Thomas Chilleystone's working days were long. The inquest was told that he left his home in Rockland All Saints at his usual time of quarter past four in the morning.
In the middle of March, it would have still been dark. Thomas probably walked from Rocklands to Great Ellingham. Perhaps by Penhill Road or by the Mill Lane track. He would have tended the horses i.e. 'fed and watered them', before beginning his work on the land. He may well have worked until the sun was beginning to set.
Working with animals also had its risks. The horses could be unpredictable. Indeed, the coroner was told by Elizabeth Chilleystone that just a few weeks before the tragic incident, her husband had sustained an injury when he was kicked in the leg by a horse. Consequently, Thomas was off work for a month. However, he had made a recovery.
Who was Thomas Drake Chilleystone?
1901
The 1901 census undertaken nine years before Thomas's tragic death, captures Thomas and Elizabeth Drake Chilleystone (both 55) living in Lower Lane, Rockland All Saints. Thomas was born in Rockland St Peter and his wife in Wortham, Suffolk.
1891
Ten years earlier, the couple (again using the last names 'Drake Chilleystone') were also in Rockland All Saints, but living in White Hart Street.
1881
The census of 1881 finds Thomas and Elizabeth Drake with daughters Harriet aged 9 and Lydia 7, living in Chapel Street, Rockland St Peter.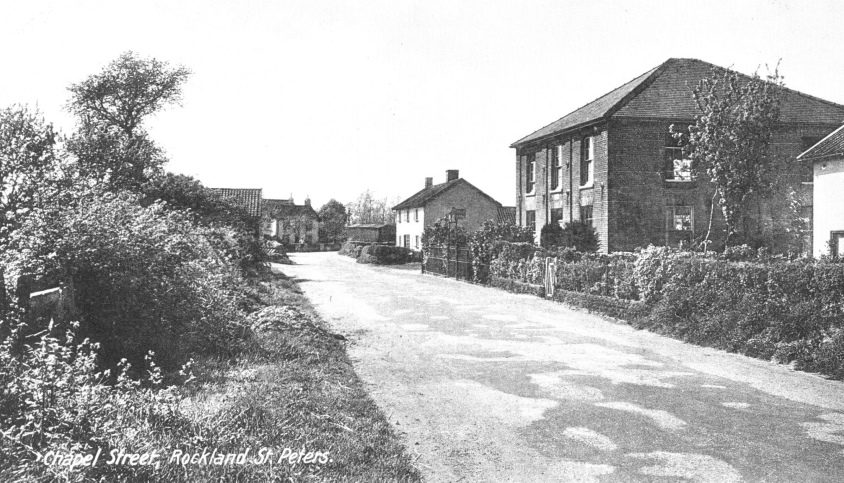 Chapel Street, Rockland St Peter
Marriage
26 year old Thomas Drake Chilleystone married 24 year old Elizabeth Carter in the Church of St James, Great Ellingham on the 19th November, 1870. Both Thomas and Elizabeth were single, and of Great Ellingham.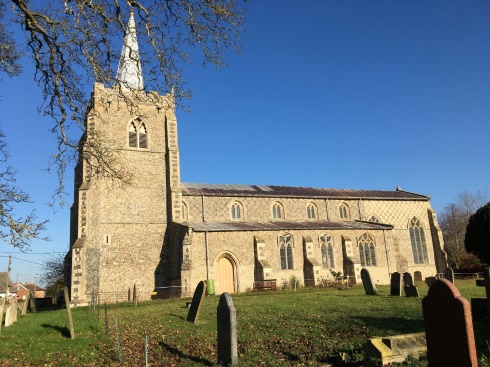 Church of St James Great Ellingham
Elizabeth was the daughter of labourer , James Carter, and Thomas the son of Thomas Drake Chilleystone.
1871
The 1871 census undertaken just five months after the marriage, finds Thomas and Elizabeth living in Chapel Street, Rockland St Peter. The census refers to their last name as 'Drake'.
1861
Going back another 10 years, the 1861 census captures Thomas as the 16 year old team-man, Thomas Chilly, listed in the household of 60 year old widower Thomas Drake in Scoulton Road, Rockland St Peter.
Also in this household is housekeeper, 56 year old Charlotte Chilly, and other Chilly children – Sophia 24, Mary Ann 11 and three week old Alice.
The census records that all the children were born in Rockland St Peter, and that Sophia, Thomas and Mary Ann were children of 60 year old Thomas Drake. Alice is listed as his granddaughter.
1851
The 1851 census shows 47 year old widower Thomas Drake and 44 year old unmarried Charlotte Chilly living in Fly Moor, Rockland St Peter.
With the couple are 'Chilly' children Jemima 10, Lydia 8, Thomas 6, James 2 and one year old Mary Ann. Again, all children are stated to be children of Thomas Drake.
Chilly, Chilleystone or Drake?
Baptism
In an attempt to gain clarity on Thomas Drake Chilleystone's name, I looked for his baptism in the Rockland St Peter Parish Registers. This entry appears to be Thomas:
8th December, 1844. Thomas son of Charlotte Chilley, spinster, of Rockland St Peter. Born on 30th October, 1844
Thomas was one of eight children of unmarried Charlotte Chilley baptised at Rockland St Peter between 1833 and 1849.
Parents: Thomas Drake & Charlotte Chilley
1841
Thomas's mother, Charlotte Chilly, was already living with Thomas Drake in 1841.
The census reveals 35 year old agricultural labourer Thomas Drake with 36 year old Charlotte Chilly, 15 year old Elizabeth Drake and three 'Chilly' children, Charlotte 6, Sophia 4 and 8 month old Jemima, in Flies More, Rockland St Peter.
It transpires that Thomas Drake was twice married and twice widowed.
Thomas Drake & Elizabeth Dow
Thomas Drake and Elizabeth Dow married in their home village of Rockland St Peter on the 9th November, 1821. Both were single.
However, just four years after the birth of their daughter Elizabeth, Thomas's wife Elizabeth (née Dow) died at the age of 30 in 1828. She was buried in the churchyard of St Peter's Church on the 7th May, 1828.
Thomas Drake & Maria Chillystone
Less than a year later, Thomas Drake re-married. The marriage between widower Thomas Drake and spinster Maria Chillystone took place on the 13th January, 1829, in the Parish Church of Rockland St Peter.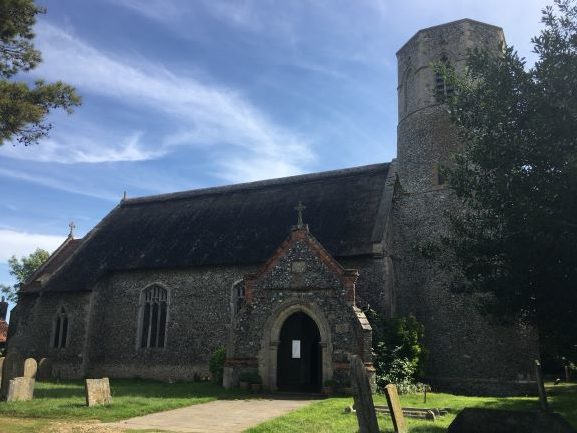 Rockland St Peter's Church
Charlotte Chilly was one of the two witnesses at the wedding.
Despite the difference in the last name, I am confident that Maria Chillystone and Charlotte Chilly (who later lived with Thomas Drake) were sisters. This is significant for the reasons I mention later in this blog.
Four months after the wedding, Thomas and Maria's daughter Charlotte was baptised in Rockland St Peter's church on the 18th May, 1829.
Tragically ten days later, Thomas Drake buried his second wife, 25 year old Maria, on the 28th May, 1829 in the churchyard at Rockland St Peter.
Less than two weeks later, baby Charlotte also died. Charlotte too was buried in the churchyard of St Peter's Church.
Thomas Drake & Charlotte Chilly
By 1841, 36 year old Charlotte Chilly (Thomas's late wife's sister) is living with Thomas Drake. I think it reasonable to assume that Thomas Drake is the father of all of Charlotte Chilly's children.
'Drake Chilleystone'
At the time of his marriage to Elizabeth Carter in 1870, Thomas junior used the name Thomas Drake Chilleystone. He also states his father's name as 'Thomas Drake Chilleystone'.
However, in the census returns between 1841 and 1881, Thomas's father, Thomas, uses the name 'Thomas Drake' and not 'Thomas Drake Chilleystone'.
Given that his parents were unmarried, perhaps Thomas Chilleystone gave the vicar his father's name as 'Thomas Drake Chilleystone' (rather than Thomas Drake), so as to give some air of respectability.
Chilleystone
At the inquest into the circumstances of Thomas Drake Chilleystone's death, his widow is referred to as 'Elizabeth Chilleystone'.
Accordingly, it appears that although earlier in his life Thomas used the surname 'Drake', he later reverted to the surname 'Chilleystone' (one of the variations of his mother's surname). However, he also added 'Drake' to his name – perhaps 'as a nod' to his father.
Interestingly, when registering their daughter Lydia's birth, Thomas and Elizabeth used the surname Chillystone. Thomas Drake Chilleystone's death was also registered with the surname Chillystone, i.e. Thomas D Chillystone.
In my One-Place Study research, I have found several families who assuumed different surnames between census returns and other documentation. This practice does not appear uncommon for the times.
Why Did Thomas's Parents Not Marry?
Because of the inconsistencies in Thomas's surname, I think it reasonable to assume that Thomas was aware that his parents were not married.
However, he may have wondered why his parents never 'tied the knot', despite them being together in excess of 50 years.
I wondered too, and looked further into Thomas Drake Chilleystone's parents, Thomas Drake and Charlotte Chilly (Chilleystone), to see whether I could find a conclusion.
1871 census
The 1871 census states that Thomas Drake (then 74) was unmarried. 64 year old Charlotte (as Charlotte Chilleystone) is described as Thomas's housekeeper, and also unmarried. Thomas and Charlotte (with Charlotte's nine year old grandson Charles Chilleystone) were living in Chapel Street, Rockland St Peter.
1881 census
By 1881, Thomas and Charlotte had moved to Scoulton Road.
The census captures Thomas and Charlotte Drake as lodgers with 85 year old veterinary surgeon, Orford Reynolds.
Married Couple?
Significantly, the census shows both Thomas and Charlotte as 'married'.
Given that Orford Reynolds was the head of this household (and likely gave the information to the census enumerator), Reynolds may have assumed the couple to be married.
However, after all the years of being together, Thomas and Charlotte may have considered themselves a married couple.
Nevertheless, I do not believe that Thomas and Charlotte married.
Deaths of Thomas Drake & Charlotte Chillystone
At the age of 86, Thomas Drake was buried in the churchyard of All Saints with Saint Andrew at Rocklands on the 6th July, 1884.
Three months later, 75 year old Charlotte Chillystone was buried in the same churchyard on the 12th October.
Unlawful Marriage
In conclusion, I think it likely that Thomas and Charlotte did not marry for the simple reason that a marriage between them would be unlawful.
Charlotte Chilly (or Chilleystone/Chillystone) was most probably the sister of Thomas Drake's second wife, Maria.
In 1835 (not long after Thomas and Charlotte began co-habiting), a law was passed prohibiting a marriage by a man with his late wife's sister.
It was not until the Deceased Wife's Sister's Marriage Act of 1907, that it was once again lawful for a man to marry his dead wife's sister.
Accordingly, any marriage between Thomas Drake and Charlotte Chilly (Chilleystone) taking place between 1835 and their deaths in 1884, would have been against the law. However, I have no doubt that countless unlawful marriages did take place during the Victorian period!
Nonetheless, it is possible that Thomas and/or Charlotte had no intention to marry, even if they could lawfully do so.
Charlotte may have been more than content to keep house for Thomas and bear his children. Thomas may also have been happy with the arrangement as it was.
We will, of course, never know.
Sources:
Great Ellingham Parish Registers. Norfolk Record Office.PD 609. Also available at www.familysearch.org
Rockland St Peter Parish Registers. PD 336. Transcriptions, Norfolk Family History Society. https://www.norfolkfhs.org.uk/
Rockland All Saints with Saint Andrew. Transcriptions, Norfolk Family History Society. https://www.norfolkfhs.org.uk/
26th March 1910 Lowestoft Journal. Accessed via British Newspapers Archive https://www.britishnewspaperarchive.co.uk/ 25th April 2021
1901 census RG13/1867/104
1891 census RG12/1549/104
1881 census RG11/1975/90,
1871 census RG10/1842/99, RG10/1842/98
1861 census RG9/1238/97
1851 census HO107/1823/264
1841 census HO107/785/22
GRO Index. https://www.gov.uk/gro