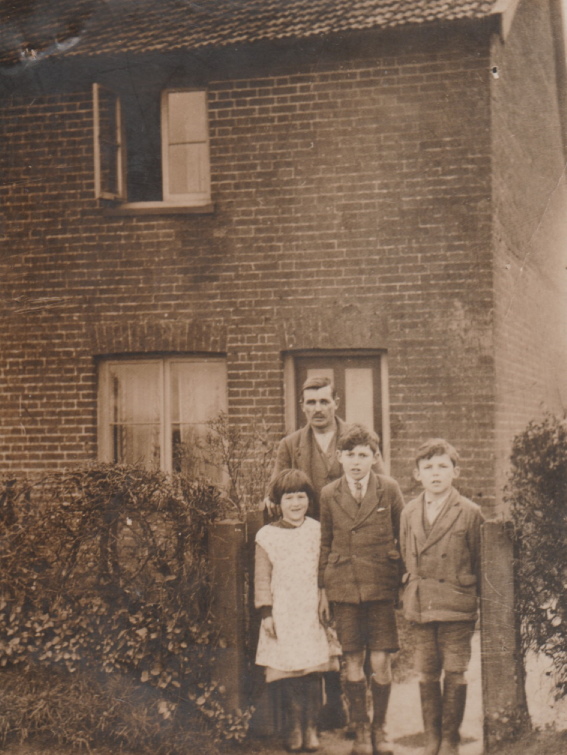 Frank Newby with three of his children at Watton Road, Great Ellingham . Photograph courtesy of Sue Gent
When researching family history, it is not unusual to find the name by which an individual is known differing between census returns and other documentation, such as registrations of birth, marriages and deaths.
In other blogs, I have mentioned the Dungar Anderson family of Great Ellingham where we find members of this family using the surnames 'Dungar', 'Anderson' and 'Dungar Anderson', the Lee family using the name 'Hoy' as well as 'Lee', and James Skipper who was born as 'James Skipper', adopted the name 'Wilkins' but then later, as an adult, reverted to his birth name 'Skipper'.
There can be several reasons why a family or an individual choose to use or adopt a particular name. For example, to conceal a true identity, to escape the past, illegitimacy, assumption of a step-father's name (as was the case of Jame Skipper) or, perhaps, to comply with a condition in order to take an inheritance.
With regard to Frank Newby, his story provides another example.
Frank Newby
Frank Newby was born in Great Ellingham in 1889. Frank would have been over a year old (but had not yet reached his second birthday), at the time of the 1891 census (the night of the 5th April).
I found eighteen month old Frank listed on the census living in Long Street, Great Ellingham with his father, 42 year old Harry Newby, and an extended household.
Although the census describes Harry Newby as 'married', there is no 'Mrs Newby' listed in the household. Harry's elder son, 20 year old David Newby and a housekeeper, 28 year old widow, Sophiah (Sophia) Thurston with five year old James Thurston, five month old Harry Thurston and eighteen month old Frank Thurston complete the household.
This raises the questions: Where is 'Mrs Newby' in 1891, and is Frank Thurston and Frank Newby one and the same person?
Frank Newby Thurston
Registered as Frank Newby THURSTON, Frank's birth was registered between the months of October and December 1889 in the Wayland District. A registration of a birth would generally provide the maiden name of the mother. However, in this case the registration does not provide Frank's mother's maiden name. This can be indicative of an illegitimate birth. Given the fact that Frank was given the name 'Newby' as a second name, this strongly suggests that Harry Newby was his father and Sophia Thurston his mother. Frank Newby Thurston and Frank Newby are indeed one and the same person.
But what has happened to 'Mrs Newby'?
Charlotte Mary Newby
As the 1891 census describes Harry as 'married', his wife was still living at that time.
Ten years earlier, the 1881 census captures 33 year old thrashing machine proprietor Harry Newby with his 41 year old wife Charlotte in Long Street, Great Ellingham. With the couple is 11 year old John Calver and 9 year old David Newby. Charlotte, John and David are all said to have been born in nearby Attleborough.
Going back a further 10 years to the 1871 census, 23 year old Harry Newby, described as a farmer of 50 acres, is in Deopham Road, Attleborough. With Harry is his 31 year old wife Charlotte and their one year old son John. The family have two servants: 20 year old and farm servant Thomas Houchen and 13 year old domestic servant Matilda Kiddle.
As Henry Newby, Harry had married Charlotte Mary Calver at the parish church of St Giles, Norwich on October 7, 1870.
Turning back to Harry's wife Charlotte, I found the death for a Charlotte Mary Newby aged 53 registered in the Blofield District between July and September 1893 – two years after the 1891 census.
I eventually found Charlotte Newby on the 1891 census. She was in the Norfolk County Asylum at Thorpe St Andrew in Norwich, which is also in the Blofield District.
As would be usual at the time to provide patient confidentiality, Charlotte is listed as a patient with the initials "C.M.N.", a married woman and the wife of an engine proprietor. She was also said to be a 'lunatic'. I have no doubt that this is Harry's wife, Charlotte.
'Lunatic' is not a term we would, of course, use today as we would find it derogatory or insulting. However in 1891 it was commonly used (along with words such as 'idiots' or 'imbeciles') as a medical definition on the census and given to persons with mental health disorders (including congenital disorders). The author of 'How Our Ancestors Died' mentions that "Lunatics tended to be people suffering from schizophrenia-like illnesses, whereas an idiot was born with mental incapacity."
Of course, we do not know the details of Charlotte's illness or of the circumstances of her admission to the County Asylum. However, this must have been a difficult time for Charlotte and her family.
Harry Newby marries Sophia Thurston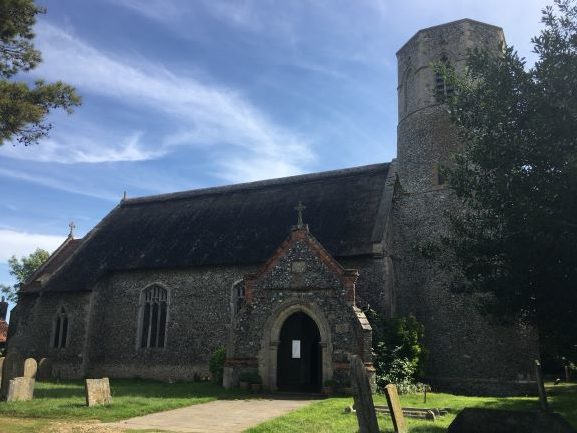 Rockland St Peter Church
Two years after the death of his wife Charlotte, 50 year old Harry Newby married 34 year old widow Sophia Thurston, his former housekeeper and the mother of his children Frank, Harry, Walter, Sophia and George all of whom were born between 1889 and 1892, and all registered with the surname THURSTON but with a second name 'Newby'. The marriage took place in the Parish Church of Rockland St Peter on Christmas Day 1895.
Following their marriage, Harry and Sophia Newby had further children. The 1911 census finds 63 year old farmer Harry Newby with his 47 year old wife Sophia at Carfield Farm, Thompson. In addition to Harry and Sophia, the household comprise of 25 year old James Thurston (Sophia's son from her first marriage) and the Newby children – 22 year old Frank, George aged 18, Walter 17, Lucy 14, Ralph 12, William 11, Lily 10 and five year old Ernest. By then Harry and Sophia had completed 19 years of marriage and are said to have had 14 children, 12 of whom were still living.
Although his birth was registered as Frank Newby Thurston, it seems that from at least 1901 (but possibly from his parents' marriage in 1895), Frank was known by the surname Newby, and continued to be known by this name for the rest of his life. As Frank Newby, he married Estella Downes in 1912 and his death (in 1952) was registered as Frank Newby.
Sources:
1871 census RG10/1841/28
1881 census RG11/1974/90
1891 census RG12/1538/155, RG12/1549/79A
1901 census RG13/1868/83
1911 census RG14/11487/6
GRO Index. General Record Office. https://www.gro.gov.uk/gro
GRO Index. Free BMD website. https://www.freebmd.org.uk/cgi/information.pl?cite=qGLbj4%2B6UhhgcOgEkXaWlg&scan=1 accessed 23.05.2020
https://www.freebmd.org.uk/cgi/information.pl?cite=m1w7mAeIY0piHb%2FRlOTTcQ&scan=1 accessed 30.05.2020
https://www.freebmd.org.uk/cgi/information.pl?cite=Tjtf7OUBT%2Fxr1RcLztzBww&scan=1 accessed 31.05.2020
Norwich St Giles Parish Registers Norfolk Record Office PD/192 Also available at FamilySearch.org https://www.familysearch.org/search/image/index?owc=4J6P-8VF%3A29923501%3Fcc%3D1416598
Rockland St Peter Parish Registers Norfolk Record Office PD/336.Norfolk Record Office PD/336 Also available at FamilySearch.org https://www.familysearch.org/ark:/61903/3:1:S3HY-6P8N-Y7?owc=4JFM-8LB%3A30095401%3Fcc%3D1416598&wc=4JFM-D72%3A30095401%2C29373001%2C29411501&cc=1416598
Willis, Simon. (2013) 'Mental Illness and Suicide' How Our Ancestors Died. Pen & Sword Books Ltd., Page number 127