Norfolk Assizes
29-year-old Edward Long appeared at the Norfolk Assizes on the 31st July, 1841.
Long stole two bushels of wheat in chaff from local farmer, Mary Mann. What's more, Long had been working for Mary Mann at the time of the offence. He was found guilty and sentenced to two months' imprisonment.
Edward Long
Edward Long was a married man. At the time of the court hearing, he and his wife Mary had been married for five and a half years. Although Mary had by then given birth to three children, only a daughter had survived. The couple would later have further children.
Was Edward Long a Petty Thief?
Did Edward Long have it in mind to take the wheat or was it on impulse? Was he a petty thief or was this completely out of character?
Unfortunately, I don't have the answers. However, I have not found evidence of any other court appearance, although I have not searched all the available newspapers nor any criminal registers.
We can but wonder what effect her husband's misdemeanour (and the subsequent term of imprisonment) had on Mary Long. Did she look for work herself or look to her family (or the parish) for financial help?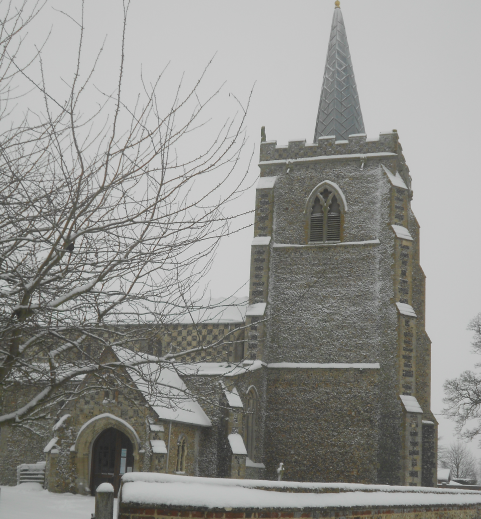 Church of St James Great Ellingham
Baptism in Great Ellingham
Edward Long was baptised in the Church of St James, Great Ellingham on the 10th January, 1813. It may well have been a bitterly cold day when Jonas and Sarah Long wrapped their young son in warm clothing to take him to St James.
Although Edward's parents married in Cranworth, his father Jonas Long was baptised at Rockland All Saints with Saint Andrew on the 1st January, 1780.
Marriage to Mary Rider
Young Edward Long likely spent his childhood in Great Ellingham.
On the 8th November, 1835, he married local girl, Mary Rider (Ryder), a daughter of William and Ann Rider. The wedding took place in the Parish Church of St James. Edward Long was 22 and Mary around 18. The families were probably well known to each other.
1841 census
The 1841 census finds Edward and Mary Long living in Great Ellingham. Edward is an agricultural labourer. Listed with the couple are five year old Maryann Long and two year old Maria Long. I do not believe that Maryann is Edward and Mary's child, although, of course, with the surname Long, she is likely to be a relative.
Occupations
For the next thirty or so years, Edward and Mary Long lived in Long Street (the name of the street is very apt!).
Over the years, Edward had various occupations. The census of 1851 describes him as a dealer and in 1861, Edward is a coal carter. By 1871, he is a farm labourer and Edward is described as a labourer by the 1881 census. This census also finds Edward and Mary now living in Low Lane, Great Ellingham.
Children
Edward and Mary had least eight children.
Their first born, a son named George, was baptised in the Church of St James on the 24th January, 1836, just two and a half months after Edward and Mary 'tied the knot'. This child may well be the 'George Long buried on February 21, 1836', referred to in the Burial Register for the Great Ellingham Baptist Church.
Maria was born c.1838. She was baptised in the Church of St James on the 30th September, 1838. Maria appears with her parents on the 1841 census.
I believe that Mary gave birth to another daughter between April and June, 1840. I found the registration of an unnamed female child with the surname Long and mother's maiden name Rider, in the June Quarter of that year. Sadly, I also found a corresponding registration of the death of this infant.
A further daughter, Elizabeth, was born in 1844. Tragically, Elizabeth died in 1848 aged 4 years.
Happier news followed in 1848 when Mary gave birth to another daughter, who was also given the name Elizabeth. However, Edward and Mary Long experienced further grief in 1851 when a further daughter, Anna, died within weeks (if not days) of her birth.
Edward and Mary's son, Edward, arrived in 1857. His birth was registered between April and June of that year.
I am confident that Edward and Mary had a further son, George William, in 1863, although by then, Mary was in her very late forties (or had even reached the age of 50!). It must have been heart-breaking for Edward and Mary to lose another child. George William's birth was registered in the first quarter of 1863 (January to March) and his death was registered in the following quarter (April to June).
Three Children survive Childhood
It is sad to discover that from the eight children, only Maria (1838), Elizabeth (1848) and Edward (1857) survived childhood. This was, of course, a time before many childhood diseases were controlled or eradicated, and before the discovery of antibiotics. Sadly, it was once common for many families to experience the tragic loss of a child or children.
1871 census
By 1871, Edward ad Mary's daughter Maria had left Great Ellingham. The census of 1871 finds 32 year old Maria Long as an attendant at the Bethel Hospital in Norwich.
Maria's siblings Elizabeth (now 20 and a seamstress) and 14 year old Edward are still living at home with their parents. The census also reveals one year old Albert Long and Mary's 74 year old father, William Rider, with the Long family in Great Ellingham.
1881 census
The 1881 census captures Edward and Mary Long at Low Common. With the couple is their grandson, 11 year old Albert. Likely Albert is the son of either Maria or Elizabeth.
Death of Edward Long
Just a few months, if not weeks, of the census of 1881, Edward Long dies at the age of 68.
I have not found a corresponding burial for Edward Long in the Parish Registers for St James. However, I believe the Long family were members of the local Baptist Church, and it follows that his burial may well have been in the Baptist cemetery.
Sources:
GRO Index. https://www.gro.gov.uk/gro
Great Ellingham Parish Registers. Norfolk Record Office. PD609. Also available at https://www.familysearch.org
England & Wales, Non-Conformist and Non-Parochial Registers, 1567-1970
RG4: Registers of Births, Marriages and Deaths Norfolk Baptist Piece 1254: Great Ellingham (Baptist), 1817-1837. The National Archives of the UK; Kew, Surrey, England; General Register Office: Registers of Births, Marriages and Deaths Surrendered to the Non-Parochial Registers Commissions of 1837 and 1857; Class Number: RG 4; Piece Number: 1254. Viewed via https://www.ancestry.co.uk
1841 census HO107/781/8
1851 census H0107/1823/128
1861 cemsus RG9/1237/92
1871 census RG10/1841/77, RG10/1817/67
1881 census RG11/1974/93
Norfolk Chronicle 31 July 1841 viewed via https://www.britishnewspaperarchive.co.uk 18 August 2021
Norfolk News 1st December 1866
Cranworth cum Letton Parish Registers. Norfolk Record Office. PD 359. Transcription Cranworth cum Letton, Marriages 1754-1837. Norfolk Family History Society. https://www.norfolkfhs.co.uk
Rockland All Saints and St Andrew. Norfolk Record Office. PD 335.Transcription Parish Register FreeReg website https://www.freereg.org.uk
England & Wales, Criminal Registers 1791-1892. Class: HO 27; Piece: 64; Page: 348. Home Office: Criminal Registers, Middlesex and Home Office: Criminal Registers, England and Wales; Records created or inherited by the Home Office, Ministry of Home Security, and related bodies, Series HO 26 and HO 27; The National Archives of the UK (TNA), Kew, Surrey, England. Viewed via https://www.ancestry.co.uk