A Particular Survey of the Parish of Great Ellingham 1817-1819, reveal that John Whittred was the owner and occupier of a House, Barn, Stable, Yard and Garden, as well as numerous parcels of land in Great Ellingham.
I know from an earlier Particulars & Valuation undertaken by the Commissioners for the Great Ellingham Inclosures c.1800, and an 1802 map of Great Ellingham, that this particular House was at that time in the ownership of John Wiggett. The property was later known as Cemetery Farm.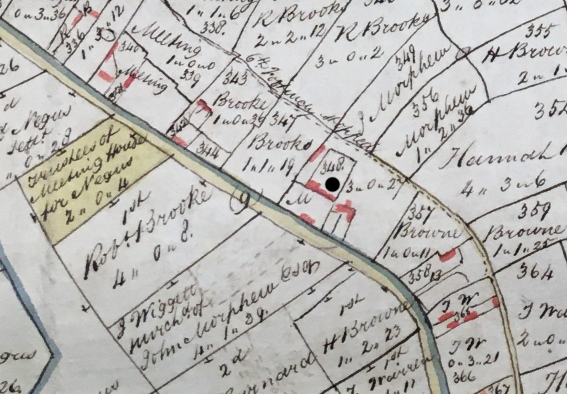 Extract from 1802 Map of Great Ellingham. Original held at Norfolk Record Office. Russell James Colman Plans. Cat. Ref. C/Ca 1/84. With kind permission of NRO
The position of John Whittred's house in Long Street is identified by a black dot on the above extract of the 1802 map. In addition to the house, John Whittred owned and farmed around 40 acres of land. Over five acres of this land was copyhold of the Manors of Buckenham Lathes and Buckenham Castle. The remainder being freehold.
The Court Books for the Manors of Buckenham Lathes Outsoken and Buckenham Castle Outsoken tell us that John Whittred, a farmer of Great Fransham, purchased the copyhold pieces of land from John Wiggett, a farmer, of Great Ellingham in 1811.
At a General Court Baron on 23rd January, 1812 held for the same Manors, John Whittred was 'admitted' as a copyhold tenant of each of the Manors on the surrender of John Wiggett. It is likely that the ownership of the freehold house (Cemetery Farm) and other land owned by John Wiggett also transferred to John Whittred at this time.
Who was John Whittred?
John Whittred had married Elizabeth Reynolds in the parish church of East Bradenham on November 22nd, 1803. Both single and of East Bradenham, John and Elizabeth were married following the traditional reading of the banns. John signed the marriage register but Elizabeth, unable to write, put her mark.
Nearly four years after the marriage, John and Elizabeth may well have been living in Fransham (Great Fransham), as their daughter Elizabeth was baptised at the parish church on the 7th September, 1807. I believe Elizabeth may have been the couple's only child.
Around four years later in 1811, the family arrived in Great Ellingham.
John and Elizabeth's daughter Elizabeth married a local man, William Kiddle Warren, in the Church of St James on the 29th October, 1828.
The Norfolk Register of Electors for 1835 shows John Whittred as owning and living in a freehold house and land in Long Street, Great Ellingham.
1841 census and the Death of John Whittred
At the time of the 1841 census, I believe John Whittred and his family were still living in the same house which John had purchased from John Wiggett some thirty years earlier.
The 1841 census captures John and Elizabeth Whittred with their married daughter, Elizabeth Warren, and their nine year old grandson Joseph Warren living in Great Ellingham. The family have a servant, 20 year old Louisa Dennis. Elizabeth Warren's husband is absent, as is her elder son Jeremiah and her daughter Elizabeth.
Less than a month after the census was undertaken, John Whittred died aged 67 years. He was buried at East Bradenham on the 1st July, 1841.
Son in Law William Kiddle Warren
John Whittred's son in law, William Kiddle Warren (the husband of his daughter Elizabeth), was found guilty of two charges of forgery at the Norwich Assizes on the 27th March, 1849. Although initially sentenced to transportation for 10 years, a licence for William Kiddle Warren's early release was granted in 1853. I am uncertain as to whether William Kiddle Warren and his wife Elizabeth were ever reconciled after William's release.
Mother & Daughter remain living in Long Street
The 1851 census captures 76 year old widow and landowner Elizabeth Whittred (born East Bradenham) with her 42 year old married daughter Elizabeth Warren (born Great Fransham) living in Long Street.
Ten years later, mother and daughter (then said to be 90 and 51 respectively) are still living in Long Street. However, I cannot be certain whether they were still living at Cemetery Farm.
An 'Estates and Occupations Collected' c.1830s-1840 for Great Ellingham relating to tithes, reveal that 'Grice' may have occupied the property formerly owned by John Whittred. However, the same document suggests that 'Mrs Wittred' (Mrs Whittred) also owned a nearby property which was occupied by Robert Grice.
Mother & Daughter die within a year of each other
Elizabeth Whittred and her daughter, Elizabeth Warren, died within a year of each other. Elizabeth Whittred died on the 9th February, 1862 and was buried in the churchyard of St James on the 13th February. She was said to be 89.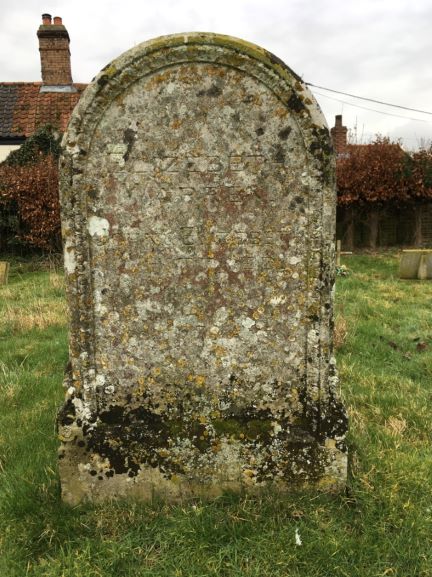 Headstone of Elizabeth Warren the daughter of John & Elizabeth Whittred. Great Ellingham churchyard
Elizabeth Warren was buried in the same churchyard on the 21st April, 1863. She was 57.
Will of Elizabeth Whittred
In her Will dated the 5th May, 1857, Elizabeth Whittred appointed her grandson Joseph Warren her sole executor and trustee. She left her entire personal estate in trust for her daughter, "Elizabeth the wife of William Kiddell Warren to be received enjoyed and disposed of by her as her separate estate without control or interference of her present or any future husband".
Will of Elizabeth Warren
Elizabeth Warren made her last will and testament on the 10th April, 1862, just two months after her mother's death. She appointed her son Joseph Warren (a linen draper of East Dereham) and her son in law Henry Kitteringham (also written as Ketteringham) as her executors. Elizabeth directed that in the event that her daughter Elizabeth (the wife of Henry Ketteringham) had lawful living children at the time of Elizabeth Warren's death, then she (Elizabeth Warren) would give two thirds of her personal estate to her daughter Elizabeth Ketteringham. However, should Elizabeth (Ketteringham) have no living children at the time of her mother's death, then Elizabeth Warren's estate would be equally divided between Elizabeth and her brother Joseph Warren.
John Whittred's Grandchildren
Although Elizabeth Warren's eldest son, Jeremiah, was still living at the time of his mother's death, 34 year old Jeremiah was omitted from his mother's will. Was there any acrimony in the family?
I think not. In his last will and testament, Jeremiah appointed his younger brother as his executor. I think it more likely that Jeremiah was excluded from his mother's estate as he was already 'well set up'.
Although all three children of Elizabeth Warren (neé Whittred) and her husband William Kiddall Warren benefited from the will of their paternal grandfather, Thomas Warren, Jeremiah benefited the most.
At the time of her mother's death, Elizabeth Ketteringham may have been living in Great Ellingham. The 1861 census finds 23 year old shopkeeper Henry Ketteringham and is 26 year old wife Elizabeth in Church Street.
However, by 1871 all three children of Elizabeth Warren had moved from Great Ellingham.
The 1871 census reveals eldest son Jeremiah with his wife and children in Tottenham, Middlesex. Younger son Joseph Warren is with his wife Sarah living in East Dereham. Elizabeth's daugher Elizabeth and her husband Henry Ketteringham had moved to Hingham.
However, at the time of the 1871 census Elizabeth Ketteringham is a patient at the Bethel Hospital in Norwich. Sadly, the census returns of 1881 and 1891 does not show Elizabeth to be with her husband Henry in Hingham.
The parish registers for the church of St James, Great Ellingham reveal a burial on the 14th December, 1904 for Elizabeth Ketteringham, aged 70, from the County Asylum. Elizabeth Ketteringham may have spent some thirty years in an asylum.
Sources:
1802 Russell James Colman Plans. Great Ellingham. Catalogue Ref. C/Ca 1/84.
1799-1842 F W Horner, Records of the Surveyors to Commissioners for Inclosure in Parishes in Norfolk and Suffolk. Great Ellingham (Act 1799). Norfolk Record Office. Catalogue Ref: NRO, BR 90/2
1800 Inclosure Commissioner's Particulars and Valuation, Great Ellingham. Norfolk Record Office. Catalogue Ref: NRO, MC 2213/119
1753-1847 Manor of Buckenham Castle, Lathes, Close and Priory. Court Book. Norfolk Record Office. Catalogue Ref: MC 1833/8 -MC 1833/16. 1595-1847 also available at https://www.familysearch.org/
East Bradenham Parish Registers. Norfolk Record Office. PD298.Transcript of East Bradenham Marriages & East Bradenham Burials. https://www.norfolkfhs.org.uk/
Great Fransham Parish Registers. Norfolk Record Office. PD683.Also available at www.familysearch.org
Great Ellingham Parish Registers. Norfolk Record Office. PD609. Also available at www.familysearch.org
"England, Norfolk Register of Electors, 1832-1915," database with images, FamilySearch (https://familysearch.org/ark:/61903/3:1:S3HY-6PC3-P99?cc=1824705&wc=MX6S-536%3A161034801%2C161988401%2C161036101 : 21 May 2014), Norfolk > Western division > 1835 > image 113 of 127; Record Office, Central Library, Norwich.
1841 census HO107/781/8
1851 census HO107/1823/130
1861 census RG9/1237/90, RG9/1237/94
1871 census RG10/1338/149, RG10/1846/49, RG10/1817/68, RG10/1824/68
1881 census RG11/1955/49
1891 census RG12/1534/45
1859 Probate & Will of Thomas Warren. Obtained and downloaded from Find a Will service. https://probatesearch.service.gov.uk July 2020
1862 Probate & Will of Elizabeth Whittred. Obtained and downloaded from Find a Will service. https://probatesearch.service.gov.uk November 2020
1863 Probate & Will of Elizabeth Warren. Obtained and downloaded from Find a Will service. https://probatesearch.service.gov.uk November 2020
1849 31 March. Northern Star. "Assize Intelligence." Northern Star [1838], 31 Mar. 1849. British Library Newspapers, https://link.gale.com/apps/doc/Y3207547869/BNCN?u=nl_earl&sid=BNCN&xid=54e29cb8. Accessed 3 July 2020.
1853 Licence number 206: William Kiddle Warren. Licence Granted 1 December 1853, for early release from Stirling Castle hulk prison. The National Archives, Kew. Ref: PCOM 3/3/206