The edition of The Northern Star of March 31st, 1849 reported on the cases heard at the Norwich Assizes on March 27th.
One such case was that of William Kiddle Warren, described as a 'respectable-looking farmer', who pleaded guilty to two charges of forgery. Warren had forged two bills of exchange (otherwise known as promissory notes).
Despite witnesses testifying to the previous good character of Warren, and the prosecution recommending that the Court show mercy (on account of his previous character), the court imposed a sentence of transportation for ten years pointing out that 'not many years since his life would have been forfeited for this offence'.
However, William Warren was not transported. A licence was granted on the 1st December, 1853 for the early release of William Kiddle Warren from the Stirling Castle hulk prison ship, which was moored off Devonport, Plymouth.
Who was William Kiddle Warren?
I am confident that William Kiddle Warren was born in Great Ellingham, although I have not been able to find a record of his baptism in the parish register. I am also unclear as to exactly when William Warren was born.
The details of the licence appearing on The National Archives website states that William Kiddle Warren was 48 years old, and a farmer and dealer in corn and coals, at the time of his conviction in 1849.
This suggests a birth year of around 1800 or 1801, some five years before his parents' marriage in St James's Church, Great Ellingham on the 26th October, 1806. I am wondering whether William Warren's age was erroneous on the licence for early release, or there was an error in the transcription.
However, despite not finding evidence of his year of birth, I know that William Kiddle Warren's parents were Thomas and Frances Jane (known as Jane) Warren from a Conveyance Deed of 1845, and Thomas Warren's Will of 21 November, 1856. No doubt William was named after his maternal grandfather, William Kiddle.
Grandparents William & Frances Kiddle
Jane Warren's parents were William and Frances Kiddle (also found as Kiddall). The Kiddles probably arrived in Great Ellingham some time after Jane's baptism in Carleton Rode on the 4th January, 1790.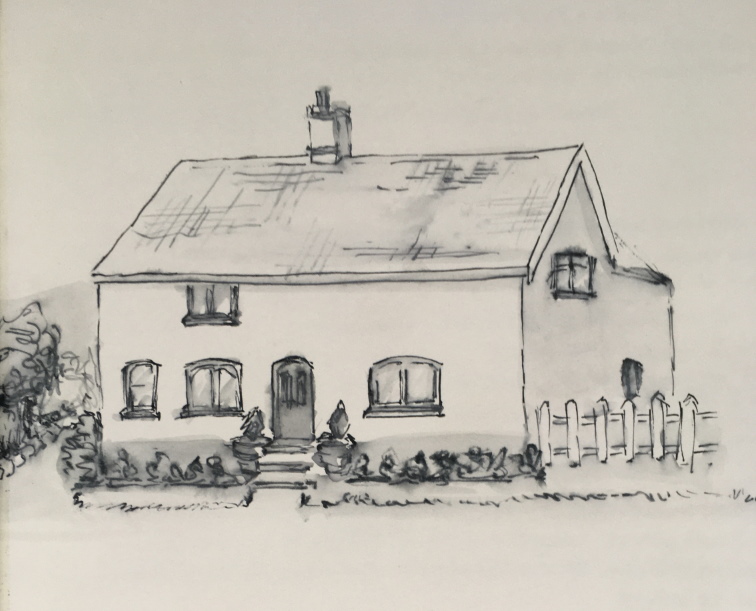 Islay House. Courtesy of Charles Mason
I have established that William Kiddle owned and occupied Islay House in Church Street, as well as other land in Great Ellingham.
A Conveyance Deed of 20th December, 1845 for the conveyance of 'Clay Pit Close' in Great Ellingham, which was once owned by William Kiddle, recites extracts from William Kiddle's Will of 10th December, 1816.
William Kiddle was buried in the churchyard of St James on the 27th December, 1816, just a short time after making his Will.
He left all his property and land in Great Ellingham (which, although not specifically referred to, included Islay House) to his wife Frances for her life. After her death, all the property and land would pass to his daughter Jane (Frances Jane) and her husband Thomas Warren for their use during their lifetime, but ultimately to Jane, and her heirs and assigns for ever (i.e. William Kiddle Warren).
Frances Kiddle was buried on the 29th June, 1818, in the same churchyard as her husband, William. Islay House and the land owned by William Kiddle passed to Thomas and Jane Warren by an Indenture dated 9th June, 1819.
Marriage to Elizabeth Whittred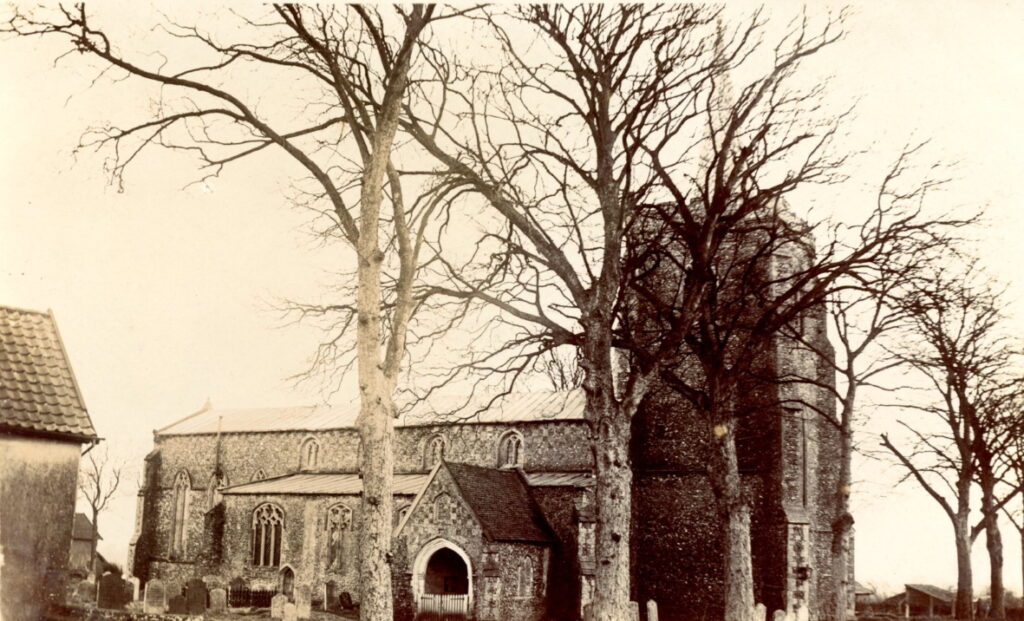 Great Ellingham Church of St James
A marriage took place in the parish church of St James in Great Ellingham on the 29th October, 1828, between William Warren and Elizabeth Whittred. Both William and Elizabeth were said to be single.
There were no prior reading of the Banns as the marriage was by licence. This could indicate that there was some haste for the marriage to take place, or, for some reason, the couple did not want Banns to be read.
I think perhaps it was the former as Elizabeth was already expecting their first child when she walked down the aisle of the Church of St James. Their son Jeremiah was baptised in the same church just over three months later, on 1st February, 1829.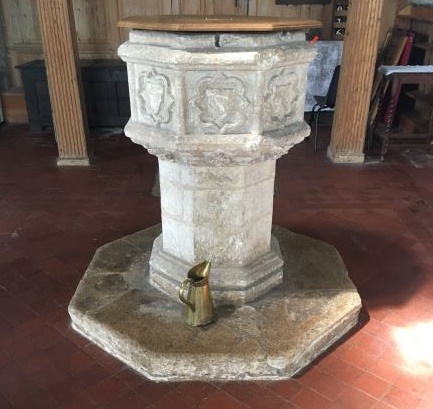 The font in St James' Church
Two further children were born to the couple: Joseph was baptised on the 14th August, 1831 followed by Elizabeth on the 9th February, 1834. Both baptisms also took place at the font in St James's Church.
Death of Mother, Jane Warren
Frances Jane Warren (known as Jane Warren), the wife of Thomas Warren and mother of William Kiddle Warren, died on the 31st December, 1836.
Islay House (and the other land once owned by William Kiddle) passed to Thomas Warren for his use during his lifetime. On Thomas's death (or the determination of Thomas Warren's life interest), Islay House and other land would pass to Frances Warren's only son and heir – William Kiddle Warren.
As all three of William and Elizabeth Warren's children were born in Great Ellingham (between 1828 and 1834), I assume that William and Elizabeth Warren began their married life in the village.
1841 census
However, the 1841 census finds William Kiddle Warren and his family apart on census night:
30 year old Elizabeth Warren together with her 9 year old son Joseph, is with her parents, John and Elizabeth Whittred in Great Ellingham.
12 year old Jeremiah Warren is with the household of schoolmaster Goodwin Kilburn in Hackford with Reepham.
William (Kiddle) Warren may be the 40 year old William Warren with a household headed by James Brooks in Crown Street, Diss.
I am, however, uncertain as to the whereabouts of William and Elizabeth's daughter Elizabeth on census night, who would have been around 6 or 7 years of age
In 1839, William Kiddle Warren's father, Thomas, re-married. A marriage between Thomas Warren and Hannah Hanworth was registered in the Norwich District between July and September 1839.
The 1841 census reveals 50 year old Thomas Warren, described as Independent, with his 55 year old wife Hannah living in Norwich. The ages may not be accurate as the enumerators were instructed to round the ages of those under 15 down to a lower multiple of 5.
1845 Sale of his Grandfather's Property in Great Ellingham
Now that Thomas Warren had re-married and had moved to Norwich, his lifetime interest in Islay House and other land granted to him by the Will of his late father in law, William Kiddle, appears to have come to an end. Perhaps this was by mutual agreement with his son, William Kiddle Warren.
Islay House and the land once owned by William Kiddle, was auctioned in ten lots at the Crown Inn in Great Ellingham on December 20th, 1845. William Kiddle Warren would have benefited from the net sale proceeds as he was his mother Frances Jane Warren's only heir.
The Conveyance Deed of 1845, dealing with the sale and purchase of one of the lots at the Auction, states that William Kiddle Warren was 'late of Roydon but now of the City of Norwich, Yeoman'.
1851 census
Less than five years after the auction of the Great Ellingham property, William Kiddle Warren appeared at the Assizes in Norwich in 1849, and received the sentence of 10 years transportation which, of course, never happened.
We know from the licence for the early release that William was incarcerated in the Stirling Castle hulk prison ship off Devonport until 1853. Accordingly, William Warren was 'behind bars' in 1851. His wife and children were in Great Ellingham at this time.
The 1851 census reveals William's wife Elizabeth, now aged 42, living with her elderly mother, Elizabeth Whittred (described as a land owner), in Long Street. Children, Jeremiah 22, Elizabeth 17 and 20 year old Joseph were living together in Church Street. The census describes Jeremiah as a Linen Draper.
William's father, 63 year old Thomas Warren was living in St Stephen's Norwich, with his 66 year old wife Hannah.
Death of Father, Thomas Warren
Thomas Warren of the City of Norwich, described as a gentleman, signed his last Will and Testament on the 21st November, 1856. Perhaps Thomas's health was failing, but it may have been the death of his second wife, Hannah, earlier in 1856 which prompted Thomas to 'put his affairs in order' in preparation for his own death.
He died under two years later in Norwich on the 30th March, 1858.
Thomas Warren's Will provides us with more information about his family – and, in particular, mentions the uncertain whereabouts of his son, William Kiddle Warren.
All three children of William Kiddle Warren benefited from their grandfather's Will, as did William Kiddle Warren himself.
Grandson Jeremiah Warren inherited for his lifetime a farmhouse, farm and lands in Great Ellingham (said to be occupied by John Day) with his son, William Robert Warren, inheriting the property on the death of Jeremiah.
Thomas left his properties referred to as Nos. 1 and 2 Albert Place in the parish of St Stephen Norwich (then occupied by himself and a tenant named Murrell) to his granddaughter Elizabeth Warren for her lifetime and, after her death, he directed that the properties be sold and the proceeds shared equally among any children of Elizabeth and, in default, equally to the children of Jeremiah
William Kiddle Warren would benefit from the rental income of Thomas's dwellinghouse in Union Place, Heigham, Norwich which was then occupied by a Mrs King. Thomas instructed his Executors and Trustees (who were his grandson Jeremiah and his friend Edward Bennett) to pay the net rents from the property to William ('in case he shall come to England to claim the same'). Thomas also instructed Thomas and Edward to sell the property if William did not return to England within five years of the date of his death, and to pay the rents and profits from the sale to his (Thomas's) grandchildren, Jeremiah, Joseph and Elizabeth in equal shares.
Thomas directed that all his household furniture, plate, linen, china, household effects and implements were also to be sold, and the proceeds shared equally amongst his grandchildren, Jeremiah, Joseph and Elizabeth
Grandson Joseph Warren was bequeathed the sum of £250. However, Thomas had already lent Joseph the sum of £200. Accordingly this was to be accounted for, and Joseph was only due £50
All three grandchildren received an equal share of the residue of their grandfather's estate
It is clear from the Will that Thomas Warren had affection for his three grandchildren (the children of his only son William Kiddle Warren). It is also clear that at the time Thomas made his Will in November 1856, his son William Kiddle Warren was not in England. But where was he?
Death of wife, Elizabeth Warren
I believe William Kiddle Warren's wife Elizabeth died in 1863, just a year after the death of her mother, Elizabeth Whittred. A death for an Elizabeth Warren aged 57 was registered in the Wayland District between April and June 1863.
Did William return 'home'?
Did William Kiddle Warren ever return to Great Ellingham – or, even England and, if he did, was it in time to collect his inheritance from his father?
If you have any answers, do please get in touch with my via the Contact page.
Sources:
1841 census HO107/781/11, HO107/781/8, HO107/763/2, HO107/758/5
1851 census HO107/1815/235, HO107/1823/132, HO107,1823/130
1861 census RG9/1237/94
Great Ellingham Parish Registers. Norfolk Record Office.PD/609. Also available at FamilySearch.org https://www.familysearch.org/search/image/index?owc=4J8C-CB7%3A29627201%3Fcc%3D1416598
Carleton Rode Parish Registers. Norfolk Record Office. PD/254. Viewed at FreeReg website https://www.freereg.org.uk/search_records/5818de0be93790ec8b524aff/frances-jane-kiddle-baptism-norfolk-carleton-rode-1790-01-04?locale=en Accessed 16.07.2020
1859 Probate & Will of Thomas Warren. Obtained and downloaded from Find a Will service. https://probatesearch.service.gov.uk/#wills 14.07.2020
1849 31 March. Northern Star. "Assize Intelligence." Northern Star [1838], 31 Mar. 1849. British Library Newspapers, https://link.gale.com/apps/doc/Y3207547869/BNCN?u=nl_earl&sid=BNCN&xid=54e29cb8. Accessed 3 July 2020.
1853 Licence number 206: William Kiddle Warren. Licence Granted 1 December 1853, for early release from Stirling Castle hulk prison. The National Archives, Kew. Ref: PCOM 3/3/206
1845, 20th December. Conveyance. Thomas Warren & William Kiddle Warren to Benjamin Barnard. Bury Hall Deeds Collection. Emma Wilson
1845, 13th September. Norwich Mercury.
GRO Index. https://www.gro.gov.uk/
Also GRO Index FreeBMD website https://www.freebmd.org.uk/cgi/information.pl?cite=whFcuStunAHPzed3MKNE7Q&scan=1 accessed 16.07.2020