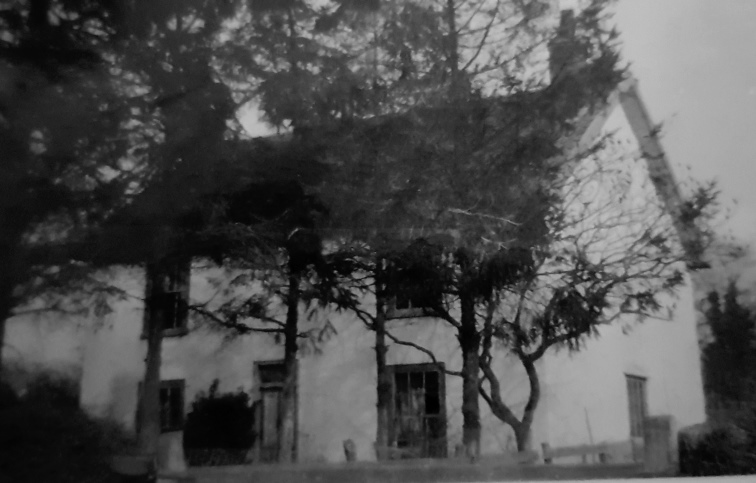 Fir Tree Farm. Courtesy Fiona Rainbird Clarke
Hubert Flatman buys Fir Tree Farm
On the 30th March, 1967, the executors of the late Ida Jackson sold Fir Tree Farm, Long Street, Great Ellingham, to Hubert Flatman.
The Jackson family had occupied the property since at least 1911, when William and Alice Jackson moved in with their two daughters, Ida and Eva.
From arriving at Fir Tree Farm with their parents and until their deaths in 1966, Ida and Eva spent most of their lives at Fir Tree Farm.
Hubert Flatman and his wife Rosalind, lived at nearby Home Farm (formerly called Cemetery Farm). As it was Hubert's intention only to acquire further farm land (and had no need for the farmhouse), it is no surprise to find that just six months later, Hubert Flatman sold off Fir Tree Farmhouse along with a meadow to the side.
Sale to Donald & Doris Smith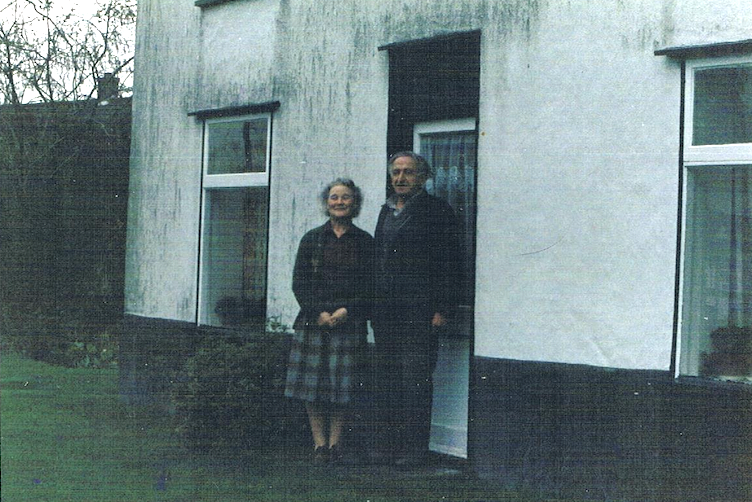 Donald & Doris Smith outside their home Fir Tree Farmhouse. Early 1990s. Courtesy Margaret
The buyers were farmworker Donald Smith and his wife Doris. Donald and Doris with their daughter Margaret moved into Fir Tree Farmhouse on the 17th November, 1967. Prior to the purchase, the Smith family lived at Ivy Cottage, Shelton (a village just two and a half miles from Long Stratton).
The Smith's Home
When Donald and Doris Smith moved in, Fir Tree Farmhouse was just as Ida Jackson's great niece Gill describes the house in the blog 'Valuable Small Farm known as Fir Tree Farm'. However, Donald and Doris did make a few changes to the house – not least that the dairy became the family's bathroom and toilet!
Inside the House
The two rooms at the front of the house became the family's living room and 'best room' – which (similar to many other homes in those days), was only used on 'high days and holidays' i.e. on special occasions and at Christmas.
The house had four bedrooms. Donald and Doris occupied the bedroom over the 'best room', Margaret had the bedroom over the dairy, and Doris's mother occupied another of the bedrooms.
Farm Animals & Poultry
Although Donald Smith worked in Wymondham, he kept a few pigs, rabbits, geese and ducks, and raised calves in the outbuildings.
Building Plots on the Meadow
Planning permission was later passed for three building plots on the meadow to the side of Fir Tree Farmhouse. Two of the plots were purchased by Mr and Mrs Watson on which they had a house built. The remaining plot was used by Donald Smith to grow his vegetables.
Shelton Lodge
In 1989, Donald and Doris had a bungalow built on the former vegetable plot. They named their home 'Shelton Lodge'.
The old outbuildings (which once housed the outside toilet with both an adult and child size seat, and the coal shed), were demolished. However, the old clay lump barn together with another outbuilding remained. These became part of Shelton Lodge (as they still do today).
'Fir Trees' is put up For Sale
Having moved into their new bungalow, Donald and Doris sold Fir Tree Farmhouse.
The marketing agents (Prudential Property Services) described 'Fir Trees' as:
"An unmodernised Period Cottage located in semi-rural setting and situated in a delightful mature garden. Tremendous potential."
The property comprised: Entrance Hall, Sitting Room, Dining Room, Kitchen, Rear Lobby, Separate W.C., Bathroom, Conservatory and 4 Bedrooms.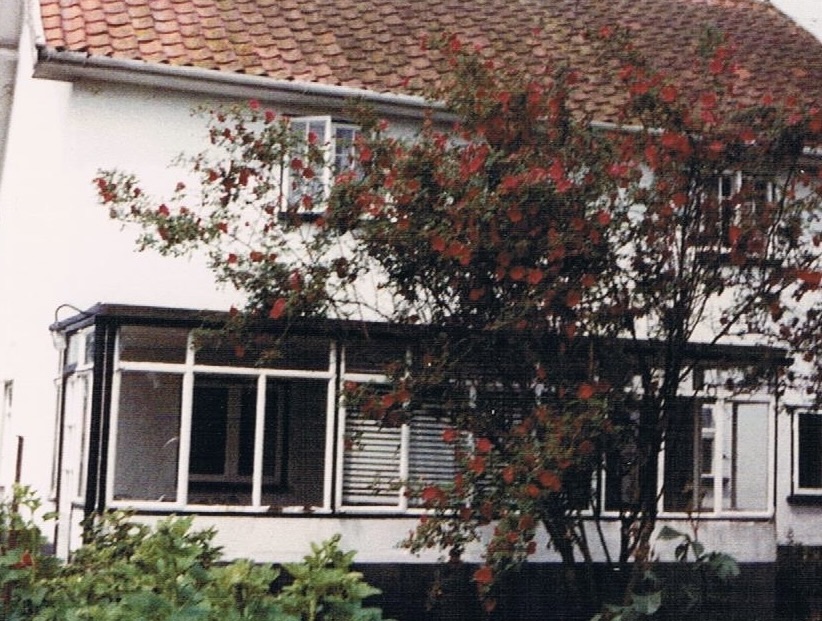 The rear of Fir Tree Farm (showing the conservatory), Long Street. Photograph courtesy Margaret.
Both the dining room and the sitting room (once the Smith family's living room and 'best room') had an open fireplace with a wooden mantel. The kitchen had a stone sink with an electric water heater, a natural brick open fireplace and a large walk-in shelved pantry.
New Owners
In January, 1990, Fir Tree Farmhouse had new owners.
Donald and Doris Smith remained living in next door Shelton Lodge until their deaths in 2015 and 2018 respectively.
Sources:
Sales Particulars 1989 – Fir Trees. Prudential Property Services
Many thanks to
– Margaret, daughter of Donald & Doris Smith.
– Sabrina Hassell for copies of deeds to Fir Tree Farmhouse