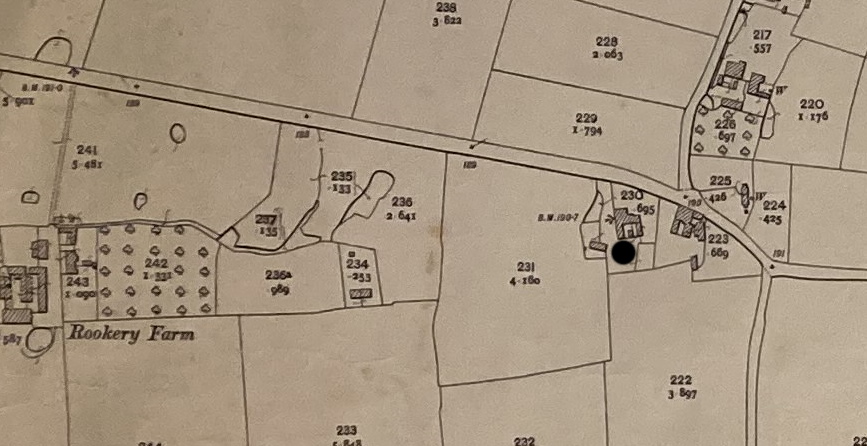 Extract from 1906 Ordnance Survey Map. Second Edition. Surveyed in 1881. Author's Collection
The black dot on the above extract from a 1906 Ordnance Survey Map, shows the home of Leonard and Gertrude Rivett at Pond Farm in Watton Road, Great Ellingham.
Pond Farm still exists. Further, there has been a dwelling on the site for at least two hundred years.
Leonard Rivett
Early Life
Leonard was the youngest child of Frederick and Mary Ann Rivett (née Drake). He was born in Great Ellingham on the 12th April, 1892.
Tragically, Leonard's 44 year old mother Mary Ann died just weeks before his 2nd birthday. The family endured further loss when Leonard's brother Walter died aged 21 years just days after their mother.
The 1901 census captures 8 year old Leonard with his 56 year old widowed father, Frederick, in Bow Street. The Rivett family (comprising Frederick and his children Alice 20, Frederick 16, Ernest 12 and Leonard 8) are living in a three roomed dwelling. Frederick is a fowl dealer and young Frederick 16 is working as a shepherd's page. Alice is keeping house for her father and brothers.
Given that it was compulsory for children aged between 5 and 13 to attend school, I assume that Ernest and Leonard were attending the local Board School in Hingham Road.
Draper's Assistant
By 1911, Leonard had left Great Ellingham. The census finds 18 year old Leonard Rivett boarding in Rampant Horse Street, Norwich. He appears to be one of many draper's assistants at W H Brittain, Orford Place.
Back in Great Ellingham
However by the time of the 1921 census (19th June), Leonard is back in Great Ellingham with his father and some of his siblings.
Marriage
Later that year on the 29th November, 1921, 29 year old Leonard married 30 year old Gertrude Mabel Green at the Parish Church in Heigham, Norwich. At the time of the marriage, Gertrude was living at 24 William Street in Heigham. Leonard was working and living in Great Ellingham as a farmer. I suspect that Leonard had taken over his father's poultry business, as the marriage entry states that Frederick Rivett was a retired farmer.
Pond Farm
I assume that following their marriage, Leonard and Gertrude Rivett settled in Great Ellingham. Kelly's Directory of 1925 lists Leonard Rivett as a poulterer in the village, although I do not know whether the couple were then living in Watton Road.
Howevere, the 1939 Register captures Leonard and Gertrude living in Watton Road. I can only assume that they are at Pond Farm.
The Great Ellingham Invasion Committee Records of 1942 also finds the couple in Watton Road. I am confident that they are at Pond Farm. The same records also show that Leonard and Gertrude had a child with them. I assume the child to be their daughter who was born in 1934.
Leonard and Gertrude probably lived at Pond Farm until Leonard died in 1956.
Leonard Sidney Rivett of Watton Road, Great Ellingham was buried in the churchyard of St James on the 23rd April, 1956.
Sources:
Great Ellingham Parish Registers. Norfolk Record Office. PD 609. Also available via www.familysearch.org
1901 census RG13/1867/71
1911 census RG14/11290/13
1921 census. Index only search via www.findmypast.co.uk
1939 England & Wales Register. The National Archives; Kew, London, England; 1939 Register; Reference: Rg 101/6590h Ancestry.com. 1939 England and Wales Register [database on-line]. Lehi, UT, USA: Ancestry.com Operations, Inc., 2018.
1942 Great Ellingham Invasion Committee Records. Sue Fay
Heigham St Philip Parish Registers. Norfolk Record Office. PD 152. Viewed via www.ancestry.co.uk