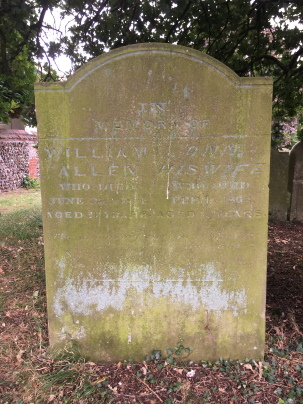 Headstone for William Allen and his wife Ann in the churchyard at St James Great Ellingham
For nearly 160 years, the headstone marking the grave of William Allen and his wife Ann has stood amongst many other headstones and memorials in the churchyard at Great Ellingham Parish Church.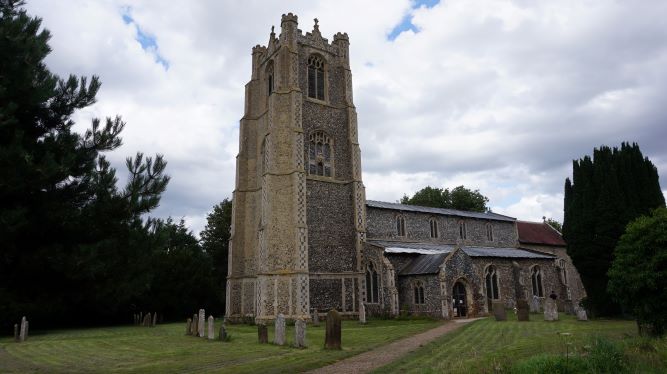 Church of St Andrew Deopham
Deopham to Attleborough
William Allen was born in nearby Deopham around 1780. The son of Charles and Elizabeth Allen, William was baptised in the church of St Andrew in Deopham on the 8th April, 1781.
William married Ann Rands in the parish church at Attleborough on the last day of October, 1809. Both William and Ann were single. Three children of William and Ann Allen were baptised in the same parish church – daughter Ann baptised on November 23rd, 1815, Sarah on April 30th, 1818 and their son Charles on November 19th, 1821.
Attleborough to Great Ellingham
After Charles was born, and prior to son William's birth around 1825, William and Ann Allen moved to Great Ellingham. William was baptised in the church of St James on the 12th March 1825.
The 1841 census captures farmer William Allen with his wife Ann and children Sarah, Charles and William at Bow Street, Great Ellingham. Four years earlier, William and Ann's eldest daughter Ann had been buried in the churchyard at St James on February 19th, 1837 aged 21 years.
The 1851 census shows 69 year old William and 67 year old Ann with unmarried adult children Sarah 31 and Charles 28 still living in Bow Street. William is described as a farmer of 45 acres. Nearby in Bow Street, is their son 26 year old William, a farmer of 18 acres, with his wife Caroline (formerly Caroline Simmons). The couple had married in Great Ellingham the previous year.
Ten years later, William and Ann's daughter Sarah had died and their son Charles had married. Sarah Allen was buried in the parish churchyard at Great Ellingham on March 15th, 1855. She was 36. Charles Allen had married Rockland born Jane Phillips during the latter part of 1855.
After their marriage, Charles and Jane Allen also settled in Bow Street. The 1861 census reveals 39 year old farmer of 52 acres Charles Allen with his wife Jane and children Jane 4 and nine month old Charles in Bow Street. Living with the family is Charles's father and mother – William and Ann Allen. The census indicates that William Allen was financially dependent on his son. An 18 year old servant, Rebecca Hilton, completes the household.
At some point prior to the 1861 census, William and Ann's other son, William, with his wife Caroline and their children had moved from Bow Street to The Green, Little Ellingham.
William Allen was buried on the 27th June, 1861 at the age of 81. In less than a year, his widow Ann had also died. Ann Allen was buried on February 6th, 1862. She was 78. The couple had lived in Bow Street for over 30 years.
Sources
Great Ellingham Parish Registers. Norfolk Record Office.PD/609. Also available at FamilySearch.org https://www.familysearch.org/search/image/index?owc=4J8C-CB7%3A29627201%3Fcc%3D1416598
Attleborough Parish Registers. Norfolk Record Office PD/438. Norfolk Family History Society. Norfolk Genealogy Volume 12. Attleborough Parish Registers 1552-1840. Produced by Archive CD Books Ltd. 0485F.
Deopham Parish Registers. Norfolk Record Office PD/485.FreeReg website. https://www.freereg.org.uk/search_queries/5e10ad3733045b6abf1e3e86?locale=en Accessed 04.01.2020
Free BMD website. https://www.freebmd.org.uk/cgi/information.pl?cite=6tFRCUTYboA5CqvxaUp%2Bqg&scan=1 Accessed 04.01.2020
1841 census HO107/781/8
1851 census HO107/1823/114, HO107/1823/113
1861 census RG9/1237/84, RG9/1237/103