Notice to Creditors or Debtors of the late Robert Simmons
Benjamin Barnard of Great Ellingham, the Executor of the late Robert Simmons, also of Great Ellingham, placed a Notice in the Norfolk Chronicle of 2nd April, 1859.
The Notice requested that all persons owing money to, or are owed money by, the late Robert Simmons should send details of the debts or claims to Mr Barnard prior to the 2nd day of May 1859, after which time, any correct claims for payment would be settled.
Burial of Robert Simmonds
Robert Simmonds was buried in the churchyard at Great Ellingham on January 19th, 1859. His headstone records his age as 66. However the parish registers gives his age as 68 years.
Who was Robert Simmons?
1840-1850
The 1841 census finds Robert Summons aged 45 years living in Great Ellingham. Other members of the Summons household were Robert aged 20, Elizabeth also 20 and 15 year old Caroline.
The ages given in the 1841 census can be approximate and sometimes erroneous. The census takers were instructed to round down the ages of those persons in the household older than 15 to a multiple of 5.
Two children of Robert Simmons married between the census of 1841 and the next census of 1851. Son Robert married Elizabeth Mann in the Church of St James on March 23rd, 1841. Daughter Caroline married local farmer, William Allen (again in the parish church) on October 30th, 1850.
1851 to 1859
The 1851 census provides further information about the Simmons family.
Robert Semmons (senior) aged 59, a farmer of 60 acres and employing two labourers, is living at Pen Hill, Great Ellingham with his 57 year old wife Sarah. They have two servants: Thomas Saundress (Saunders?) and Mary Ann Fox. Robert Semmons is stated to have been born in Blofield and Sarah in Postwick.
Robert's son 30 year old Robert junior is living with his wife Elizabeth (aged 31) and their son 8 year old William in Low Common, Great Ellingham. Robert was born in Great Plumstead, Elizabeth in Wicklewood and William in Great Ellingham. Robert junior is farming 20 acres and employing one labourer.
26 year old Caroline Simmons – now Mrs William Allen – is living with her husband in Bow Street, Great Ellingham. Caroline was also born in Plumstead. William Allen (26) is described as a Farmer of 18 acres employing one labourer.
It follows that Robert Simmons senior (born in Blofield around 1790) was living at Great Plumstead during the 1820s before moving to Great Ellingham some time before 1841.
Robert Simmons senior died in January 1859.
Widow Sarah Simmons
The census of 1861 finds widow Sarah Simmons (now aged 66) farming 60 acres at Penhill Road, Great Ellingham. Sarah employs three men.
Sarah also has two servants: Thomas Richardson aged 20 and 13 year old Sarah Houchen. Both servants were born in Great Ellingham.
Sarah Simmons' grandaughter, 15 year old Sarah Saunders (born in Cripplegate, Middlesex and described as a dressmaker) is with her grandmother.
Robert Simmons and his sister Caroline Allen
The same census of 1861, captures Robert Simmons junior and his wife still living in Low Common.
Robert sister, Caroline is with her husband William Allen living at The Green, Little Ellingham with their five children: William 9, Caroline 7, Sarah Ann 5, Rebecca 3 and one year old Ann Elizabeth. The Allen family are farming 104 acres. They employed three men and one boy. The household also includes two servants: 17 year old dairy maid Elizabeth Skitmore and 14 year old yard boy Jacob Spurgeon.
Death of Sarah Simmons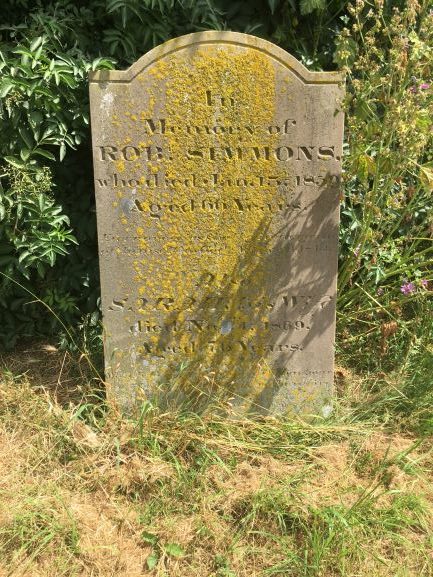 Widow Sarah Simmons was buried in the churchyard of St James on November 6th, 1869 aged 75 years having survived her husband Robert for some 10 years.
Sources:
Norfolk Chronicle April 2nd, 1859
1841 census HO107/781/8
1851 census HO107/1823/112, HO107/1823/125, HO107/1823/113
1861 census RG9/1237/103, RG9/1237/96, RG9/1237/81
Great Ellingham Parish Registers Norfolk Record Office PD/609. Also available at https://www.familysearch.org/search/image/index?owc=4J8C-CB7%3A29627201%3Fcc%3D1416598