Two nineteenth century legal documents provide evidence of a shoemaker and his apprentice living in Great Ellingham.
The documents were found in the home of Lily Lebbell, following her death in 1973. Lily was the widow of blacksmith, wheelwright and dairyman William Robert Lebbell. For many years, William Lebbell was also the parish clerk.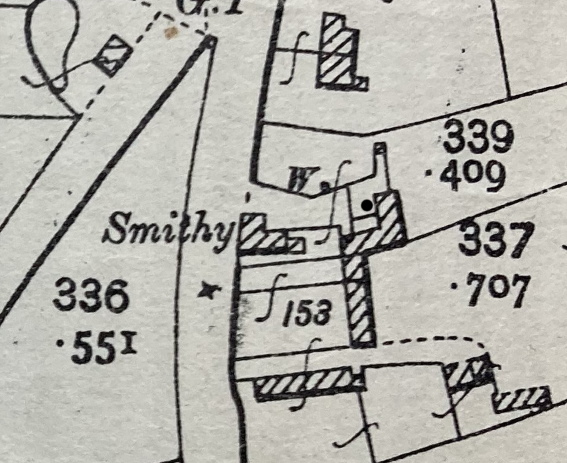 Extract from 1906 Ordnance Survey Map. Second Edition. Surveyed in 1881. Author's Collection
During their later years, William and Lily Lebbell lived at their bungalow 'Stonehenge', which was built in the grounds of William's smithy in Long Street. Two dilapidated clay lump cottages were demolished when 'Stonehenge' was built. The position of the cottages is shown by a black dot on the above extract from a 1906 Ordnance Survey Map.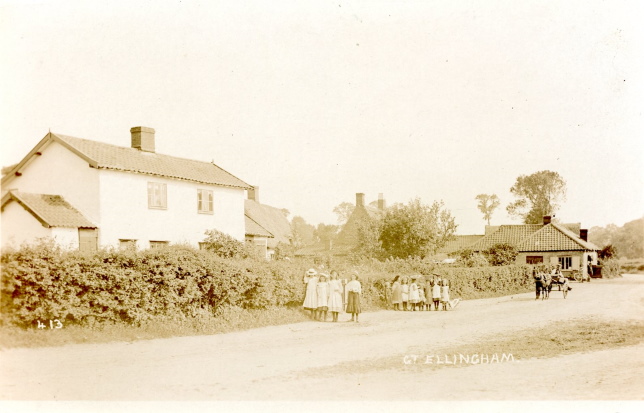 The above postcard shows Lebbell's Smithy to the right. The clay lump cottages which were later demolished are just visible in the background centre-left. The cottages on the left are still standing today.
It is thought that the Lebbells may have come across the historical documents in one of the old clay lump cottages.
Statements sworn on Oath
Why were the statements made and what do they tell us?
Both statements relate to Samuel Culpitt of Wymondham and were sworn on oath on the 7th June, 1825. One was made by Samuel's father, William Culpitt, a carpenter of Wymondham. The other by Samuel's wife, Elizabeth née Jennis.
The Oath of William Culpitt refers to his son's apprenticeship to Joshua Potter, cordwainer (shoemaker), of Crownthorpe.
Apprenticeship Indenture
On the 10th December, 1810, Samuel Culpitt of Wymondham, the son of William Culpitt, a carpenter also of Wymondham, was apprenticed to Joshua Potter, a cordwainer, then of Crownthorpe. This arrangement was formalised by an Indenture. This legally bound Samuel Culpitt to his master, Joshua Potter, for seven years.
At 13 years old Samuel was around the usual age of 12-14 years for a child to be apprenticed. His father would have signed one copy of the Indenture and Joshua Potter the other.
Part of the agreement was that Joshua Potter would teach Samuel the shoemaker's trade. In addition, Joshua Potter would also house, clothe and feed him. It would also be usual for William Culpitt to pay a premium to Joshua Potter.
By the end of his apprenticeship, Samuel Culpitt would expect to be have learned his trade. Further, he would expect to become a 'freeman' and a member of a guild, which would entitle him to privileges, such as the right to vote in elections.
Joshua Potter's Failed Business
However, it appears from the affadavits that Joshua Potter did not keep to his obligations set out in the Indenture.
From the statements, we know that Samuel served just under two years of his apprenticeship with Joshua Potter in Crownthorpe. He then moved with his master to Great Ellingham and worked a further 2-3 years of his apprenticeship with Potter in Great Ellingham.
Consequently, Potter's business failed which resulted in the discontinuance of his trade as a cordwainer. Samuel Culpitt served no more than five of his seven years apprenticeship. However, the Indenture which bound Samuel Culpitt to Joshua Potter was not cancelled.
Samuel returned to Wymondham to live with his father for nearly a year after the term of the apprenticeship would have expired. In that time, Samuel worked for several people.
Oaths
Why was it necessary for Willam Culpitt and his daughter-in-law Elizabeth Culpitt to swear affidavits in 1825, some fifteen years after Samuel Culpitt was indentured to Joshua Potter?
I think it likely that Samuel Culpitt needed proof that he was free from the constraints of his apprenticeship to Joshua Potter. Even though Samuel and Elizabeth Culpitt married in 1823, under the Apprenticeship Indenture, Samuel would not have been allowed to marry. Further, a prospective employer may have required proof that Samuel was not still bound by the Indenture.
Whatever the reason for the sworn oaths, we can but wonder how the documents came to be tucked away in a cottage in Great Ellingham for nearly 150 years! Did Samuel and Elizabeth Culpitt live in one of the clay lump cottages in Long Street?
Samuel Culpitt
The statements of 1825 tell us that Samuel Culpitt married Elizabeth Jennis (also found as Gennus) around 1823. Further, Elizabeth was born in Tacolneston.
I found the marriage of Samuel Culpitt and Elizabeth Jennis in the registers for the Parish Church at Wymondham. They 'tied the knot' on the 30th October, 1823. Both Samuel and Elizabeth were single and living in Wymondham at the time of their marriage.
Their son, William, was baptised in the same church on the 12th July, 1824.
Move to Great Ellingham
Before his marriage, Samuel Culpitt came to Great Ellingham with his master, Joshua Potter, around 1812 but he returned to Wymondham (at least for a short time) after Joshua Potter's business failed.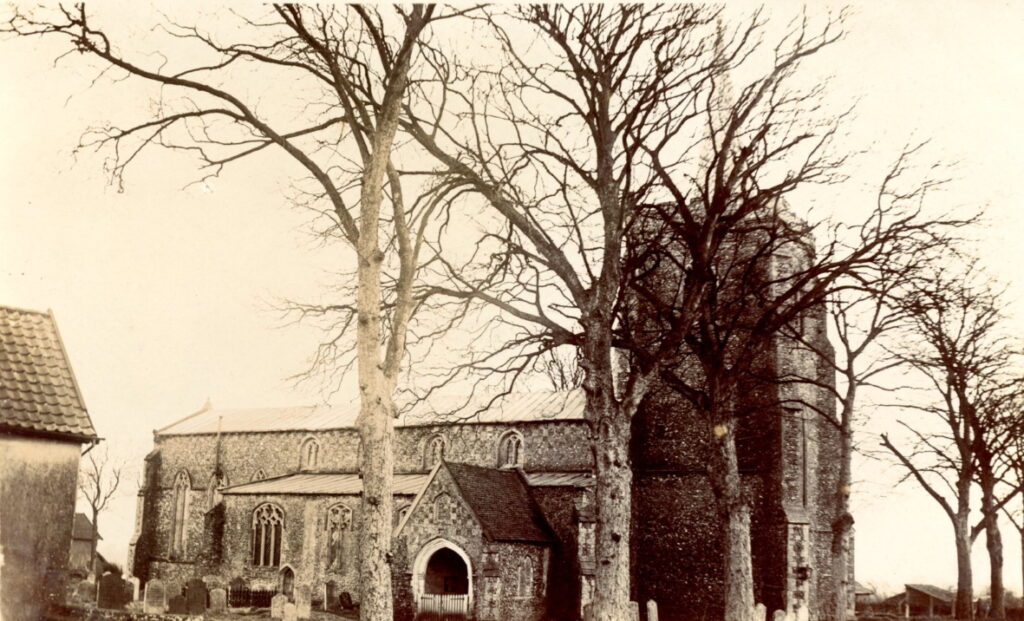 St James's Church, Great Ellingham
However by 1835, Samuel Culpitt (with his wife and perhaps his son William) was back living in Great Ellingham. Samuel and Elizabeth's son, Benjamin, was baptised in St James's Church, Great Ellingham on the 8th February, 1835. At this time, Samuel was working as a shoemaker.
Nevertheless by 1841, Samuel and Elizabeth Culpitt and six year old Benjamin are in Nordelph, near Downham Market. The 1841 census captures 40 year old shoemaker Samuel Culpitt with his 50 year old wife Elizabeth and six year old Benjamin.
Sadly, the couple buried 12 year old Benjamin in Upwell on the 8th December, 1848.
After the burial entry, the trail of Samuel and Elizabeth Culpitt goes cold.
Joshua Potter
Marriage to Rebecca Barnard
Around two years before he took on Samuel Culpitt as his apprentice, Joshua Potter of Wymondham married Rebecca (Rebekah) Barnard in Rockland All Saints on the 29th June, 1808.
Rebecca Barnard was the daughter of John and Mary Barnard. She was baptised in the Parish Church of Rockland St Peter on the 30th July, 1786. Joshua Potter was born c.1788.
Children
The couple had three children whilst living in Crownthorpe. Their son Thomas was born and baptised on the 5th September, 1809. Sadly, Thomas was buried a month later on the 8th October.
Daughter Elizabeth was born on the 17th September, 1810 and baptised on the 21st September. Tragically, the couple buried Elizabeth just ten days later on the 27th September, 1810.
Rebecca Potter gave birth to another son, also named Thomas, on the 16th July, 1813. This infant was baptised on the 17th July. The couple must have been heartbroken to bury Thomas a few days later on the 21st July.
Move to Great Ellingham
It was around the time of the birth and burial of their infant son Thomas in 1813, that Joshua and Rebecca Potter moved from Crownthorpe to Great Ellingham. The couple, of course, brought with them Joshua's apprentice, Samuel Culpitt.
Business in Trouble
However by 1815, with Samuel Culpitt having served no more than five of his seven year apprenticeship, Joshua Potter's shoemaking business was in trouble. Consequently, Joshua Potter discontinued his business and he and Samuel Culpitt parted company.
Death of Wife Rebecca Potter
For a while, Joshua and Rebecca Potter may have continued to live in Great Ellingham. However, Rebecca Potter was in Rocklands when she died in 1823. She was buried in the churchyard at Rockland All Saints on the 6th July of that year.
I can only assume that at the time of his wife's death, Joshua Potter was also living in Rocklands. However, it is of course possible that Rebecca returned 'home' to her parents either because of her illness and/or as a result of Joshua's business difficulties.
Impending Bankruptcy
Some seven years later, Joshua Potter, a butcher, of Great Ellingham, appears in Perry's Bankrupt & Insolvent Gazette of the 13th November, 1830. His case was listed for a heaing at the Court-House, Norwich on the 12th November.
Marriage to Rhoda Howes née Barnard
The following year on the 11th September, 1831, widower Joshua Potter marries widow Rhoda Howes in St James's Church, Great Ellingham. Both Joshua and Rhoda were living in Great Ellingham at the time of their marriage.
Rhoda was born Rhoda Barnard. She married John Gilman Howes on the 29th June 1802 in Great Ellingham. John Howes died in December 1805 leaving Rhoda a widow.
Both Wives with the Maiden name 'Barnard'
Rhoda Barnard was born c.1782 in Roughton, Norfolk. She was the daughter of William and Mary Barnard. Her brother James Barnard lived at Bury Hall, Great Ellingham. Further, her sister Mary Barnard lived in part of a dwelling in Long Street (later known as Poplar Farm).
Given that each of Joshua Potter's wives had the maiden name of 'Barnard', I think it likely that there is a connection between Rebecca Barnard and Rhoda Barnard. However, I have yet to discover the link.
Death of Joshua Potter
Within a year, Joshua died. 44 year old Joshua Potter was buried in the churchyard at St James, Great Ellingham on the 14th April, 1832.
Sources:
Rockland St Peter Parish Registers. Norfolk Record Office. PD 336. Transcriptions available via FreeReg website https://www.freereg.org.uk/
Rockland All Saints with Saint Andrew Parish Registers. Norfolk Record Office. PD 335.Transcriptions available via FreeReg website https://www.freereg.org.uk/
Upwell Parish Registers. Original Registers at the Wisbech & Fenland Museum. Available on microform at Norfolk Record Office. Viewed via https://www.ancestry.co.uk
Roughton Parish Registers. Norfolk Record Office. PD 394.Viewed via https://www.ancestry.co.uk
Great Ellingham Parish Registers. Norfolk Record Office. PD 609. Also available via https://www.familysearch.org
Crownthorpe Parish Registers. Norfolk Record Office. PD 129. Transcriptions available via FreeReg website https://www.freereg.org.uk/
Wymondham Parish Registers. PD 184. Transcription view via Norfolk Baptism Project http://tinstaafl.co.uk/nbp/
1841 census HO107/755/11
GRO Index.
Herber, Mark. (2005) Ancestral Trails. 2nd Edition.Stroud: Sutton Publishing Limited p.496.
Perry's Bankrupt and Insolvent Gazette. Saturday 13th November, 1830. Accessed via British Newspaper Archive https://www.britishnewspaperarchive.co.uk 29th November, 2021
FamilySearch website. https://www.familysearch.org/wiki/en/England_Apprenticeship_Indentures_1710_to_1811 Accessed 6th December, 2021